The Home Run Approach
When it comes to working together, this father-son duo are 'all in,' from family time to the final inning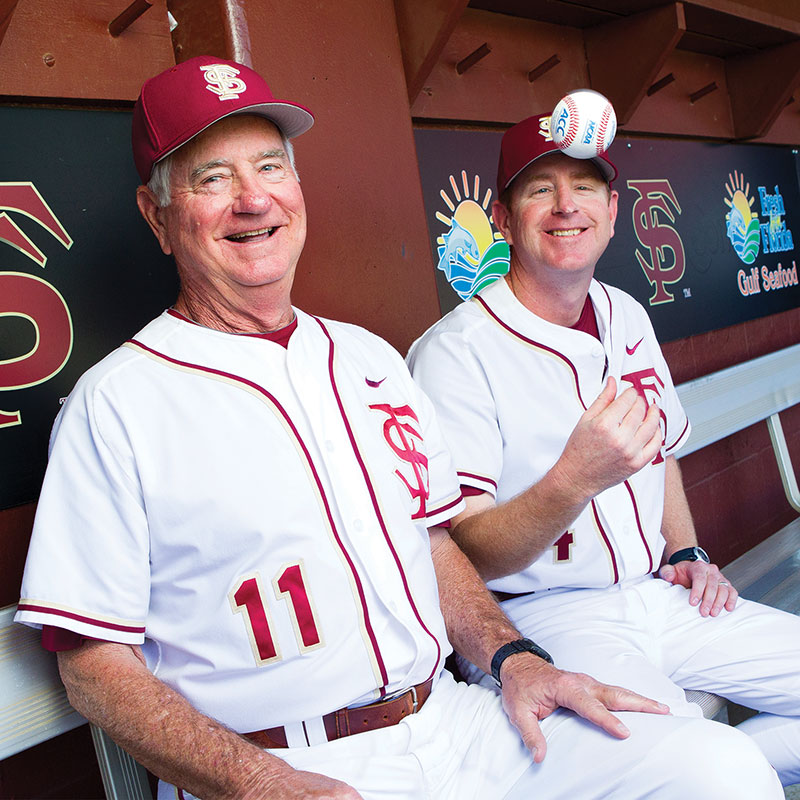 When a man spends 2,000+ hours working for his father every year, you might think he doesn't need any more "family time."
Yet you won't hear Mike Martin Jr. say anything of the kind. For him, working alongside his famed father, Florida State University's head baseball coach, Mike Martin, Sr., is right where he wants to be.
At this point in their lives, the pair have had plenty of time to iron out any wrinkles in their relationship and to identify the line that exists between work and personal life — however blurred that line may sometimes seem.
The 2017 baseball season will be the 20th for Martin Jr. and the 42nd for his father. Together, with the rest of their six-member coaching team, they see themselves as "molders of men." Martin stresses that this is what's important to him — and his staff — about coaching baseball.
"We want to bring in quality people — student athletes that know our main priority is academic success," Martin Sr. explains. "We don't recruit people who want to use FSU Baseball as a way to get into the pro game."
Martin Jr. is in charge of the team's academics and is able to cite plenty of success stories when it comes to his players' grades: Buster Posey, who now plays for the San Francisco Giants, graduated from FSU with a 3.85 GPA; DJ Stewart, who now plays for the Baltimore Orioles, was also over a 3.8 when he donned his cap and gown.
"A lot is about the person, not just how well they can play," Martin Jr. says. "We look for strong morals and work ethic — those kids who know how to play winning baseball. That means they are unselfish, team-oriented, enthusiastic and energetic."
Martin Sr. sums up the distinction: "Go with guys who have character, not just are characters."
Under these marching orders, Martin Jr., the Seminoles' lead recruiter, goes on the road for about 100 nights per year in search of players who have, most importantly, the right personality for the program. Of the 100 or so kids they watch at the beginning of a recruiting cycle, only about 10-15 actually make it to the final meeting with Coach Martin Sr. to seal the deal.
Martin Sr. says that his son's experience with the team — which began when he played catcher for FSU in the mid-1990s — means that as assistant coach, he knows exactly what the 'Noles need. "Nobody is bigger than FSU baseball," Martin Sr. says. "Mike has done an outstanding job for this program — and if he hadn't, he would not be where he is today. He is where he is because of his hard work and keeping the program moving forward."
For Martin Jr., molding the young men on the team and getting them all on the same page, plus keeping them healthy and injury-free, is the name of the game. He's had a great role model for life and coaching in his dad; but that's not exactly what makes the chemistry between them work.
"One of the reasons [it] does work is because I'm not a 'yes man,'" Martin Jr. explains. "Plenty of assistant coaches have come through and been floored by the amount of heated discussion — but it works. … He's the boss and we show respect."
When they are at home, however, the two try to turn off the working relationship. That's easier said than done, since modern college baseball is a year-round business. "Its difficult to balance," Martin Jr. concedes, "but it's important, for the good of everyone."
Both Martins enjoy FSU baseball, along with that other essential part of the program: molding lives. And spending most of their days side-by-side, immersed in the one goal that makes them happiest?
"It's special," Martin Jr. says. "So special that we work our tails off to make it a program that people can be proud of."