The Heroes of The Dark Who Give Our City Light
Life Lines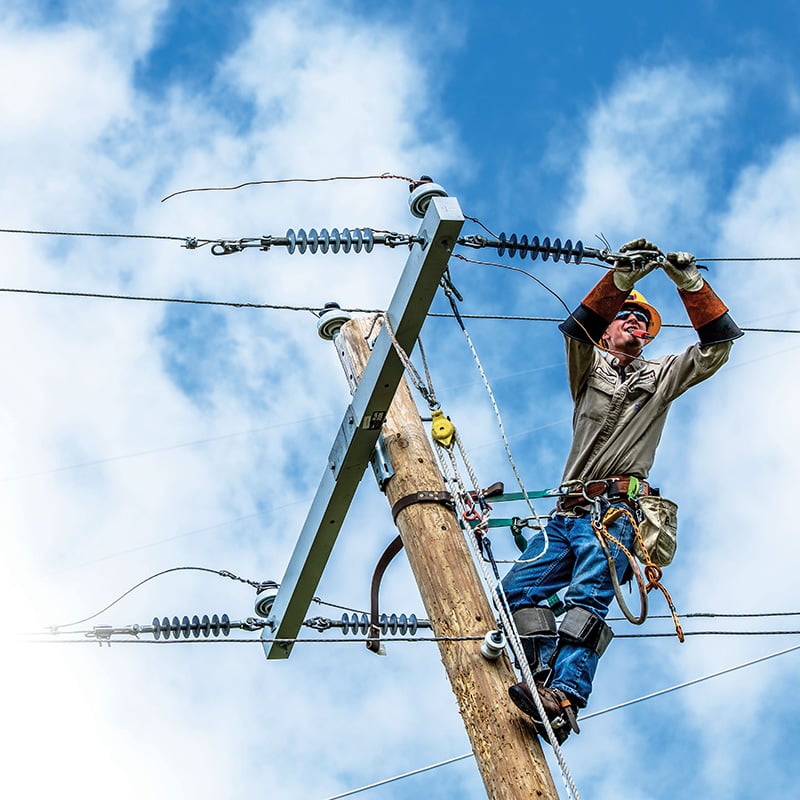 It's 3 a.m., and the ink black sky is interrupted by a silver streak of lightning and the reverberating crash of thunder. I'm 7 years old, and I'm afraid. Not so much of the storm itself, but because I know that soon my dad will receive a call, and he does. In a matter of 10 minutes, his demeanor has changed from a sleepy stupor to an exhilarated determination. He kisses his family, but his mind is already on the task that awaits him. This story is for my father and those like him.
---
Mike Hatcher, a lineman supervisor for the City of Tallahassee, and I spot each other from across the field. I'm tottering along in heeled boots and he is sporting a sling from his recent shoulder surgery. An incapacitated pair we make. The sky is azure, but the sun isn't too intense, making for the ideal view of the two men we are watching above us on the 40-foot pole.
They disembark from the pole and take a moment to breathe before greeting me, Padgett's daughter. Our conversation takes place under the mid-afternoon sun between two bucket trucks to block out the wind. It is apparent that they are not accustomed to conversations focused on themselves, but soon they open up. They are five men talking about what they love, what they share a brotherhood in.
"If you're a lineman, you love what you do," said Hatcher, who is dubbed Hatch by all who know him. "That's what sets our trade apart.You have to know that this is what you want to wake up every day and do. Honestly, most people aren't cut out for this type of work."
Nick Ellis, a line crew foreman and lineman for 26 years, grins and nods.
"When I started, people told me, 'That's a whole other breed right there,'" Ellis said. 'You can't handle it.' That made me want to do it even more."
This breed ranges in ages, heights, sizes and backgrounds but share sun-weathered faces, farmer's tans and hearts of service. Linemen are a species of tough skin, sudden adaptability and no sense of fear to be found. Weather seemingly has no effect on them. Their uniform consists of long sleeves, jeans and boots, even in temperatures soaring into the balmy Florida 90s. Those same garments endure hours of being rain-soaked and caked in mud. The existence of this species traces to a few factors.
"I decided I wanted to do this because it looked like a challenge," said the youngest of the group, Blake Burns, who has six years of linework under his belt. "Every day is something different, and to me, that's exciting."
To most people, being 40 feet or higher in the air with 7,200 volts pulsating around you is the opposite of exciting. The challenges they face on a daily basis are not a stack of papers to tackle or emails awaiting replies. Their call could be anything from a squirrel that has tripped a line to a drunk driver who has hit a pole, or even a hurricane whose path is on track to devastate their city.
Life on the Line
Countless sources report linework as one of the most dangerous professions. Although every safety precaution is taken and it is not increasingly common, the linemen are cognizant that death can occur while on the job. Fully aware of every risk, they tie their boots, strap on their safety belts and look into the sun without asking for an ounce of praise.
When asked if the danger of their job ever affects them, it is the first time they don't joke or speak right away. If they weren't all wearing sunglasses, it's certain one could notice a change in their eyes.
"You're always at risk of not coming home," Ellis said. "We always put safety first, but you just never know. You can name four or five jobs where you leave in the morning and may not come home from that night. It breaks you up a little bit, at times."
"You make one wrong move and it's a bad deal. It keeps you on your toes and reminds you that the men next to you have your back, no matter what."
Burns added.
This statement receives a nod from Hatcher.
"You are your brother's keeper," he said.
"People don't realize how dangerous this job is," said Eric Dawkins, lead lineman of nine years. "When you work with another guy, you trust him no matter what. You've got his back and he's got yours."
The danger affects more than just their brothers on the line. The job doesn't stop and ask its workers if they would like to have dinner with their families, attend dance recitals or baseball games, or even be present on holidays.
"Back in the days where there weren't cell phones or restrictions on how long we could work for, my wife wouldn't hear from me for days," said Hatcher, glancing down at the grass. "We put them through a lot."
While the majority of their time is spent here in town, their jobs often take them throughout the state — and even around the country if a natural disaster occurs. They are no strangers to the destruction and devastation brought forth by hurricanes Andrew, Katrina and even Sandy.
"My favorite memory on the job was when we were in Louisiana and the lights had been out for a while," Hatcher smiled. "Someone's grandma came out of the house, gave me a kiss on the cheek and thanked me."
"That's the best feeling right there," smiled Terry Cobb, a lineman of 16 years and foreman for two years. "When you've worked all night and watched the sun rise and you're tired, but you got the power back on and then a customer comes out to thank you. That's why we do this."
Hatcher feeds off that statement: "When a storm comes through and there are 5,000 people with lights out, we band together to get the line back up, the wire hot and everyone has power again. That's a rush. That's a good feeling."
Camaraderie and Competition
The Florida Municipal Electric Association (FMEA), located in Tallahassee, unifies the 34 public power utilities in Florida and is essential in the coordination of sending lineworkers to parts of the state that need assistance. Barry Moline is the executive director of the FMEA and over the years has come to intimately know the characteristics of lineworkers.
"The most interesting aspect of the commitment of lineworkers is their attitude toward service," Moline said. "They are first responders, much like police or firefighters. They are ready when there is an emergency, and they respond to it immediately. They are out in the most uncomfortable environments not because they enjoy working in a storm, but because they feel a tremendous responsibility to convenience and service their community."
While we simply flip a switch to turn on the lights, the process is not so simple for linemen who are working to restore your power. Lineworkers are aware of the inconveniences that a power outage presents; therefore, their aim is to respond in the mostly timely manner.
The FMEA realized that not only do lineworkers strive to serve their communities, but they are a community within themselves. They have a language, duties and lifestyle that the majority of people cannot relate to.
In 2001, the first Florida Lineman Competition was held in Lakeland, Florida. The men of the city of Tallahassee met my father, a lineman for the city of Lakeland, through competition. Fifteen years later, hundreds of linemen from throughout Florida convene in various cities to demonstrate their skills and knowledge of linework through a series of tasks on which their performance is graded for safety and efficiency. Linework competitions also take place nationally and internationally.
These annual events are highly anticipated because lineworkers from around the state come together to collaborate on work methods,
engage in friendly competition, make new friends, pick up where they left off with old buddies and have conversations about their shared passion. The competition can be intense as each team of three seeks to impress one another.
"When you wake up that morning and your stomach is in a million knots, you're running everything through your head and your mind is going crazy," Hatcher said. "You feel like you can't even do it because you're so keyed up, but as soon as your hooks hit that pole, you forget all of that and get to work."
A keen sense of focus is imperative not only on competition day, but every time their boots touch the pole. A simple mistake may cost them a few points on the competition scoreboard, but in reality those mistakes could be life-altering.
Through the Florida Lineman Competition and the many training days that the FMEA hosts throughout the year, lineworkers benefit by learning from each other, addressing safety issues and discovering cutting-edge techniques. One safety enhancement in particular was adopted early by the city of Tallahassee.
Since the first power poles were erected, men have climbed using the hooks in their boots and the gloves on their hands. The risk in this is obvious, but it was the established method for decades. Tallahassee's utility recognized the danger in this method and began climbing by always using the belts around their waists. The linemen of Tallahassee adopted the fall restraint system early, knowing that it was eventually going to be required. Soon, the rest of Florida and the country followed suit.
Getting Hooked
With any person, you wonder what the driving force behind choosing a career is. Looking around at these competitions, there are hundreds who have chosen to wake up each morning and take on the challenges that await them at the top of a power pole. For most, someone they admired worked in the trade. All can agree that this is a career you must pursue with great dedication. Many do not make it past the first few days of training.
"If you're a lineman, you have to love it because there is nowhere to hide," Ellis said. "If you're not good at your job, you will get exposed. When you are up there on that pole in front of a group of peers, they see everything you do. You can't hide behind a desk or computer."
Becoming a lineman is much like obtaining a bachelor's degree. As many as four years are spent in the apprentice phase, during which these candidates must complete 8,000 hours of state-mandated training. The apprentices take written and internet-based tests, along with multiple in-the-field tests. The tests involve everything from tool recognition to safety measures to performing tasks that would be expected on the job. Every test must be passed.
When asked the most valuable quality you can posses on the job, the common answer was good communication skills. Every aspect of the job requires the men to communicate with one another. From the moment they arrive at the job, they begin talking to figure out their plan and continue talking on the pole in order to always be aware of what the other is doing or about to do.
Communication extends beyond their pole mates to the community members they encounter. Many have questions about what caused the outage and how long until the power will be restored. Understandably, many customers express frustrations.
"We work to keep the community's lights on, storm or no storm," Hatcher emphasized. "We are constantly making systems better and improving because we want customers to be inconvenienced for the least amount of time. The 13 line crews here know we are responsible, because linemen are the only ones able to fix the problem."
Another skill is a keen sense of focus. With safety always being on the forefront of their minds, concentration is essential. As soon as their gloves touch their tools, no outside distractions can cloud their vision. It is necessary that any family, financial or friend issues take the back burner, and there is no additional space for daydreaming. All agree that consistently staying focused can be a battle but is something that becomes second nature once on the job site.
Heart Lines
There are many people who enjoy their jobs but, if given the chance to discontinue working, gladly would. I venture to say that this does not apply to linemen. It is as if the first time the hooks in their boots notch into the pinewood of a pole, that same indention has been made in their heart.
Their faces are consistently sunburned, with a leather-like complexion often leading to early aging or worse, skin cancer. Their knees creak and crack like dilapidated stairs due to years of climbing. Shoulder surgeries are not uncommon because of overexertion. Visits to the chiropractor are as frequent as oil changes. But their blood pulses with adrenaline, their lungs expand with hardly breathed air at heights above us all, and their hearts continue to steadily beat as they know their hands give life and light to their cities.
"Lineworkers have it ingrained in their gut and brain to have that desire to serve and keep the fabric of our communities going."
FMEA's Moline said. "They are the most dedicated people I have ever met, and I greatly admire what they do. I wish everyone admired what they do. We take them for granted because they work in the background. How often do we drive by a utility truck and thank those guys? They keep our community going, and we often don't realize it. I think that when we stop to realize all that lineworkers do, there is a lot of gratitude and appreciation."
The men who stood before me were not wearing capes to showcase their heroic acts. They were flattered and honored that interest was being taken in them. They asked me why I wanted to share their stories.
I grew up knowing linemen. Most were rough around the edges but the kindest people I have encountered. They talked about their jobs the way I always hoped I would: all smiles, pure fire and an inability to imagine waking up every day to pursue any other profession. I admired their passion, tenacity, ruggedness, fearlessness and, most of all, dedication to service.
The first time I saw grown men cry was a community of linemen who lost their coworker, pole mate and brother to a tragic accident. I had never before witnessed such an outpouring of loyalty and respect mingled with such numbing despair. The men I knew as imperishable suddenly were.
Growing up, I always wondered why linemen were rarely recognized or honored when I clearly saw the courage, perseverance and even fear that accompanied this line of work. Naturally, my father is my hero, but there are thousands of lineworkers throughout this country who display the same integrity day in and day out.
I watched five men walk across the field, sunlight glinting off of their hard hats and smiles playing on their lips as they laugh at some inside joke. I watch them for a bit as they go right back to where I found them, at the top of a pole.
This is for those who we don't give thought to until our lives go dark.