The Head, Not the Tail
PGA pro Kamaiu Johnson wants to make golf look like America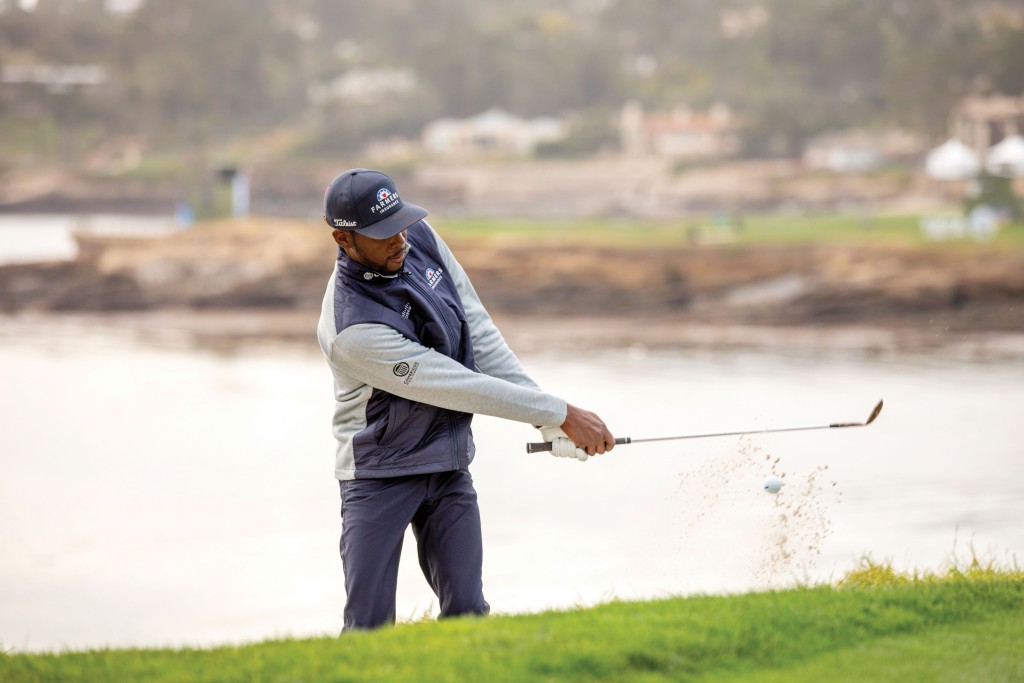 When you're a boy, a stick is never just a stick. It's a sword, a lightsaber or in Kamaiu Johnson's case, a golf club.
Jan Auger remembers clearly the spring afternoon 15 years ago when she first spied Johnson from Tallahassee's Hilaman Golf Course. Auger and some Hilaman co-workers were working on their short games when Auger noticed Johnson, then 13, practicing his swing outside a row of apartments that adjoin the course.
Two questions occurred to Auger: "Is that swing as good as it looks?" and "Why isn't that kid at school?"
When Johnson saw Auger walking his way, he assumed that he was about to be warned away from the golf course. He was accustomed to seeing police run off trespassers. But that's not what happened, not at all.
By the time Auger, who is Hilaman's course director, struck up a conversation with Johnson, she realized his club was just a stick. He lied, telling Auger he was homeschooled. In truth, Johnson was an eighth-grade dropout, a poor kid who needed closer attention than his schools provided. While he grew up playing baseball, he closely studied the golfers at Hilaman
and worked on his own swing with whatever he had at hand.
Auger recalls seeing Johnson's eyes light up when she asked him if he would like to borrow a club and hit a bucket of balls.
Looking back, Johnson, who joined the PGA Tour last year and is a former Advocates Professional Golf Association champion, said that simple act of kindness saved his life.
"He never, ever complained," Auger said. "You know how people are, they boohoo about their life and how hard it is on them. Not Kamaiu. He never complained about his living conditions or being hungry. All he wanted was to play golf. It didn't take me long to figure out that golf was going to open doors for him."
Johnson began working at Hilaman, completing whatever tasks Auger assigned him. As compensation, he was allowed to golf for a dollar a day, often with others who were two or three times his age. No one person taught Johnson how to play. It took a club.
In January of last year, Johnson, who had been granted a sponsor's exemption, was looking forward to making his first PGA Tour appearance at the Farmers Insurance Open. Media reports were beginning to use his name and Tiger Woods in the same sentence.
Johnson's debut, however, would have to wait. He tested positive for COVID-19.
It was a crushing turn of events for Johnson, whose mother required hospitalization due to COVID. Still, the media spotlight did not dim. Articles in publications including Golf Digest and People magazine and appearances on CBS, ESPN and podcasts caught the attention of powerful players in the world of golf and business.
Johnson was quickly learning that golf is a game of connections.
Cisco CEO Chuck Robbins caught a clip of the young golfer telling his story and gave him a call. He told Johnson he was inspired and wanted to help in any way he could. A sponsorship agreement resulted.
This year, sponsor exemptions have enabled Johnson to play in the Honda Classic and the AT&T Pebble Beach Pro-Am.
Sponsorships have been critical for Johnson, a product not of privilege, but of poverty.
"To do what I do is probably $70,000 a year, and that's going out, not coming in," Johnson said. "That covers travel and tournament fees, but you also want to be a member at a country club to get yourself ready for those tournaments. That's thousands for the initiation fee and $700 in monthly dues. That's why you don't see a lot of people who look like me on the PGA Tour. It stems from many things, systemic racism being one. It's unbelievably expensive. There are a lot of guys out here pinching pennies."
Not long ago, that was Johnson. His uncle passed the hat at his Tallahassee Cigar Shop to help pay Johnson's way into tournaments. Johnson relied on old baseball coaches, friends and people he played with at Hilaman for financial help or just a ride. He couch surfed for years while chasing his dream.
"Any time somebody would give me money to go to a tournament or just so I could eat, they would remind me to reach down and help someone else when it was my turn," Johnson said. "That's what I want to do. It's what I love."
It's been a long and difficult road to the success his grandmother always assured Johnson that he would enjoy.
"One day, you'll be the head, not the tail," she would say.
Today, Johnson wants to be at the top of his game, but it's not just about him anymore.
"I want to get more kids involved in the game of golf," Johnson said. "They don't have to go to the PGA Tour, but this game can open so many doors. The CEOs play golf. My goal is to make golf look like America."
Johnson has established the MY MY Foundation, a program that gives kids the same opportunity he had — to play golf for a dollar a day.
"I don't know how mothers don't cry every day," Auger said. "I don't have kids of my own, but I watch out for him. When he's upset, he calls me. I really do think of him as my son, and I am so proud of him."
---
My My Foundation
Kamaiu Johnson's My My Foundation was established to create and sustain healthy strategic partnerships across the Unites States that cultivate life-changing experiences for youth living in socio-economically challenged communities through the game of golf, positive peer-to-peer engagement networks and interactive leadership development techniques. "I want to make golf look like America," Johnson has said.