The Grass Is Greener On Their Side
Couple brews a business and pours support into the community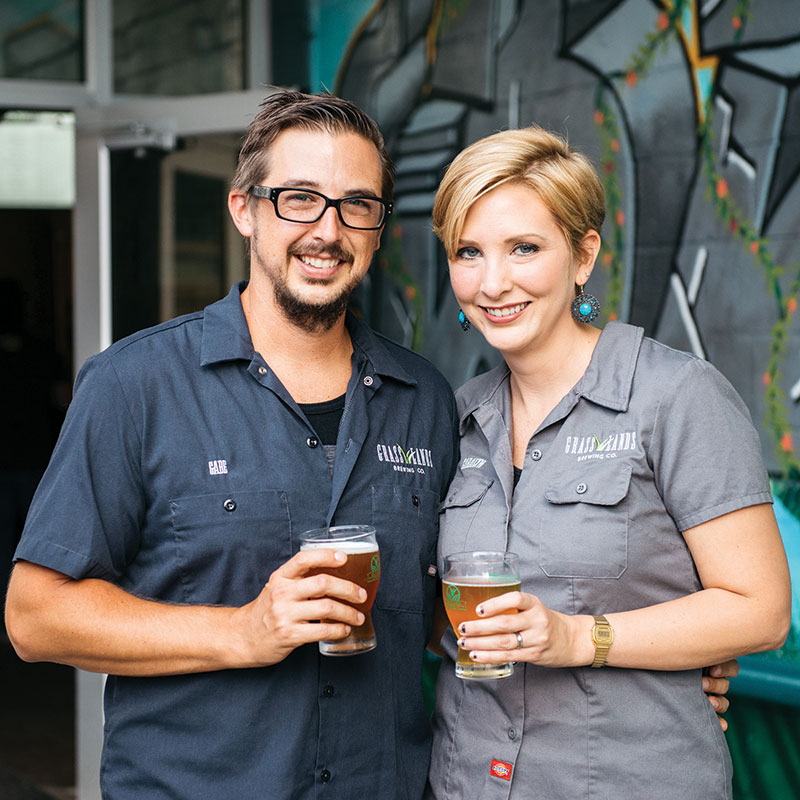 Gabe Grass is a nice guy. Polite. Respectful. Mannered.
Little did he know that on the first day of a psychology lab during his senior year at the University of North Florida, he would hold the door open for his future wife. The professor unwittingly advanced the relationship by making them lab partners. The rest is history or, in this case, psychology.
"We both had been looking for something in past relationships that wasn't there before we met each other in that class, and here we are almost 14 years later," said Gabe.
"We were both in relationships when we met," laughed Saralyn Grass. "Those clearly didn't last."
Their classes together didn't stop at UNF. They went on to earn master's degrees in human development at Virginia Tech and studied education policy and evaluation at Florida State University. She received a doctorate and he became a specialist.
One could say their romance brewed. That would be fitting, as they are the owners, creators, tasters and masterminds behind Grasslands Brewery. Saralyn assumed that Gabe's fascination with home brewing would just be a phase. When he proposed the idea of opening a brewery, she laughed.
After much research, extensive business classes, welcome community support and a hefty amount of tasting, their beer goggles came off and their vision came into clear focus.
These brewers also are deeply rooted in the community, working and volunteering with the Children's Forum, Kids Inc., the guardian ad litem board, Village Square and TMH Animal Therapy.
"The brewery has given us a voice and a platform," said Saralyn. "People know us because of this, but we can use that to promote things we care about. We want to promote this city and its people. There is a magnet that says, 'Beer will solve the problems of the world.' We believe that."
Problems arise in a company, but as business owners whose relationship extends beyond hours of operation, Gabe and Saralyn have found ways to combat stress.
"We have to be flexible with our business and flexible with each other," said Gabe. "It's brought us closer because we've been forced to overcome obstacles. We have the support and communication skills to overcome anything."
Their communication skills have been further tested with the adoption of a 16-year-old daughter. Saralyn was Cheyanne's guardian ad litem for over a year and they developed a remarkable bond.
"There was something in my heart that kept telling me to adopt her," smiled Saralyn. "Over time, we fell in love with her. She has brought us closer together."
Close enough to finish each other's sentences. Close enough to know one another's faults and to instead focus on strengths. Close enough to allow one another to continue to grow.
"Gabe is very understanding," said Saralyn as her husband blushed slightly. "I always tell people if anyone doesn't like Gabe, I know they are crazy. Gabe is the nicest person I know. He's also driven and so supportive."
"I'm constantly inspired by her," gushed Gabe. "Inspired to be a better person and a better leader. She understands and truly listens to people. I've seen her evolve as a woman and a leader in this community. None of this would be possible without her."
---
Grasslands Brewery offers 12 taps of core beers along with ever-changing options. The Tap Room is funky and inviting and the brewing tour is insightful. The Loading Dock presents a biergarten ambience complete with outdoor seating, string lighting and a space for live music.