The Grande Dames of Real Estate
Perseverance Pays Off for Veteran Realtors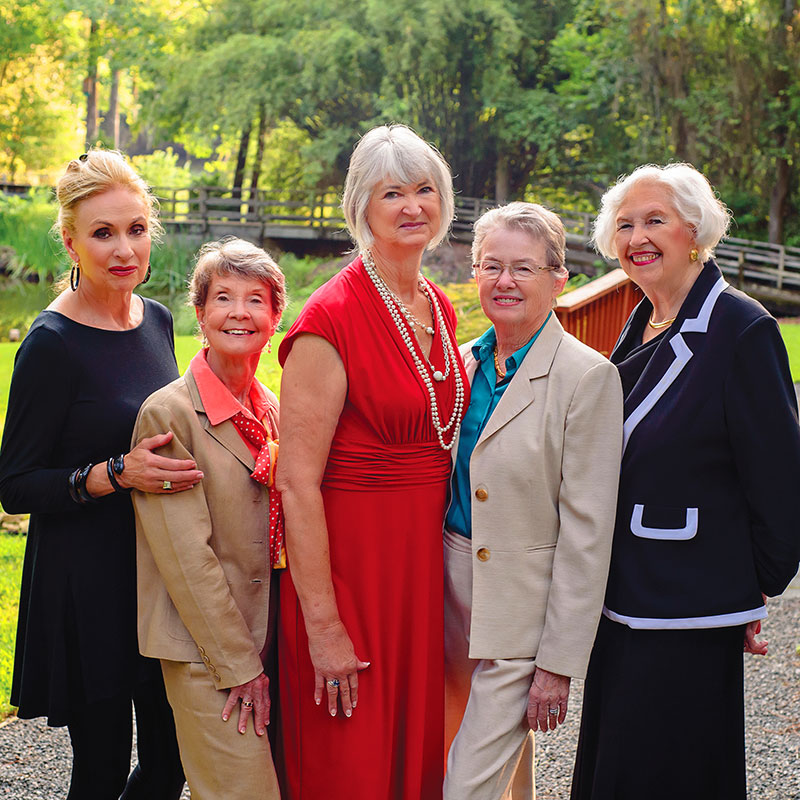 Real estate is not for the faint of heart. This business is a roller coaster, with changing tastes, economics and legalities to keep up with. So it's impressive that Cassandra Harbin, Ann Cleare, Virginia Glass, Rae Roeder and Jan Soto (left to right, above) have each managed extremely successful real estate careers in Tallahassee lasting 30, 40, even 50 years.
They have seen the market grow and retreat over the course of their many years in the business, and each presents an interesting perspective on the field's ever-changing nature. They have lived through the immense growth and change our city has undergone over the course of the past few decades, bravely entering the real estate business even when it was run predominantly by men. Here, then, are five smart, experienced women who have been in Tallahassee throughout their careers and are still going strong, thanks to their tenacity and refusal to give up despite the challenges they faced.
---
Virginia Glass
Virginia Glass works in direct sales with Coldwell Banker. Her specialties range from first-time buyers to dream homes, and she is consistently ranked among the top 1 percent in sales production by the Tallahassee Board of Realtors. She has worked in real estate since 1965 — a career spanning 50 years.
Her longevity means Glass has seen this city and the real estate business grow immensely. When she moved to Tallahassee in 1958, the Centre of Tallahassee (formerly the Tallahassee Mall) was a farm and the city had only 45,000 residents.
Our world looks a lot different now. Glass attributes her success to her early start.
"I coped with the dramatic changes by growing up with them," she said. She says she got her feet wet when there were fewer rules and fewer properties — then mastered new developments one by one as the real estate business evolved.
"Every time we get used to one rule, they go and change it!" she said. This has not affected her love for this business, though. Her favorite part is "turning dreams into addresses," and she does everything in her power to help her clients. She believes Realtors always need to do their best, because a solid reputation is essential for success.
"My customers are my best marketing tools, and I am so fortunate that most everything I do is repeat and referral business," Glass explained. She has developed a contact management system so she can keep up with past clients.
One of her proudest achievements is the School for Young Children on Gadsden Street. She worked for months trying to get a day care facility approved in what used to be a private residence, and the city kept coming up with new issues preventing her from doing so. She persevered, though, until an anonymous caller told her exactly what needed to be done.
This tenacity is evident in every facet of her personality.
"I never know when to let go," she said. "When you tell me it can't be done is when I'm determined that it will be."
---
Jan Soto
Jan Soto has put in more than 30 years and was named Top Producer in 2004 and 2006 by the Tallahassee Board of Realtors. She has a passionate love for real estate and uses her intimate knowledge of Tallahassee to her advantage.
"I love the fun of real estate and getting to meet so many people. I can't think of anything else I'd want to do," she said.
When Soto started her real estate career, she did so in a field dominated by men. She proved herself a worthy contender early on, though, when she designed the interior offices for Tallahassee's first high-rise. Now the Bank of America Building, located downtown on Calhoun Street behind the Leon County Courthouse, this project kicked off her real estate career and her love of the city.
"I had worked on high-rises before, the Lennox Towers in Atlanta, when I was called to the groundbreaking of Tallahassee's first high-rise. I was so excited," she explained. It was a vast success and served as her introduction to the city she now cannot imagine leaving.
Soto's career developed as the real estate market rose and fell, and she watched the city grow from a small town to a little big city. Her first direct sale happened accidentally. She had been working as the sales manager of Tallahassee's first condominium complex when a client approached her about wanting to buy a home. Soto did not hesitate to take the sale.
"My co-workers were a little miffed at me, since it really wasn't my territory," said Soto, but their reaction did not stop her. She put the client in a home for $11,500, and her experience grew from there.
Today, she deals in multimillion-dollar properties, long after opening her own real estate business in 1975. She attributes the growth in her business primarily to her focus on helping people. She gets a lot of repeat customers and has a great reputation. Helping people find exactly what they are looking for is her favorite part of the job.
---
Cassandra Harbin
Cassandra Harbin also has more than 30 years of real estate experience. She has received a plethora of accolades and awards, among them trophies from the Board of Realtors recognizing her for two consecutive years of more than 200 sales — and all without a full-time assistant.
"We only had five restaurants back then!" Harbin recalled of her arrival in Tallahassee. She witnessed the four-laning of Thomasville Road, saw student housing develop from not enough to overabundance, and watched as interest rates on homes dropped more than 50 percent. Being here so long and getting to see all of these changes has given her an extremely thorough knowledge of Tallahassee. She is proud of the city and sincerely tells new residents that they will love it here.
Harbin struggled through seven years in which the housing market "completely tanked," she said. "But I hung in there. I thought about going down to Publix and becoming a cashier, but I just could not leave this business. Truly, I do not think it would be possible to be a real estate agent unless you passionately loved it. It becomes your whole life!"
Making it through the housing crash was definitely demanding. She worked seven-day weeks and saw many others give up. Harbin persevered, though, and is proud of it.
Now, she cannot imagine doing anything else.
"It is never boring, and I get to learn something new every day," she said. She feels that the longer you are in the business, the harder you will work, the more you will learn and thus the more successful you will be. She attributes much of her success to the people she knows: "I'm not so smart myself, but I keep smart people all around me," she said.
---
Ann Cleare
Ann Cleare has been selling real estate for nearly 40 years. She was vice president and president of District 8 Florida Realtors, served on several boards and won the President's Spirit Award in 2010.
Getting started in real estate as a woman was challenging, but she was fortunate enough to sneak through the back door. She became a broker first, not selling real estate until five years after getting her license. She considered it a tremendous advantage, because she already knew all of the paperwork and technicalities involved. "Some people are scared to death to write a contract, but I already knew all of what was involved," she said.
Another one of her big advantages was the wide variety of experience she garnered over the years. She has experience with construction companies, property management, resales and developers.
All of this helped her stay in real estate.
"Surviving the falls is one of my biggest accomplishments in this business," she said. She is proud to still be here and to still enjoy the intricacies of real estate.
"I love that I get to wake up in the morning, and I can receive one call that will completely change my calendar for the day," Cleare said. It is never boring, and the longer she is in real estate, the more she likes it.
And she cannot imagine doing it anywhere besides Tallahassee. She loves the real estate community here.
"The Realtors here are my second family," she said. "The community is very cooperative, and it makes it so much nicer."
She loves Tallahassee's culture, too. She loves the small town feel the city has maintained despite the massive growth it has seen.
"We have wonderful people, wonderful parks, a great symphony and the list just goes on and on. It's just home," Cleare said
---
Rae Roeder
Rae Roeder, who was named Realtor of the Year in 2000, also boasts a vast knowledge of the Tallahassee community. She is dedicated to customizing each real estate experience to meet the needs of her specific clients. She has put an emphasis on staying up to date with certifications and classes, because the field is always changing.
"Changes over the years? The business is unrecognizable!" she said.
Her favorite thing about her career is the excitement of finding the perfect buyers for clients who are selling their home and finding the perfect home for clients looking to buy. A successful hunt is the best part for Roeder; she loves getting it just right.
For example, she once hooked two of her clients up so that one of them moved into a house previously lived in by the other in less than 30 days while the other found temporary living quarters, chose a preferred builder, purchased a lot and moved into a brand new home in less than six months.
"The happy ending continued," Roeder said. "When they retired, I had the privilege of listing and selling the home for them."
Return business means a lot to Roeder, too.
"My biggest accomplishment is having my customers come back when they want to upgrade or downsize, having their children come to me and having both generations refer me to their friends," she said.
Roeder has served as president of the Tallahassee Board of Realtors, vice president of the Florida Association of Realtors, Certified Residential Specialist President for the Florida Chapter and was given the Florida Certified Residential Specialist of the Year Award.
"Over the years I have accumulated a string of designations, because every year something new needs learning. Even after 40 years, I love it."
---