The Gowns of Goodwood
Gowns Tell Goodwood's History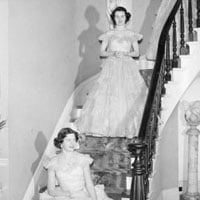 Photo Courtesy State Archives of Florida, Florida Memory
Three young ladies, dressed to the nines, pose on the staircase at Goodwood. Photo taken circa 1951.
The stories of place and people can be told in many ways — written or spoken word, song or dance, painting or sculpture. In the current exhibit at Goodwood Museum and Gardens, fabric and fragrance tell the tales.
"Gowns of Goodwood: The Art of Dressing" recounts the lives of the women who lived and dressed at Goodwood from the 1840s through 1930, including more than a dozen gowns and numerous dressing table accessories from all five owners of the house.
Jointly curated by Goodwood and Florida State University's Department of Retail, Merchandising and Product Development, the exhibit "presents a seamless anthology of American fashion," said co-chairs Ann Durham, Mary Ann Moore and Anne Phipps.
Dresses are featured from the Romantic Era of Goodwood's founders, the Croom family; the Civil War Era, when the Arvah Hopkins family owned the property; the Gilded Age of the Arrowsmiths in the late 19th century; the Edwardian Era, when Fanny Tiers transformed the old cotton plantation into her country estate and winter residence; and the Roaring Twenties, when state Sen. and Mrs. William Hodges assumed ownership and political debate that began at the state Capitol continued over drinks on the front porch.
"Because furnishings were included whenever the property changed owners, we have a wonderful collection of artifacts of daily living," said Beth Lewis, Goodwood's executive director. "We are delighted to be able to share this small portion of our collection with the public, and offer a glimpse into the lives of the people who called Goodwood 'home.'"
The exhibit, which opened April 5, has been extended to June 9 and is included in paid tours of the house. Proceeds help underwrite restoration and preservation of the gowns. The house is open for tours Tuesday through Saturday; the grounds are open Monday through Saturday at no charge. Go to goodwoodmuseum.org for more information.