The FSU Circus Flies High Under the Big Top
Rivaling many professionals, the Flying High Circus is a unique tradition at Florida State University.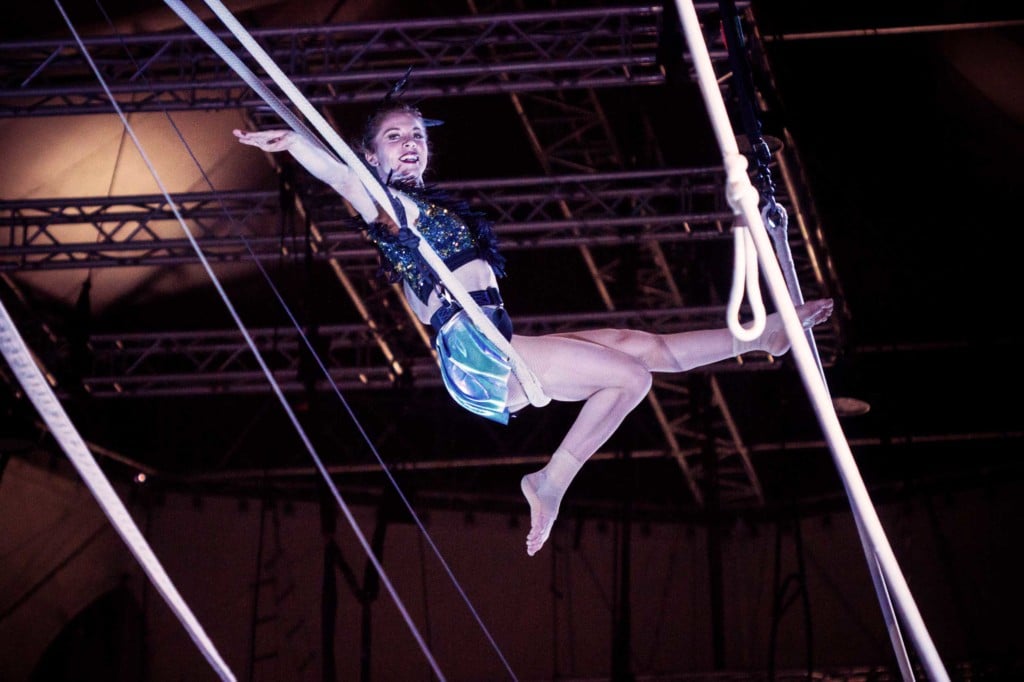 About 70 years ago, Tallahassee became one of many cities around the country that experienced a sudden influx of young men — soldiers returning home after having fought in a brutal war.
Recognizing that many of these highly disciplined young men were in need of education and training that would lead them to employment as civilians, Florida Gov. Millard F. Caldwell signed legislation that transformed The Florida State College for Women into a co-educational institution: The Florida State University.
The president of FSU at the time, Doak S. Campbell, was faced with the task of integrating the two sexes. To accomplish this, he hired Jack Haskin to develop an extracurricular activity that could be participated in by men and women, together.
The FSU Flying High Circus was born.
Today, the FSU Circus is one of just two collegiate circus programs in the U.S., and it is recognized around the world. Many people say that it's as good as any professional circus; others say it's better because it runs entirely on student power.
From rigging their own equipment to giving input on costume design, to sound and light production, to performing live, each student juggles many roles at Flying High. Some of the skills required for those roles are learned in the university's one-credit-hour Introduction to Circus course; but since the course isn't required, many skills are learned on the job.
Al Light, a former FSU Circus performer who is now a head coach for Cirque du Soleil in Las Vegas, said, "The FSU Circus gave me a lot of really good basic skills, and it taught me a lot about leadership, responsibility, hard work, personal accountability and teamwork."
"A lot of what we do here is student development," said Nate Stapp, an assistant coach at Flying High. "We're not trying to train circus professionals. If that happens, that's great, and sometimes it does — but mostly we try to teach students to think for themselves a little bit and be responsible."
Flying High director Chad Mathews, who has been with the FSU Circus since his undergraduate days, said he hopes some of the skills the students acquire while in the program come to them as the natural result of hard work and an effort to fulfill their responsibilities.
"We have about 100–120 students in any given year and only four full-time staff," he says. "That basically means that all of us, including the students, have a lot of responsibilities. To manage everything that's on their plates, students have to learn how to manage their time. That's a skill that will benefit them in the circus and throughout their lives."
And if a member of the Flying High Circus just happens to stick with circus performance for 40 years, as did Leigh Heisinger, you can bet that by retirement, he or she will qualify as an authority on time management — maybe on death-defying stuntwork, too.
Leigh Heisinger began his circus "career" at the park in his northern New Jersey hometown on Independence Day in 1947. A small circus had come to the park for the annual celebration, and one of the acts was a dog-and-pony cart act called Art & Marie Henry's Animal Revue. Eleven-year-old Heisinger offered to help feed and groom the animals for the Henrys, and just like that, he was "in the circus" — at least, he was part of it once a year.
"July 4 was always the happiest day of the year for me," Heisinger says, "because the circus came to town. July 5 was always the saddest day, because everyone left, and the park was just a park again."
Years passed, and an adult Heisinger enlisted in the U.S. Coast Guard. Sometime in the late 1950s, he saw the Flying High Circus perform on TV and decided, then and there, to leave the Coast Guard and join the circus. He enrolled at FSU, and thus began his three-and-a-half-year Flying High adventure.
"I took to the circus from the start," he says. "It was probably the happiest years of my life. I was getting an education, I was being in the circus and the government was paying for it."
[bctt tweet="There's no doubt about it: The circus life is fun, even at the collegiate level — maybe especially at the collegiate level. " username="TallahasseeMag"]
Shortly before graduating, Heisinger purchased an original piece of circus equipment from its inventor, Clay Beckett, along with a contract to perform on the equipment in South America with the Ringling Bros. and Barnum & Bailey Circus. The "Loop Swing," as the apparatus Heisinger bought was called, consisted of a spinning wheel that was attached to one end of a long arm that had a counterbalance on the other end of it. When the wheel was at its highest point, the performer who stood on it — or performed a handstand or some other feat — did so at 50 feet off the ground.
Heisinger's tour in South America, for which he was joined by his wife, Nancy, marked the start of 40 years of touring as The Sensational Leighs. It also marked 40 years of what Heisinger refers to as "running around in circles for a living."
"A lot of people spend their life going around in circles," he says, "but at least we knew what we were doing."
The Heisinger family grew with the birth of a daughter, Robin, who, appropriate to her name, eventually took to the skies and replaced her mother in the family act. She and Leigh performed together until he was 65 years old.
"It's hard to sum up 40 years of performing in one sentence or word," says Heisinger. "All I know is that looking back, it was over in the blink of an eye. But I have few regrets and a ton of good memories. I guess you could say that, for the most part, I am a lucky man who never had to 'work' for a living."
There's no doubt about it: The circus life is fun, even at the collegiate level — maybe especially at the collegiate level. Yes, students in FSU's Flying High Circus get minor rope burns and not-so-minor blisters; yes, their training can be physically exhausting; and yes, the time will come when each of them will take his or her final bow under the Big Top.
But for every rope burn, a new friendship is made.
For every blister, a skill is mastered.
Meet A Few Performers
Justin Lucas
Home: Plant City, Florida
Major: Exercise Physiology
Graduation Date: 2018
Future Plans: To attend an accelerated nursing program after graduating from FSU.
Duties at the Circus: "I've done an array of things, but I'm typically a base, due to my stature. I'm also a catcher for the Flying Trapeze and Cradle."
Favorite Act: "It's tough to say. Teeterboard is a blast, because it's a lot of people on one act, which means you get to work with some members of the circus that you might not work with a lot otherwise. There are so many different personalities working on the act, and that definitely makes it special."
Tips for Prospective Performers: "The circus requires a different type of athleticism. The acts we do — nothing is comfortable, really. It's a mental game, and you have to get over the discomfort and push yourself. And trust in others."
Quote: "Circus fills the athletic void for me in college, and it's a break from school. We have classes all day, and we do the normal stuff that all college kids do, but the best part is that in between my biochemistry class and my applied exercise physiology class, I get to come to the tent and practice with my friends. This is my group of people."
Jordan Groth
Home: Port St. Lucie, Florida
Major: Nursing
Graduation Date: 2020
Future Plans: To become a pediatric nurse practitioner
Duties at the Circus: Acrobatic Jump Rope, Russian Bar, Cloud Swing and Flying Trapeze
Favorite Act: Russian Barre
Tips for Prospective Performers: "You have to be able to do tricks, but you also have to be able to do them well under pressure and in front of people."
Quote: "I really like flipping. Flipping and being upside down are comfortable to me."
Connor Capes
Home: Naples, Florida
Major: German (graduate degree)
Future Plans: To teach German or English
Duties at the Circus: "I do all team acts: Flying Trapeze; Double Trapeze, which is a stationary duo act; and juggling."
Favorite Act: Flying Trapeze
Tips for Prospective Performers: "It can't hurt to try out. Try out for everything at FSU. Also, the circus isn't all about athletic ability; it's about putting a show on for the audience. They are looking at you, and sure, it's physically demanding, but you need to smile. You're having fun, so you should show it."
Quote: "The final bow is always great, but then there's that moment right before you're about to perform. You're behind the back curtain, and your heart's beating super-fast, and you're with your partner and you're like, 'We've got this!' — There's so much energy in that moment. So much adrenaline. It's great."
Rima Nathan
Home: Daytona Beach, Florida
Major: Second-year law student
Graduation Date: 2019
Future Plans: To practice law
Duties at the Circus: Flying Trapeze, Cloud Swing
Favorite Act: "Flying Trapeze or Cloud Swing. Everything is more fun when you're high — in the air."
Tips for Prospective Performers: "Be interested in everything, and always lend a helping hand for the team."
Quote: "In every single job interview I've had, someone asks me about the circus, because it's on my resume. Before they say anything else, they say, 'What's this circus thing?' It's a great ice-breaker."
Circus Halloween Show Series 2018
Thurs., Oct. 25, 7 p.m. | Fri., Oct. 26, 7 p.m. | Fri., Nov. 2, 7 p.m. | Sat., Nov. 3, 7 p.m. Learn more: https://circus.fsu.edu/