The 'Frozen' Effect
No Need to 'Let It Go,' This Disney Juggernaut Offers a Great Message of Girl Power and Sisterly Love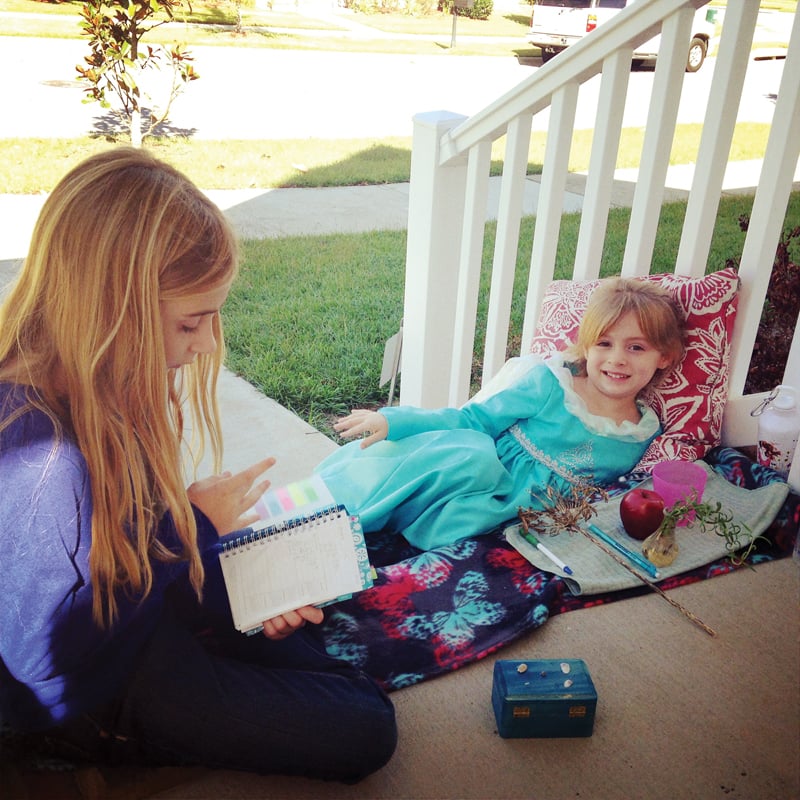 The opportunity was perfect, I suppose. It was 7 a.m. on my November birthday. My daughter, with all the self-control her tiny, 5-year-old body could muster, was leading me out the back door of the house. As my feet hit the freezing concrete of the walkway, she motioned to the frost-covered lawn and burst out with glee, "Mama, see it Mama? I gave you FROZEN twinkles everywhere for your birthday!"
Tisha Crews Keller
Real-life sisters Leah and Amery re-enact their favorite scenes featuring Anna and Elsa from Disney's "Frozen."
Welcome to the perfectly sparkling, eternally glittering world of Disney's "Frozen." For elementary and preschool-age girls worldwide, it's the source of a never-ending obsession with ice queens and crystal palace fantasies.
And if you haven't heard Idina Menzel's Oscar-winning, certified-Platinum theme song, "Let It Go," by now, then you've been living in a world without sound. Every girl child who can hold a tune knows the lyrics by heart, and sings it with the gusto of Luciano Pavarotti. Fortunately for parents like me, the song is, well, intoxicating. Which is wonderful, because I made the mistake of downloading it onto my iPhone, and my kids start asking for it as soon as I even so much as pick up my keys. I've become a remote-controlled DJ for their Menzel (aka Elsa) obsession.
This year, I've endured no fewer than seven "Frozen" birthday parties, two custom-made (by me, of course), "Frozen"-inspired Halloween costumes, daily operatic impersonations of Elsa's ballad nearly nonstop, and countless view-on-repeat screenings of the movie itself.
You may ask yourself why, then, am I not ranting about this $1 billion-plus Disney juggernaut? Why not bash it for traditional "princess syndrome," mildly sexual tension and vanilla friend bullying? Because this, my friends, is no traditional princess movie.
Astonishingly, Disney's biggest animated picture ever has received both critical and financial success. Two Academy Awards, a Golden Globe and countless other nods are only feathers in its cap, as far as I'm concerned. What this film can really be proud of is how the studio transformed not only itself but also the young, impressionable minds of millions of little girls toward girl power — but not in a Miley Cyrus, "Wrecking Ball" kind of way.
Forget "Tangled," with its passive-aggressive foster mother. Never mind the I'm-just-fine-on-my-own lessons of "The Princess and the Frog." Shun "Brave's" mother-daughter love/hate relationship.
Instead, when my two daughters watch this movie, they don't fight over who gets to be "the pretty one." There's no tension over who is being mean to whom. The roles are automatically assigned because there's the older sister and the younger sister … and the movie's central theme comes down to the way these two are attached to each other. It's the irresistible pull between two young girls who grow up separately but are still entwined because they are, above all, sisters.
When my girls reenact "Frozen," I don't see them talking about falling in love or planning their wedding. Even with movies like "How To Train Your Dragon," they take on the tomboy role, because that's what the plot prescribes.
However, in the Elsa and Anna saga, these two little girls fight against forces of woe together — as a unified team — because that's what sisters do. Elsa is the one who struggles with fear and the burden of responsibility. Anna is the spontaneous, playful one, the dreamer who can imagine no world where she and her sister are not together.
One of my favorite lines of the film is Kristoff's. When he incredulously asks Anna if she really intends to "marry a guy she just met today," he echoes my own concern. This is what I want my girls to really know and understand about themselves: that even when you want something to be true and you want someone to be the answer to your prayers, things usually don't work out that way in real life.
Of course, I've used this line as an entrée to discussions with my girls about taking the time to know what they want in life. Don't plan to get married until you find someone worthy of you, I warn. I tell them to dream about everything they want to be and make a plan to get there. But I know that when they start maturing into the women they will become, my words will be lost.
So I don't mind the "Frozen" craze. Finally, I am encouraged to have role models for my children's impressionable young minds that show them they can persevere, they can do the right thing and they have each other no matter what. If it's going to take Elsa dolls and Anna costumes and Olaf slippers to pay forward this debt, then here's my Visa.
Even when my girls watch the movie for the hundredth time, I am still moved almost to tears when we understand that the "act of true love" that will save Anna isn't going to be any of the kisses she seeks from the eligible bachelors. Instead, it's the selfless way she gives up her own life to save her older sister Elsa. That is the act of true love — sisterly love — that puts the world right again and breaks the spell.
Outside, I hear my children screaming with delight as they run from imaginary snow monsters and build their snow castles in the bushes. I look out and see a flash of turquoise — the overly expensive silk taffeta I used for one daughter's Elsa costume. I know it's getting muddied and bruised from the grass and dirt. Even as the second dress passes by in a blur — yes, I even used green velvet to dress my Anna — I listen to the roster of characters being used: Olaf, Sven, Hans, Kristoff, the Duke of Weselton. How they can keep them straight, I don't know.
Nor do I care. For me, the mystery of "Frozen" is simple. Like all Disney films, it's a story that my children connect to with heart and mind. But this time, I'm grateful that the story they are reinventing is unique in its central theme. The bond between sisters is one of the strongest known to the human race. "Frozen" celebrates this and, in my mind, teaches my girls valuable lessons about the strength of character and the possibilities of true (sisterly) love.
So we crank up Idina in the car, and we impersonate Olaf in the bathtub. We obsess over the first frost on the lawn and marvel like groupies at real girls lucky enough to be named Elsa. I stop short of agreeing to a platinum-blonde streak in my third-grader's hair, but I do have to think about it first. For just a moment.