The Fountain Runneth Over
St. Augustine unites a rich history with a bright future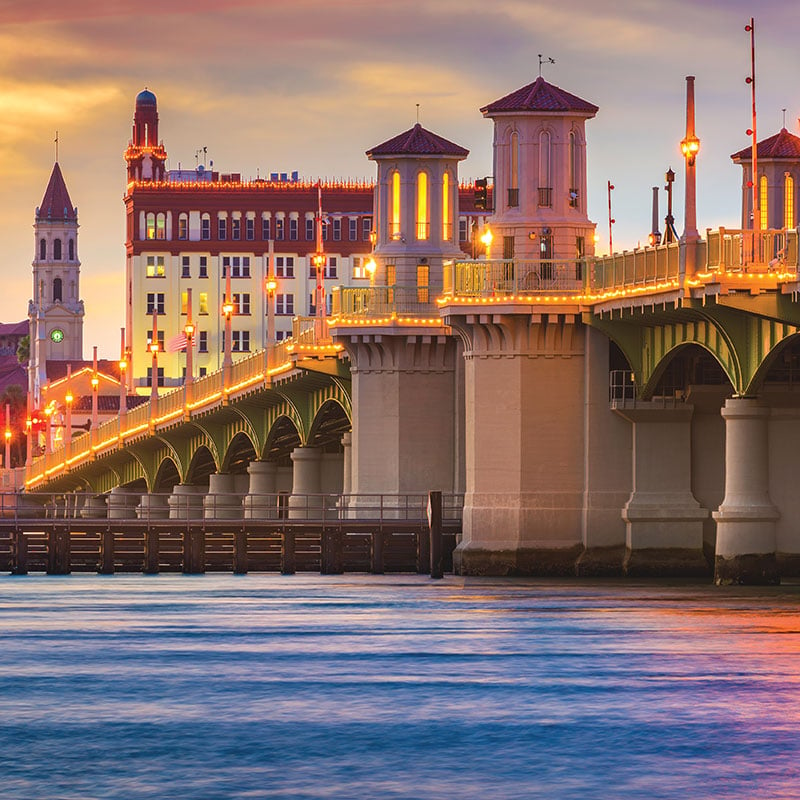 With champagne flute in hand on a private balcony atop the Lightner Museum overlooking the sun setting on the beautiful city of St. Augustine, I found myself wanting to flee. I'm not afraid of heights nor was the company bad. Rather, I had been overtaken by a desire to walk the streets, hundreds of years old, that were below me.
The first time I visited St. Augustine, I was an 8-year-old on a family vacation. My most vivid memory of the trip was sipping pungent water at the Fountain of Youth. In recent years, friends talked about how the oldest city in the United States had evolved into a destination offering eclectic dining, hip bars, localized boutiques and nightlife. On that basis, I was willing to give the city another try, minus the sulfur water.
Stay In Style
For me, the ideal place to stay would offer both history and modernity. The Casa Monica Resort filled that bill. The resort, with its Old World Spanish design, occupies a prime location adjacent to the Lightner Museum and Flagler College.
The building, completed in 1888, has taken two turns as a hotel and also served as the County Courthouse. In 1997, hotelier Richard C. Kessler, known for his love of historic buildings and Bohemian excesses, transformed the hotel into a luxury resort that nods to the past while offering a glimpse into the future.
"Casa Monica is an inspiring location that provides intuitive service," said manager Kimberly Wilson. "A warm welcome and a fond farewell with a charming experience mixed in the middle is what you can expect."
The 138-room resort boasts an extensive art collection, Moroccan influences, gilded gold furnishings, glittering chandeliers and plush red velvet headboards that may make you slow to get out of bed. If your desire to relax extends beyond cloudlike pillows, the on-site Poseidon Spa soothes mind, body and spirit.
Tranquil blue hues, a lush robe and a mimosa greet you. Choose from soothing services such as total relaxation massages, hot stone massages, luxurious facials, and detox and renew treatments. Or pamper and primp with a manicure, pedicure, waxing, hairstyling and makeup services.
It would be easy not to leave this opulent resort were it not for the historical lore, palate-pleasing meals and inviting libations waiting on the brick-lined streets of this city.
History Hopping
You will find no lack of transportation in this city given its trolleys, buses, boats and my personal favorite, the horse drawn carriage. There's just something about the clack of hooves on the ancient streets. Luckily, the majority of destinations are within trotting distance.
While contemporary culture is succeeding, it helps to know a bit of the history of the city in order to fully appreciate it. Educate yourself by visiting museums and historic sites or even joining in a ghost tour.
A spot that is highly visited and very much worth the visit is Castillo de San Marcos, the iconic fort constructed of coquina shells during the 17th century. Whether you are a history buff, a student of architecture or just appreciate a spectacular view, the fort is for you. Re-enactors dress in period attire and fire the cannons 363 days out of the year. Take heed and do cover your ears.
A unique way to see the city is by boat or catamaran. A variety of services will take you along the shore offering striking views of the fort, the lighthouse and the bustling city. Many captains offer informative tours and even a full spread of treats to nosh on.
The Lightner Museum, the Old Jail, St. Augustine Lighthouse, Fort Mantanzas and even the Fountain of Youth are all keys to unlocking the magic of the city. Who doesn't want to sip on something that makes you forever young?
On Ice
St. Augustine has become a premier destination for all things spirits — not ghosts, in this case. One of the most noteworthy distilleries in Florida is located in the historic Florida Power and Light Ice Plant built in 1907. Charming old buildings excite me, but charming old buildings that produce alcohol intoxicate me. Take a free tour of the distillery and watch workers mix, mash, cook and distill while learning the history of the operation. Of course, they wouldn't take you through the process without offering samples at tour's end.
The St. Augustine Distillery emphasizes the fact that their products are derived from local farmers, as they are a community business, themselves. The sugar cane, wheat, corn and citrus used in their whiskey, rum, gin and vodka are harvested by neighbors. Stop at the gift shop and you are sure to leave with a bottle that will become the star of your bar cart.
Conveniently sharing the same location is the Ice Plant Bar. I rediscovered that love at first sight can be real and may come in the form of exposed brick, antique light fixtures, swiveling bar stools, cut glass decanters and craft cocktails. Even the sink in the women's restroom made me gasp a little bit. Once you are done investigating every nook and cranny, sit back, relax and pretend you are in a 1920s speakeasy. La Dolce Vita is a refreshing concoction of St. Augustine Vodka, honeydew, lime and shishito pepper. High Country combines an earthy blend of Rutte Dry Gin, Luxardo Abano, ginger, lime, cucumber and micro greens. Both showcase the imagination brewing in the bartenders' minds. The farm-to-table menu offered at lunch and dinner is some of the best food in town.
Cobalt Lounge, Sangria, Cellar Six and Tini Martini, to name a few, are other spots made appealing by their inviting atmospheres, drink specials and the lively crowds that gather there once the sun slips from view.
A Feast for Foodies
A handful of small, Southern cities have earned reputations as meccas for foodies. Count St. Augustine among them. Whether you are looking to eat on the run, enjoy fine dining or satisfy your sweet tooth, the options are abundant.
The Floridian's exterior is a cheery sky blue while, inside, the restaurant offers local, seasonal and sustainable fare. Expect Southern style favorites with a twist including grit cakes with salsa; fried green tomatoes with herbed ricotta and basil aioli; and 'N Waffles featuring slow smoked BBQ pulled pork over cornmeal waffles with bourbon brown sugar glazed fruit, local honey, buttermilk ricotta and candied pecans.
Costa Brava at the Casa Monica Resort treats dining as an art form with its meze-style menu emphasizing coastal cuisine. A praiseworthy coastal catch is the sherry baked sea bass accompanied by artichokes, tomatoes, Castelvetrano olives, lemon, piquillo peppers and oregano. If red meat is more your speed, the blue cheese beef tenderloin is superb with its brandy-flamed pepper steak, peppercorn sauce and sautéed mushrooms.
You may notice passersby cooling off with whimsically colored frozen treats on a stick. The Hyppo specializes in gourmet ice pops in flavors such as cucumber lemon mint, melon and cracked pepper, blueberry lavender lemonade and dark roast espresso.
My first stop in the city was Cousteau's Waffles and Milkshakes, which I learned about through Instagram. If you blink, you could miss the location, but once there, you can't escape the indulgence. I enjoyed a light and crispy yet chewy waffle with toasted coconut ice cream, espresso whipped cream and mocha drizzle. It disappeared before the ice cream could melt.
Centuries later, the influences of Ponce de Leon, Don Pedro Menendez de Aviles and Henry Flagler still pulse through St. Augustine, but propelling the city forward are hotel managers, business owners, tour guides and welcoming residents. St. Augustine owes much to the past, but its contemporary appeal is due to those creating its future.