The Forgotten Coast Works
Tourism is Wonderful, but More Economic Opportunities are in Store for Wakulla, Franklin and Gulf Counties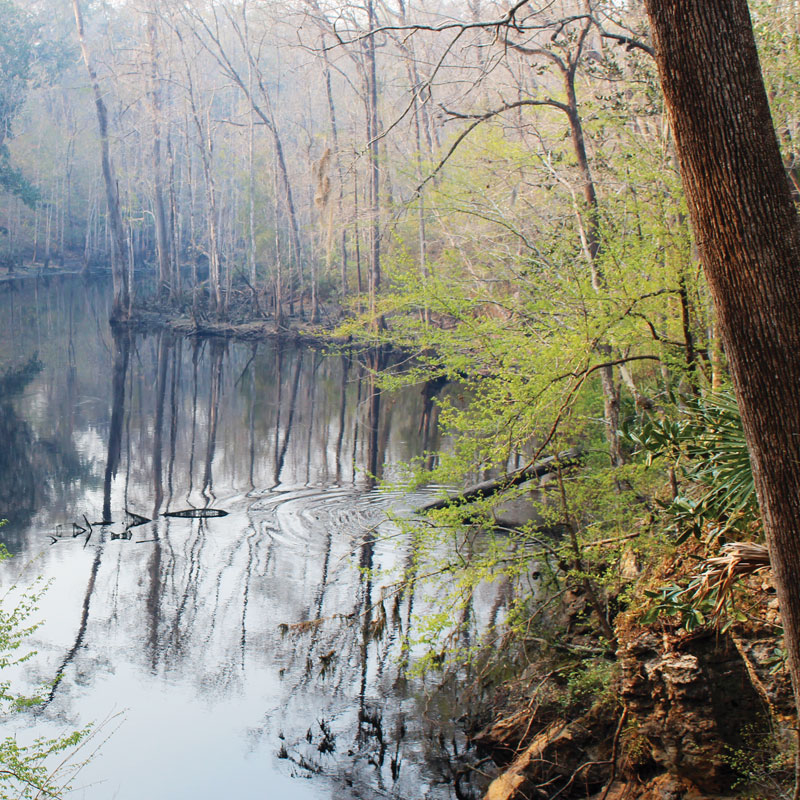 Photo and rendering courtesy Wakulla Environmental Institute
A portion of the land that will become the Wakulla Environmental Institute is set to open later this year.
Wakulla County: Teaching Aquaculture
Tallahassee Community College's newly designed Wakulla Environmental Institute, scheduled to open in the fall, carries the potential for putting a fresh stream of well-informed, highly skilled workers and entrepreneurs into the local economy. It may impact "ecotourism" as well.
The plan calls for the institute to offer two-year associate of science degrees in several ecologically responsible fields. The majority of coursework will be online, but students will receive some onsite training as well. Degree options will include hospitality and tourism management, aquaculture management, parks and leisure services technology, agribusiness management and recycling.
"These (majors) are designed for once they get out, once they graduate, to go right into a job," explained WEI Executive Director Bob Ballard.
Oyster farming, or oyster aquaculture, is a well-established method of maritime harvesting, and will thus be one of the most well-equipped areas of study at WEI.
Together with his wife and two sons, Leo Lovel, owner of Spring Creek Restaurant in Crawfordville, has owned, operated and supplied much of the seafood to his eatery for the last 30 years. But after a series of natural disasters and stricter regulations hit the Gulf Coast, business was suffering.
"We had the restaurant, but what we started to look for was something that could supplement our income so that we could survive the economy," said Lovel. "Oysters got scarce. They got so expensive we could hardly serve them."
Though the process of oyster aquaculture is familiar overseas and is routinely used on the northeastern coast of the United States, it had never been attempted within the Florida Panhandle. But Lovel and his family took a chance, and the gamble paid off.
"All of it was done as an experiment," Lovel said. "In other words, we had the opportunity to get 10,000 oyster seeds, and we designed cages to put them in and then we planted them in different ways."
The sprawling 158 acres comprising WEI's campus are located 10 miles southwest of Wakulla Springs State Park off U.S. 319. Purchased from a private owner on April 1, 2013, strong pine trees, rugged brush and a variety of wildlife cover the terrain.
The land also boasts two connected sinkholes, each with a unique ebb and flow that seem somehow related to the Gulf of Mexico's tidal currents. Extensive diving studies are currently underway to verify the link.
"The reason Wakulla Environmental Institute is here is that we're surrounded by a million acres of conservation land," explained Ballard on TCC's Wakulla location choice.
It's a feature Ballard hopes will entice not only prospective students to visit WEI's campus, but also vacationers looking for a back-to-nature inspired getaway.
"We've got the Gulf of Mexico at our back door, these million acres … . They'll come for Disney — but they'll stay for the real Florida," Ballard said. "We're excited about that."
And others are, too.
According to Felicia Coleman, director of Florida State University's Coastal and Marine Laboratory, careers in oyster aquaculture aren't the only promising thing to come out of the Institute's "fabulous" location choice.
"The other types of jobs that are important in Wakulla County are in tourism," said Coleman, and ecotourism is a major component to WEI's future success. The ultimate goal of the Institute is to draw in 200 families from around the world to Wakulla County each year by emphasizing outdoor adventures and educational experiences. Activities on the menu include kayaking and airboat tours, deep-sea fishing and the chance to stay overnight in a real life (and air-conditioned) tree house.
Once demand for WEI's ecotourism exceeds the capacities of the county's local lodging facilities, a 200-room hotel and spa will be built on the campus grounds and run under the management of WEI's student population majoring in Hospitality and Tourism Management.
Franklin County: Oyster Radio Flourishes
There are businesses that stand the test of time simply because they offer something solid that is wanted and needed in the community. A small independent radio station on the coast of Northwest Florida, aptly named Oyster Radio, is just such a business.
Brian Rowland
Michael Allen is the voice, and owner, of Oyster Radio.
Oyster Radio, 100.5 WOYS, is headquartered in Eastpoint, the small town on the speck of land between East Bay and Apalachicola Bay.
Oyster Radio has been on the air for 25 years. Touted as the "Voice of the Forgotten Coast," it doesn't take long to learn why when listening to the station's unique mix of classic rock and blues with a splattering of some timeless Jimmy Buffett tunes and music with the distinctive beachy sound of steel drums.
New owner Michael Allen is a long-time employee turned entrepreneur. Oyster Radio opened in 1988, and Allen began working there in 1991.
A small operation at the moment, Allen is trying to get the business settled since his purchase of the station about one year ago.
"Right now, the only voice you hear live on the air is mine," Allen said. "We have to make sure all the bills are paid."
In an industry ripe with competition, Oyster Radio has stood the test of time because it is connected to the community.
"Covering sports is an absolute necessity," he said. "It's important parents can listen to their kids play if they can't be there."
Allen is quick to point out that this connection has allowed the station to survive.
"We cater to the community. We do everything we can to promote the area, we air public service announcements, any type of fundraiser, we play music that locals like and is interesting to tourists, which helps bring in advertising dollars," he said.
From 5 a.m. to 8 p.m. Oyster Radio plays a mix of classic rock and blues. From 5 p.m. to 6:30 p.m., listeners are treated to dedicated beach music, which Allen describes as "trop rock," short for tropical rock. At 8 p.m. the station airs Oyster Rock after Dark — "true" classic rock and blues — until 5 a.m.
The station's listening area stretches along the Gulf Coast. "I like to say coverage reaches from Walmart to Walmart," Allen jokes. "The Walmart in Crawfordville (in Wakulla County) to the Walmart in Callaway (in Bay County)."
It can be heard in all of Franklin County, much of Gulf, Liberty and Wakulla counties, online around the world at oysterradio.com and through the TuneIn radio app.
"We want an online presence so those who fall in love with the station can listen once their vacation is over," he said.
Oyster Radio posts on its website information on all things tied to Apalachicola Bay and the surrounding waters, such as announcements from the Florida Fish and Wildlife Conservation Commission on fishing season dates and a precautionary boil water notice for Gulf County residents. Water issues play a key role in the local community, so the station covers news items like the allocation of $2.5 million to improve water quality in Apalachicola Bay.
When the Deep Water Horizon oil spill happened, the coverage was "treated like a natural disaster," Allen says. "We went to every local meeting and provided local information on where to go if fishermen wanted to sign up to become a 'vessel of opportunity.' We provided all the information we could get our hands on, and we did it all day long."
When hurricanes threaten the area, the station is a lifeline of information.
"Knock on wood when I say this: We have never left during a hurricane yet. We provide road closures, evacuation notices and every possible bit of information. We work very closely with the emergency management office. We do not plan to leave this station as long as the electricity is on," Allen says. "As far as I'm concerned that is what local radio stations are for. If you aren't providing local information what are you there for?"
Gulf County: Putting the Port back in Port St. Joe
There's an old saying that goes "A rising tide lifts all boats." And as a wider Panama Canal opens its locks for the world's mega-ships, Northwest Florida's local ports — Port Panama City, Port of Pensacola and Port St. Joe — are taking stock of what that means for their business, as well as the economic health of the region they serve.
Port St. Joe — the Forgotten Coast's most important commercial port — took a step closer to a new lease on life recently when Port Authority Chairman Leonard Costin announced that an engineering/environmental study is currently taking place that ought to lead to dredging permits for the 14-mile shipping channel.
"If all goes well, we should have an operating port (and railroad) by the first quarter of 2015," Costin said.
The old port on the shore of historic St. Joseph Bay, once a formidable actor on the maritime stage, has been inactive for many years. But events over the past year are shaping a new future for the old docks. Two new business opportunities being sought by today's St. Joe Company, which still owns property around the port, have opened the door to a resurgence of the port's viability, although it will require the old port to be renovated and reopened.
Last May, St. Joe announced it had signed a letter of intent with Green Circle Bio Energy Inc., which ships wood pellets overseas in a brisk renewable energy business with Europe.
The second opportunity was announced in June 2013, with the signing of second letter of intent, this time with Enova Energy Group, a full-service, clean energy development company interested in expanding its own wood pellet plants in the Southeastern United States. Like Green Circle, Enova needs a functioning railway and port to get its product to market. St. Joe officials say dredging the port's shipping channel and repairing the AN Railway's bridge over the Apalachicola River are necessary prior to starting any shipping activities.
To say a new port is an economic necessity for this rural region would be an understatement. Just about all signs of industrial usage have vanished since The St. Joe Paper Company's paper mill was closed down and demolished. Two chemical plants were also shut down and razed. The short-line railroad that serviced the industries here was left intact but has been unused for more than a decade. Out in the bay, the shipping channel and turning basin that once saw steamships and freighters from all over the world are idle and need maintenance; specifically, dredging.
Port St. Joe Port Authority officials are excited about the possibility of having a working port again and are working with the St. Joe Company and whoever else they can get in their corner to get things turned around quickly.
"We have a cooperative, collaborative relationship with The St. Joe Company, which is committed to developing the port here," said Port Director Tommy Pitts.
The good news is that Port St. Joe has an abundance of public works infrastructure including water, power, gas lines and wastewater treatment.
"We're a blank slate now. We're starting over. And I see the port being bigger and better, and more far-reaching, than ever in the past," Costin said.