Indie Filmmaker Fred Rabbath
Making the Most of his Outside Perspective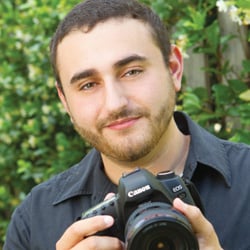 Fred Rabbath's Internet Movie Data Base resume´ makes him sound like an insanely creative dude: Mechanical engineer. Author. Linguist. Animator. Filmmaker. Graphic designer. Photographer. Rabbath is only 25, and his accomplishments are enviable, but he doesn't really see himself as a "Renaissance man."
"It's all trial and error, man, trial and error. What you see is the cream of the crop. What you don't see is all the work that goes into it. It's crazy," he said. "In reality, I'm just as lazy as everyone else."
So forget the notion that this award-winning, creative genius is a superhero. Let's just say he's more like an award-winning, creative "fixer" of problems.
"Everything I've done has been a reflection of something that needs exposure," he said. "I like to fix things, I think, or make people aware of it more."
Rabbath likes to shine a light on the bumps and potholes in society and life in general. If he thinks people are afraid of the unknown and are limited by conventional perspectives, he'll make a movie offering a different perspective on the problem. If some people can't afford a conventional air conditioner, he'll invent a cheaper alternative. If there is a moral lesson to be taught, he will write a short story about it. Need to know what the liquor laws are in the next state over? There's an app for that — one he created.
Rabbath has lived in 34 countries, including parts of the Middle East. There, the restrictive laws and customs forced the aspiring director to improvise his own celluloid entertainment. At the age of 8 he used a Sony Hi8 video camera to film puppet shows for his little sister as a way to entertain her.
That experience may have started him down the filmmaking path, but the experience of being a "citizen of the world" gave him the sense of perspective that would fill his artistic vision with purpose. He's an outsider, in a way. The objective observer; the outside man who notices things and skewers our screwy society.
"The things I don't like about society; the things I would try to change, I make films about them," he said. "And I do it in a way that hopefully will get people to see where I'm coming from because I do feel like I have a (unique) perspective."
The Rabbath family left the Middle East in 2003 at the outset of the second Iraq War. They settled in Tallahassee, and Fred wanted to continue his path toward becoming a filmmaker. He applied for admission to the renowned, highly selective Florida State University College of Motion Picture Arts but was turned down. "OK, no problem, I'll just do my own thing," he thought. The only problem was, he couldn't find funding for his films in Tallahassee. There were empty pledges of money, and then the economy turned sour. Neither situation was satisfactory.
"You basically have to fund yourself," he said. "The films have had to fund themselves." Enter the innovative concept of "zero budget." Rabbath said it's just a way of starting from scratch and working your way up.
"You start off by asking someone to borrow their camera," he said. "You borrow a camera, you go and make a film. I borrowed things from people, and then I won money from those things I made and then bought my own equipment. (Zero budget refers to) the budget for the film. Not the equipment that we have. The equipment we have is equivalent to $4,000." (That may sound like a lot, but his production equipment consists entirely of a Canon 5D Mark II photography camera that shoots video, a microphone, two lights and a Mac computer to edit on. That's it.)
You also have to have a fan base that is plugged in and willing to rent, lease or buy the movies you make. To date, Rabbath has 10 million fans worldwide. He's produced more than 120 short films in the past five years alone, finished one feature-length movie and has another one in the works.
"Essentially we keep building, and now we're finally getting more profit," he said. "We're getting out there as far as making more money and we take that profit and put it into the feature film we just made, a Christian feature film, and then we're making another one called "The Light of Eden," which is about a color no one has ever seen before."
As a filmmaker, Rabbath does things that fly in the face of convention. In the movie-making world, directors start out with a script and find a location to match it. Rabbath starts out with a location and then writes a story to match.
"I go see what I have, which isn't much, and write to it," he said. "For zero-budget to work, I go find my locations and see what I have and build the story around that. That's the only way it's going to work. And that's a very big no-no in film rules. But without doing that, I would never be able to make any films."
If you're going to write a book or direct a movie, be sure to live a real life first. Rabbath said that's the key to what he does.
"I feel that whenever you work with any kind of art, or writing, or something, you have to go out and live life; you have to help people," he said. "That's why I try to do other things, because if I don't get that perspective, then I become useless. That's why a lot of directors lose their ability. When directors start out in their fields, they're really good, but then they sort of let go and that's because they stop living real life. When you stop living, you stop having things people can relate to. And that's the most important thing."