The Few. The Proud. Forgotten?
Camp Lejeune's Tainted Water May Have Caused Mike Partain's Breast Cancer, And He's Not Alone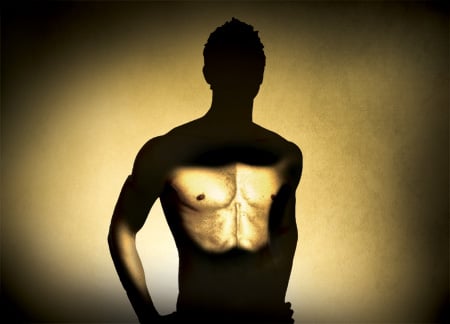 It was April 2007 when 39-year-old Tallahassee resident Mike Partain hugged his wife, Margaret. It's an embrace that saved his life. She felt a lump in his chest. It was cancer.
"I was diagnosed last year on April 25, our wedding anniversary," Mike Partain says. "Margaret gave me a hug before bed, and her hand went over the tumor that was located over my right nipple in my breast. I had been experiencing weird symptoms two years before and had a physical, but the doctors did not find the cancer. They were looking in the wrong place.
The only way to detect breast cancer is by feeling it or mammogram.
"Margaret saved my life."
Partain was blown away by the male-breast-cancer diagnosis.
"Breast cancer is rare in men and even rarer in men under 60," he says. "Male breast cancer accounts for less than 1 percent of all diagnosed breast cancers. I underwent genetic testing for the hereditary breast cancer mutations BRCA 1 and 2. Most men who develop male breast cancer carry this gene. I tested negative. I do not drink, nor do I smoke. There is no history of breast cancer in my family."
As if learning he had breast cancer wasn't shocking enough, what happened next would alter Partain's life forever.
"My father called me on June 12 (2007) and told me to turn on CNN," he says. "Life as I knew it ended after that conversation."
The network was showing testimony at congressional hearings about water contamination at Camp Lejeune, a Marine Corps base in North Carolina. What Partain and his father heard on television that day was that hundreds of thousands of Marines, their families and civilian employees were exposed to toxic tap water that may have caused cancer and birth defects, according to a federal health official.
Lawmakers heard emotional testimony from families affected by the water. A retired Marine who lost his 9-year-old daughter to leukemia testified that the water contained 280 times the amount of toxic substances considered safe by today's standards.
Partain was conceived shortly after his parents arrived at Camp Lejeune in April 1967. He was born at the Naval Hospital, and they left the base in May 1968. His mother drank the water the entire time he was in the womb. Partain is convinced that this is the cause of his cancer – and a host of other health issues he has dealt with.
"I was born with a severe skin rash that I still have today," he says. "As a child I suffered ear, nose and throat problems as well as speech problems. I had to attend speech classes in first grade. At 13, I developed problems in the epididymis (part of the male reproductive system) that continue to this day. At 18, I was diagnosed with high blood pressure."
Partain is not alone in his concern.
The Agency for Toxic Substances and Disease Registry's (ATSDR) senior epidemiologist in the Division of Health Studies, Dr. Frank Bove, is conducting a study on birth defects and childhood cancers at Camp Lejeune. He estimates that as many as 600,000 to 800,000 people were exposed to the water, apparently contaminated by dry-cleaning solvents and degreasers.
"Given the large numbers of people likely exposed, I would expect that there are hundreds of thousands that do not know about the situation," Bove says. "We do not know how many have died of the illnesses."
The actual number of people exposed is unknown because computerized records go back only as far as the mid-1970s.
What angers Partain and others is how the government has responded to the matter.
"The Department of the Navy's tactic has been to deny, defend and delay in these matters," he says. "They have also adopted the position that they did not violate any federal water standards at the time and that they were victims of ABC One-Hour Cleaners. What they do not publicly discuss is that they were the largest contributors to the contamination of the water at Camp Lejeune and that they were in violation of their own laws concerning the base potable water systems. The Department of Navy/Marine Corps have yet to notify all the families despite a bill that was signed into law in January requiring them to do so. My family was never told of the contamination."
The Marine Corps' official Camp Lejeune Web site says the corps is committed to reaching all former residents who may have been exposed to unregulated chemicals in the base drinking water between 1957 and 1987 and that the Marine Corps fully supports the ATSDR's ongoing health study.
"At the completion of the study in mid-2008, the Marine Corps will announce the results in conjunction with ATSDR," the site reads.
Since Partain's diagnosis and treatment, he has made it his mission to spread word of the contamination to others who may have been exposed, calling the military's current notification system "haphazard and half-hearted." He says he believes there are now nine families in Tallahassee alone that have been affected. He shares his passion with those he meets and explains to them what he hopes to see happen.
"Cooperation on the part of the Department of Navy/Marine Corps has come with great reluctance, and one of the main problems we face is the fact the Department of Defense holds all the information on this matter and there is no oversight upon them," he says. "I would like to see Congress step in and force their complete cooperation and make this whole process completely transparent for the public to see what is really happening concerning Lejeune."
Partain has found a very powerful ally in the person of U.S. Rep. Allen Boyd. The congressman representing North Florida's Second District has joined Partain's search for the truth.
"On a local level, it concerns me because I have spoken with or been advised of at least eight different families in North Florida who are seeking medical records, birth records and other information directly related to water contamination at Camp Lejeune," Boyd says. "I plan to do my part to get some answers to the questions that my constituents and the American people expect their representatives in Washington to be asking."
Sixty-eight-year-old Tallahassee resident Betty Sparks lost her husband, Bobby, to prostate cancer in April 2006. She says he had a chronic and painful skin condition throughout his adult life that could never be cured. It wasn't until she heard Partain tell his story that Sparks says she saw the connection. Bobby Sparks had been a Marine on active duty, stationed at Camp Lejeune between 1956 and 1958. Like many who have learned of the contamination, Betty Sparks is angry.
"You would have to see a loved one go through this agony all his adult life to really understand and live a tragedy that might have been prevented," Sparks says. "He suffered, therefore his family suffered – and do we really know why? How can you calculate the suffering, question a diagnosis, question prescribed pills and potions? Could this have been prevented? Could the powers that be have known some of this over the last 50 years or so? My story is probably a fairytale considering some of the horrendous effects I've heard about the last few weeks. My purpose in participating in this is to support and expose the possibilities for the younger families that could have inherited some of the effects of the contamination."
Also in 2006, Marion McCaskey, president and CEO of TMH Federal Credit Union, lost her stepfather, Bobby Hoover, to male breast cancer. She also had no idea about the Lejeune water contamination until she heard Partain give his testimony at their church, Canopy Roads Baptist.
"I was shocked," McCaskey says. "It breaks my heart that this has been swept under the rug and more folks out there may have been ill and the government seems to have turned a blind eye to them. Historically, the stance appears to be if we don't talk about it, it will go away. It won't.
"I'm angry," McCaskey says. "I have a 50-year-old brother that lived on the base, went to the base high school and swimming pools, and went to the base hospital and clinics during the period of contamination. I think of his future health issues: Do they include male breast cancer? What about his offspring? Are the health problems they've suffered related? If he'd known about the contamination, would it have made a difference in their health growing up? And I wonder, was this related to the cancer I had at 23 years old, creating long-term health issues? I feel like the Marine Corps let their own down."
McCaskey, Sparks, Partain and the others now must wait for the government's response to requests for the release of reports that have been withheld and the results of the ATSDR's research. They watch as Congress investigates. Each has been touched by cancer and now brought together by what they believe was the cause of it.
Partain had a mastectomy in May 2007 and completed chemotherapy in November. His prognosis is good, but he says he still worries for his four children, now between the ages of 8 and 18 years old.
Margaret Partain says they are now obligated to help educate others.
"When we found out about the contamination at Camp Lejeune, it took us down a different road," she says. "Aside from the battle Mike faced with breast cancer, he decided to join the fight for justice for the million of other victims of the contamination. I am very proud of what he and many others are doing, because not everyone has the courage to take on this uphill battle. Aside from his full-time job, he works at home on this cause in the evenings. Our family has had to make some adjustments and has had to put some of our needs aside to help others.
"It's been a good lesson for all of us," she says. "I believe another lesson that is learned here is that someone's decision 40 years ago could decide your fate. The responsibility falls on all of us to be responsible human beings and make decisions that our consistent with that."
---
Contributing writer Triston V. Sanders is executive producer/news anchor for WCTV. Watch her televised medical segment "Health Matters" weekday mornings on "The Good Morning Show" on WCTV.
For more information: E-mail Mike Partain at strashni@comcast.net.
Visit the Web site "The Few, The Proud, The Forgotten – Camp Lejeune Water Contamination" at tftptf.com.
Call the Marine Corps at (877) 261-9782