The Fashion & Model University
FAMU fashion at its finest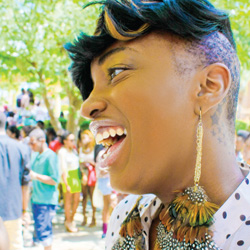 Marcus Duval
A FAMU fashion student expresses her individual creativity through her unique style.
Aside from graduating some of the top African-American professionals in pharmacy, engineering and business administration, FAMU also has a reputation in the Historically Black College and University community — and here in Tallahassee — as the fashion-forward university.
So we decided to take a ride to the top of the hill to check out what stylish Florida A&M University students are rocking.
"People say FAMU is like a fashion show," says Tyshane Francisco, 19. "Everyone is trying to show their character the best way they can."
"(At) FSU, you're looking at flip flops, jeans, paraphernalia," says Tuki Daily, 20, "but at FAMU, if you see an orange and green shirt I'm pretty sure it's ripped, has buttons or it's decorative."
The melting pot of different styles and personalities creates looks that are versatile, fun and original. FAMU students embrace individuality and on any given day can be seen in every style, from urban and preppy to bohemian and vintage.
And students are adept at creating eye-catching looks on ramen noodle budgets. Used clothing is "in," and many shop at secondhand stores such as Goodwill to create their individual styles.
Every Friday, local vendors set up shop on The Set, the social spot on campus, selling handmade accessories and clothing. Fashion shows are often held by one of FAMU's three modeling troupes.
"FAMU is definitely a fashion-forward school," says FSU student, Zack Blair, 21. "If you come here with no fashion, you're definitely going to leave here with some."