The Engine Room Seeks to Put Tallahassee on the Map for Eclectic, Original Sounds
'Music That Matters'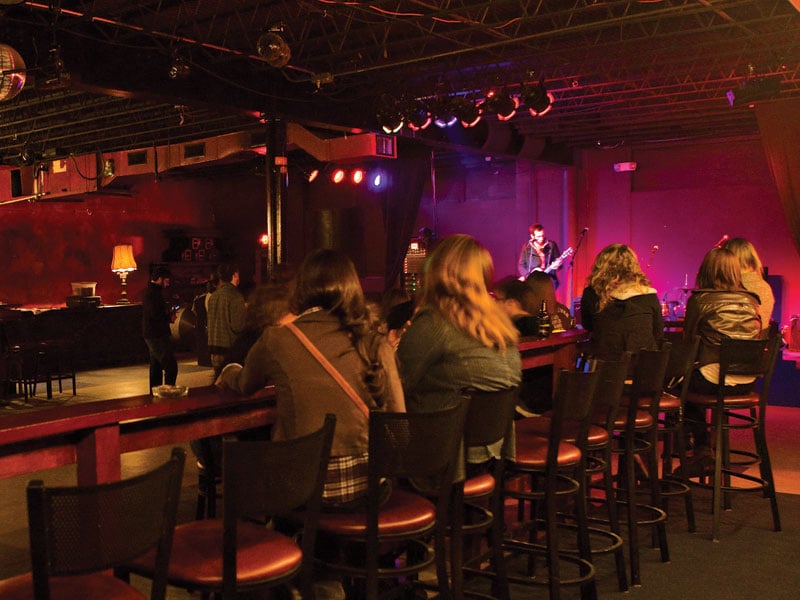 In a dilapidated-looking building near the intersection of Gaines Street and Railroad Avenue, clued-in Tallahassee music lovers gather in a darkened bar to see what could be The Next Big Thing.
This is The Engine Room, a live music venue that isn't satisfied showcasing the usual bar bands playing rock 'n' roll covers. Since it opened two years ago, The Engine Room had been booking live, original music shows as many as 20 to 25 nights a month. The flagging economy has forced owner Truewill Mashburn to cut back to 10 or 15 live shows a month, but he and promoters Paul Levine and Lyle Williams have been building something unique in Tallahassee.
"You can only take so much Tennessee Street," says Mashburn, referring to the string of boozy college bars located there. "Eventually, I want people to know that we are here to try to book music that matters."
"I-10 runs right through Tallahassee," Levine adds. "Every band that's on the road comes through Tallahassee going east and west, particularly if they are headed to or from New Orleans or Jacksonville."
"You can catch acts coming out of Florida on tour or coming into Florida on tour," Williams says.
Talented bands that play larger cities on the weekends sometimes play The Engine Room mid-week. Musical styles run the gamut from funk to punk, with string bands, electronica, Cajun, reggae, roots, alt-folk, jazz and psychedelic rock all welcome to the party.
"Even on 'off days,' we're able to bring out crowds for shows, and that tells us that there's a growing base of music fans here," Levine says. "I don't know why Tallahassee, with music programs in the universities and a young student population, can't develop a music reputation that rivals Athens, Ga., and Austin, Texas."
The Engine Room has showcased some cutting-edge artists on the way up. Alt-folk phenoms The Fleet Foxes played the venue right before they hit it big on the national scene. So did The Avett Brothers, now major-label recording artists with exquisite harmonies and a diehard following that earned them a guest spot on David Letterman's show.
World-touring electronic acts such as Pretty Lights and Z-Trip, a turntable artist who combines old and new musical samples in new ways (and was named America's Best DJ in 2009) pack the place for dance parties. Perpetual jam-band touring acts Donna The Buffalo, Colonel Bruce Hampton and Dark Star Orchestra have all played The Engine Room, drawing enthusiastic crowds.
New Orleans jazz phenoms The Dirty Dozen Brass Band played there, and this past fall, the venue started featuring live jazz on Monday nights.
Williams, 29, Levine, 40, and Mashburn, 33, say it has been a tough time, financially, to try to grow a live music venue in the midst of a crushing economic recession.
"We turn down bands that would make a lot of money," says Mashburn, who says he prefers music that's 'off the edges' of the mainstream. "I feel like by us just staying open and not making a million dollars, we have an opportunity to bring in better bands."
Levine and Williams are also the masterminds of Bear Creek Music & Arts Festival, an annual musical celebration, set this year for Nov. 12–14, at the gorgeous 600-acre Spirit of the Suwannee Music Park in Live Oak. Levine and Williams book quite a few New Orleans-based funk bands (Galactic, Ivan Neville's Dumpstaphunk, Trombone Shorty & Orleans Avenue) for Bear Creek, and he showcases some of them at The Engine Room during the year.
"Bands will call and say, 'We'd like to play your festival,' and we'll say, 'That's great. We'd like you to play Tallahassee first,' and I'll steer them to The Engine Room," Levine says. "It brings more great music through town so we can have a better music scene."
Zach Deputy is a one-man band out of South Carolina who came last year to play Bear Creek and wowed the crowd with his particular style of "looping," meaning he records guitar and drum lines individually while he's on stage, then plays them back while he plays guitar and sings live on top. He builds his funky tunes with a reggae beat until they rock like a full band and have the crowd up and moving. Over the past year, he has toured the country relentlessly, doubling the audiences at his shows and getting featured as an artist-in-residence at several venues in the Northeast.
He came back to play The Engine Room and Bear Creek this past fall.
"I think Paul and Lyle are different from a lot of music promoters," Deputy says. "Some promoters think with their wallet, and: How much will an artist make them? Then there are promoters who think with their heart. I think Lyle and Paul are awesome at doing that — picking bands that speak to their soul."
Local musicians who play original music — and there are plenty in Tallahassee — also have a place at The Engine Room.
"I've been playing in Tallahassee since I was 18," says Sharla June, whose stomping string band, The Mayhaws, should not be missed. "I've lived in other communities and played music. We have a really vibrant local music scene here."
"The problem today," she says, "is the same problem it's always been — we don't have enough venues of different sizes for live music. I think, especially among young people, there's a real movement back to live music, and for people to connect over music."
Says Levine: "Particularly in hard times, good music can recharge you and replenish your spirit."
The Engine Room is a low-lit, cavernous space with a large dance floor, and stools and thin counters along its edges. Couches sit snug against the walls. The stage view is good most anywhere. Shows more often than not start later in the evening, which can be challenging on work and school nights, but it's worth taking a nap or chugging some coffee to see world-class acts.
Cover charges usually run between $5 and $10, but can go up to $20 for more well-known artists. The Engine Room doesn't serve food. There is an extensive beer collection, and smoking is allowed for some shows.
What does the future hold for the funky live-music venue?
"The future," Levine says, "is always the bands we haven't seen yet."