The Editor Takes a Nostalgic Trip Around the Bases
Batter Up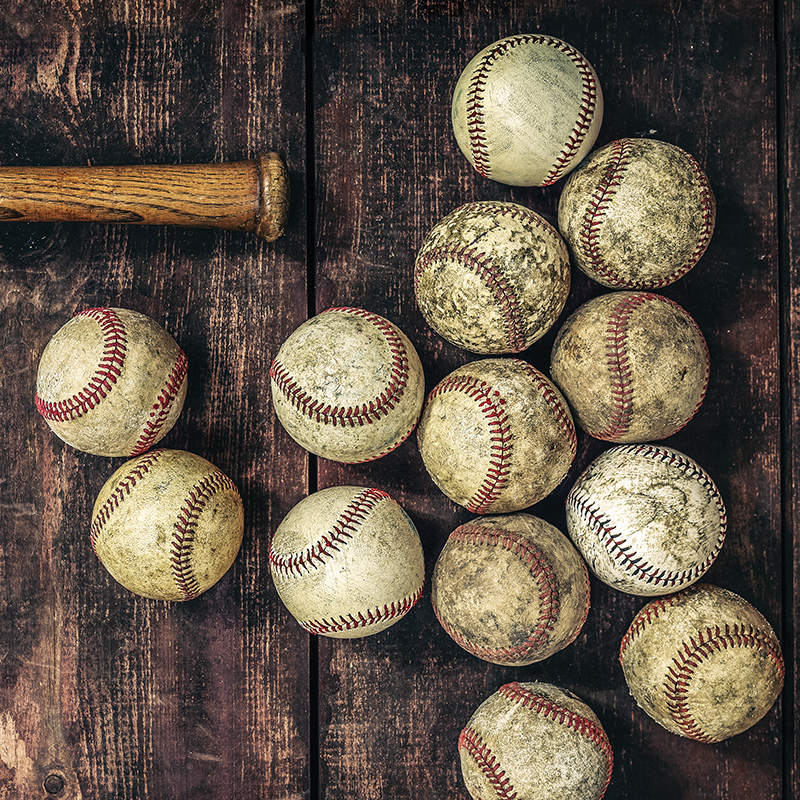 My brother Tad, in February, sent me a photo of himself and his three sons at a Minnesota Wild hockey game.
"We've changed sports," Tad, a lifelong baseball fan, noted in sending the image. Indeed, all four men wore Wild scarves.
"Have you forsaken the Twins?" I had to ask.
"Just killing time. Ten days until pitchers and catchers report to Spring Training."
I was relieved. That is, had it become possible for my brother, at his age, to become disaffected with baseball, then I would have been led to wonder — as I would upon learning that good friends are divorcing after decades of marriage — if the same fate might befall me.
That is a fate I would not choose, any more than I would relinquish my trading card collection to Devoe Moore.
I have been a baseball fan since before the Senators departed Washington for Minneapolis, before the Braves headed south from Milwaukee. Playing the game, albeit softball in the main, has been among my greatest joys.
I have thrice retired from donning cleats and like a struggling swimmer who goes down for the third time, I will not again surface to trot out to a red-clay diamond. Unless I do.
After a few months of idleness, I can lie to myself — "I never felt better" — every bit as well as Peyton Manning ever did.
I first played softball as an adult in Ashland, Wisconsin, where once I edited the newspaper. I was promoted too quickly to pitcher and there were days when I prayed for rain. Ashland was a hardscrabble paper mill town. Males there learned to operate chainsaws before they could ride a bicycle and were, like generations before them, into the Paleo diet long before it was cool.
After Ashland, it would be a long while before I would play again. I had gravitated south to Panama City, Florida, another paper mill town, where a man called White Shoes talked me into joining a team sponsored by a funeral home. Fittingly, its pitcher, who worked midnights at the mill, had a dark and depraved and menacing cast about him, rarely spoke and carried his gear in a canvas bat bag that he unzipped deliberately and ceremoniously — a gangster opening his violin case, the Grim Reaper.
Every small town has The Pool Shark and, in Panama City, the funeral home was fortunate to have at its disposal The Pitcher.
Indeed, the team's lineup, including our death merchant captain, was populated from the top of the order to the bottom with accomplished players. Most had played in a vaunted regional tournament known as The Southeastern. True story: One year, White Shoes was to ride with others to the big dance and didn't show. The Undertaker dispatched himself to find White Shoes — he knew where to look — and literally separated the truant from a woman as he was rounding third. Never before or since, I dare say, has White Shoes dressed as quickly.
For the funereal squad, I was a reserve who saw action when injury or illness sidelined a regular. One night, unexpectedly, I got a start in right-center field and thankfully was not challenged by a difficult chance until the game's final frame.
The Pitcher was in a jam, sacks juiced in the bottom of the seventh and the Caskets, we should have been named, were clinging to a one-run lead with two out. Pitch lofted the ball, loaded with backspin, toward the hitter who managed to line it toward dead center. I streaked to my right, stretched across my body with my gloved hand and somehow Divine Providence saw fit to land the ball right in the webbing. Game over.
I fought the impulse to skip in from the outfield and The Pitcher, it seemed — could it be? — was waiting on me. Deferentially, with head down, I passed him on my way to the dugout whereupon he swatted me with his glove on the seat of my pants and muttered, "Thanks for savin' my butt out there."
I would have been content to die right there but would have missed out on the night that Peddler's Alley Tavern, for whom I pitched years later — my son played first base — knocked off the perennial league champs, PRN, a team dominated by demeaning doctors and dandies — prima donnas, all.
Improbably, a pitcher's duel developed as that game unfolded. The contest was tied at 1 after six innings. I surrendered a run in the top of the seventh, and PRN was supremely confident about closing out the underdog Peddler's Alley. I was prepared, honestly, to settle for a pyrrhic victory.
PRN walked a batter and our top hitter, whom we called Swede because he briefly had played professional baseball in Scandinavia, came to the plate. Swede stood out from the rest of us. He looked like a ballplayer, an A-Rod among Billy Martins, and wore his pants short, accenting his highly developed calves. He declined to wear a team-issued adjustable cap, preferring his own fitted lid.
Swede stood in, tapped the far side of the plate with his bat, gave a withering look to PRN's pitcher, a podiatrist who wore a rag on his head and reminded me of the fife player in Archibald Willard's painting, Yankee Doodle. (You'd recognize it if you saw it.)
Lumpy, an insurance man who had little in common with the dandies who surrounded him and whose wife from time to time raised lumps on his head when he arrived home late, stood up behind the plate, called time out and shouted at the foot doctor, "Don't pitch to the Swede."
But Lumpy's advice was ignored as it was routinely. The podiatrist grooved one, Swede put the barrel on it and the ball sailed over the fence in left center and landed in the street on one hop.
The proletariat had triumphed. Bernie Sanders had conquered the Clinton Machine. The Cubs had won the Series.
I was young again, and still. And satisfied that Americanized cricket is the greatest game that will ever be.