The Ear of the Beholder
Making Music with Offbeat Instruments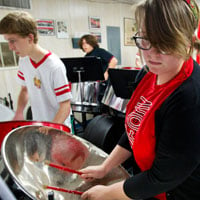 All that glitters isn't gold — Dale Olsen's 3,000-year-old Peruvian ocarina wasn't used to solve puzzles, magically teleport its owner or open gateways into time like the one used in the classic video game, "Legend of Zelda: Ocarina of Time." But long ago, it may have had its own mystical powers.
"I got it from a shaman from Peru, who used it to call the spirits of the mountains and ocean," Olsen said as he carefully plucked the small, ancient instrument from its box to show a visitor. After playing a handful of ethereal notes, he places it back in its box within a larger box alongside a "notched" flute — whittled from human bone — that's just as old.
Professor Olsen is just one of many locals who enjoy musical instruments that aren't usually considered to be "conventional." And yet, they hold a magical attraction in their own right.
"Flutes are an amazing topic," Olsen said. "One of my favorite duct flutes is the Lakota Sioux duct flute. The Lakota flute is a 'courting' flute, and the folk tales talk about the power of the flute."
These are just part of Olsen's large collection of handcrafted musical instruments. He's traveled the world in the serious, scholarly study of music from other cultures, and over time has collected some 300 wind/air instruments. His impressive collection — which he recently photographed and cataloged — includes the Chinese bawu, Lakota siyotanka, Japanese shakuhachi, Bolivian and Peruvian kena and siku, Vietnamese sao, Tongan fangufangu, Thai khaen, Chinese dizi and others.
"I do play just about everything I have — some better than others," he said. One of the most unusual instruments he owns is a Vietnamese dan bau, a beautifully crafted wooden box with intricate mother-of-pearl inlays, a single string and a "whammy" bar of sorts that provides a range of notes.
"It's one of the most difficult instruments to play," he said.
Aloha, Ukulele!
Olsen has seven books to his credit and more than three decades of teaching under his belt. He has been responsible for creating, over the course of his career at Florida State University, some 15 different foreign-instrument ensembles. But while his pursuit of musical ethno-history has been grounded in academia, other folks around Tallahassee play their "offbeat" instruments for sheer enjoyment, relaxation and, in some ways, to create a better community.
Take, for example, the Tallahassee Uke Jammers and Harmony Rhythms. One group loves the ukulele, the other likes the meditative charm of drum circles. Both groups have their own weekly get-togethers. The Uke Jammers meet every Sunday at Finnegan's Wake in Midtown while the drum circle meets every Wednesday at the Lake Ella gazebo.
Pam Shank, one of the primary founders of the Tallahassee Uke Jammers, said her group started two years ago at Lake Ella and after it grew in numbers, moved over to Finnegan's Wake, the popular Irish pub. They've got about 40 members on the mailing list and about 10 or so who show up to play on a regular basis. And it appears to be a growing phenomenon across the nation.
"Some people still smirk. Some people still give the uke no respect. If you were out in Portland or Seattle, I don't think you're going to get quite the surprised look. But things are slowly coming here that are in other parts of the world and country. Even in the past two years, if you go to the music stores, and ask the guys at Music Masters or Guitar Center about their uke sales, I think their uke sales have definitely gone up in the past year."
It's easy to see why the ukulele, which looks like a tiny, four-stringed guitar, might have a huge, if underground, following today. Detractors may undervalue it because it looks like a toy, and has a tone too soft to be taken seriously. But there's a substantial pop culture history behind the "uke." It's said that Portuguese immigrants brought the instrument's antecedent to Hawaii in the late 1870s. One of the immigrants was a furniture maker who started turning out ukes, and the Hawaiians glommed onto the lyrical instrument. So much so that the king of Hawaii endorsed it, and even wrote music for it, Shank said. Around the turn of the century, ukulele music came to America and found a niche with jazz bands and college kids alike.
"It was brought over to the San Francisco Expo in 1915, and the mainland took note," said Tom Ewart, a retired museum exhibit designer who has played various instruments all his life, but only recently took up the uke.
"All along I had guitars but didn't carry a uke until a couple of years ago," he said. "Now, I play nothing else, much to my wife's chagrin. But it's less strain on the hand and fingers. And if you goof, it's not loud enough for anyone to notice."
From the west coast, the uke really took off, and it enjoyed great popularity in various musical genres throughout much of the 20th century. And when the country went to war, the uke went along for the ride.
"My father played the uke in World War II," said Ken Winker, senior legislative analyst in the Democratic office of the Florida Senate. "It's very portable and multigenerational. Apparently, The Beatles liked them."
Today, the uke can still apply itself to a wide range of music and taste.
"We do all kinds of songs, all sorts of musical styles," Winker said. "I like to play the blues, but there was also ragtime, gospel, jug band and old-time fiddle."
"And there are old jazz standards, too," Shank added.
History aside, Winker pointed out that the uke has a special appeal. "It's a quiet, peaceful instrument. There's a 'oneness' with the sound, the Zen of uke," he said.
"It's not intimidating," Ewart said. "You sit outside, play and people just walk right up. There's more and more people we hear about that have them, that used to play them or have one in their closet and their great aunt used to play and they still got it someplace. I mean, they are familiar. Everybody knows what it is and probably has a family member that had one at some point."
Drums Along Lake Ella
On any given Wednesday evening you can hear the sound loud and clear. A seductively rhythmic beat floats over the water and, siren-like, lures the curious into the gazebo in the middle of Lake Ella.
Careful, you might end up doing some freeform dancing. Or, Joyce Hughes just might put a djembe in your lap and have you join the drum circle's inner circle. Hughes, along with business partner Kent Hutchinson, host a drum circle every week down at the popular lake park.
Hughes and Hutchinson run Harmony Rhythms, a Tallahassee company specializing in "facilitated drumming." It's a way to bring drums in to a company or organization to enhance communication and relieve stress.
"What Kent and I do with Harmony Rhythms is we take drums to people who want to use drumming as a platform for teambuilding, or just plain fun, but building community is what it's all about," Hughes said.
The weekly drum circle is an offshoot of their efforts to bring harmony and balance to the community. About a dozen or so friends show up, unlatch their bulky cases and just start up a beat.
"Anybody is welcome to come and play with us," Hughes said. "Usually, there are a few instruments to share, and we just have a good time playing. It's all improvisation, so it's not like there are certain songs that you do."
Most of the instruments are West African-type drums like the djembe and the bougarabou, but there are also "box tongue drums," egg rattles, tambourines and thunder tubes. Even ancient wind instruments like the didgeridoo make an appearance, along with Native American flutes. Hughes said she never knows what to expect when people arrive at the drum circle. But if it produces a steady rhythm, she's all for it.
"Rhythm is a part of all of us. We have it by nature. And if you can walk you have rhythm, so the issue is to just sit down and be on a drum," she said. "Now, if you want to get more out of your drum, you can take lessons, but generally we give very basic, minimal lessons, learn some basic rhythms, then after that you're kind of on your own. It's up to you how much you want to pursue."
"It's kind of why we do what we do on Wednesdays," Hutchinson said. "It gives people a chance to learn from each other. Everybody brings something that everybody can learn from."
In their work, Hughes and Hutchinson use drumming as a metaphor for teamwork.
"Seventy-five to 80 percent of what we do here is listen, and 25 percent is playing," Hutchinson said. "If it becomes more playing than listening, the whole thing falls apart. As long as you stay within the rhythm, it complements each other. If someone departs from that, it's going to mess up the person next to them."
Drumming has healthy mind and body benefits because of something called "entrainment," which is the natural tendency humans have to get in synch with a beat. And the actual act of playing a drum can be used to teach hand-eye coordination to young and old alike.
"The cool thing about it is we can get a group of 8-year-olds together to teach them eye-hand coordination and teamwork skills, and it's the same routine we do for 80-year-olds. Except in their case it's more like therapy, where they're using right hand, left hand, right part of the brain, left part of the brain," Hutchinson said.
A Taste of the Islands
The Lake Ella drum circle isn't the only percussion group around, by the way. Go over to Leon High School for a taste of the Caribbean with Lion Steel. In existence for 20 years, the band now has 120 students and five classes. Director Mike Wendeln said there are 24 drums to play with, so it's a good-sized band.
"It's one of the biggest in Florida, if not the biggest," he said.
Percussion instruments were always a big part of the culture of Trinidad, going back more than 100 years. "Steel pan" drums in their current form are a relatively recent invention, dating back to the late 1940s.
"It was, originally, the top half of a 55-gallon barrel," Wendeln said. "They are literally handmade. The first step is sinking it into a bowl shape, and it takes 10 hours or so of shaping it."
The next step is to form the notes, which are a series of raised ovals of different sizes inside the bowl. The bigger the oval, the lower the tone; the smaller the oval, the higher the note. Through a process of trial and error, over the 50 years or so that steel drums have been around, makers have come up with the correct shape for each note. "The main thing that makes the sound is the shape. They get back underneath there to bubble it up and the precise shape of this is what makes the ring," he said.
Music students love the steel drums and have flocked to the classes because from Day 1, you're making great sounds. That feature has made it possible to "catch" students who may have become jaded by other instruments, or have thought about dropping out of music altogether.
"Day 1 of trumpet, you sound like crap. Day 1 of violin, and oh my God, it sounds terrible, and so you have to spend time just to get a good sound," Wendeln said. "On pan, you get a good sound on the first day, which I think is one of the reasons people just love it."
Steel drum is a very animated form of musical expression. That's because some of it requires a certain degree of physical work. The bass section probably requires the most jumping around because one musician has to play six drums (the notes are so big that only three can fit in one pan).
"You definitely have to stay on your toes to play the bass," Wendeln said. "Yeah, it makes them instantly entertaining to watch."
Wendeln said there are steel drum bands for adults, created years ago for teachers and parents of steel drum band members. He said these bands are open to anyone who is interested, but due to the limited number of instruments, the bands are "almost completely full" now.
---
View exclusive footage below and hear Leon Steel students and a drum circle at Lake Ella performing live.
Lake Ella Drum Circle
Leon Steel Band