The Doggie Dilemma
The director of Animal Control loves pets but has a job to do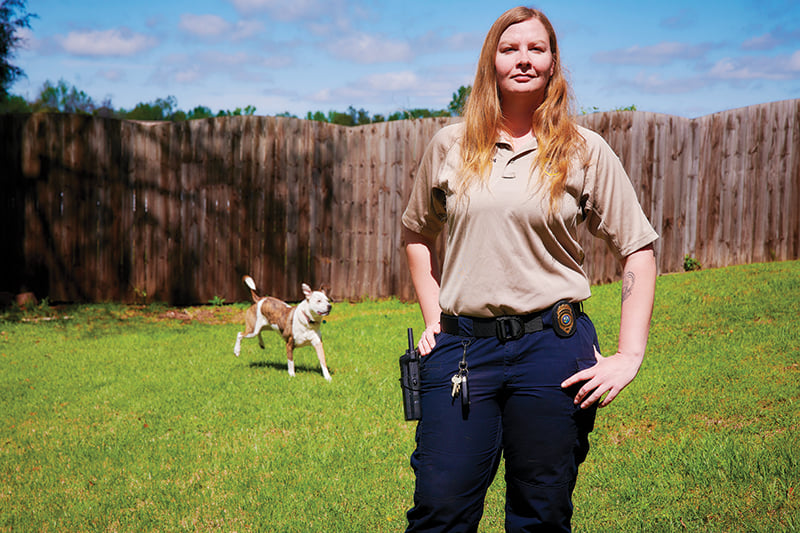 Outside Leon County Animal Control's impressive command center, the weather is bright, sunny and unseasonably warm. Cara Aldridge climbs into one of her fleet's emergency vehicles for a morning patrol.
While emergency vehicles are typically used to transport animals to temporary shelters during hurricanes, standard patrol vehicles operate like a mobile office with several sturdy crates built into the truck bed. This is a feature necessary for the functions of an officer's job, but one that may serve to reinforce what Aldridge, the director of Leon County Animal Control, views as a common criticism of her department.
"Animal control has really evolved a lot since I started," she sighed, eyes fixed on the road. "I think initially, and to this day, people think that animal control is just a bunch of dogcatchers. They show up, they take dogs, they don't care."
Aldridge is en route to a neighborhood on the eastern border of the county not far from Highway 27. There, a neighbor reports that two loose dogs snarled at her daughter. Radio static indicates that officer Emily Hamilton is responding to the incident. Aldridge plans to observe and provide backup if necessary.
Over the course of Aldridge's eight-year tenure as director, she has taken strides to establish Leon County Animal Control as a resource for struggling animal owners rather than an adversary. The organization maintains fruitful relationships with organizations like the Animal Shelter Foundation, Leon County Humane Society, Be The Solution, It's Meow or Never, and Voices of Change Animal League, assisting in the free distribution of food, vaccinations, spay and neutering services and kennel construction.
"We can always issue people citations, but honestly, at the end of the day, a piece of paper doesn't solve the problem," Aldridge said. "I used to tell people when I was out in the field, 'I can issue this citation for $73, and you can pay $73 for a piece of paper or you can pay $73 and fix your fence. Just spend the money where it needs to be spent.'"
More than once, Aldridge has been accused of targeting or harassing individual pet owners. She says her officers only show up if a complaint is reported or to follow up on previous cases to ensure pet owners are making progress toward compliance with local ordinances.
"We aren't out to get people. We're not vengeful," she said.
Aldridge is first on the scene, and it does not take her long to locate the offending canines roaming around a blue house with an empty driveway. The two waifish dogs trot back and forth from behind the house, drinking out of the neighbor's bird feeder. At a distance, their demeanor seems more skittish than threatening, but precautionary measures exist for a reason. Officers undergo an average of 20 additional hours of training each year, some of which relates to bite stick and fear, anxiety and stress (FAS) training.
"You don't know what you are walking into," Aldridge remarked, surveying the scene. "Early on, I went to a case where a dog had bitten some contractor. Nice neighborhood. I went out there and talked to the son. He brought the dog out on a leash. The dog came out wagging its tail. Everything was fine, and then the dog bit me. I had to get stitches."
The two dogs vanish behind the house just as Hamilton's shiny, white patrol truck jostles into the yard. With Aldridge advising over the radio, Hamilton slowly exits the vehicle. Two floppy ears pop out from behind the house, and the female dog creeps forward.
"Twenty-seven to 24," Aldridge signaled over the radio. "You have company."
With canine curiosity on her side, Hamilton spreads a small blanket out in the grass and begins to toss dog treats, slowly coaxing the female to her. Within minutes, she is laying near Hamilton's feet, lapping up cat food.
"Ultimately, that's what you want," Aldridge said, gesturing toward the cat-and-mouse game. "You want the dog to approach you."
Hamilton keeps her cool, allowing the female to walk around and become comfortable with her presence. Quickly, Aldridge notes that the dog keeps attempting to carry the tin of food to the backyard. Her teats are sagging. There must be puppies nearby.
"(Hamilton) will call the sheriff's office and see if they can track someone down for this property to find out if there are puppies in there," Aldridge said. "Obviously if we have mama and she's lactating, that potentially puts the puppies at risk. So we would like to have the puppies, too."
After a sweep of the backyard and several unsuccessful attempts at knocking on the door, Hamilton leaves a notice and persuades the pups into the van, subduing the risk of a bite with a deftly executed muzzle wrap. This move, completed by quickly encircling the snout with a leash, must be done correctly on the first try or the dog will know what to expect.
With Hamilton left to interview the neighbors, Aldridge is summoned to the Tallahassee Animal Shelter where the shelter staff and two of her officers are saddled with a nearly impossible task: convincing a woman to surrender ownership of three dogs that, prior to the weekend before, had no record of aggressive behavior.
The events of the weekend, however, cannot be ignored. A young man who frequently rode his bicycle through his neighborhood without incident was ambushed. From his account, the dogs came pouring out of her yard snarling and snapping. They leapt on him, knocking him from his bike and attacking his head and arm. He was able to fight them off but not before incurring a deep puncture wound to the wrist and significant head wounds that required 27 stitches.
"I don't like to work dangerous-animal cases because you are either sentencing a dog to prison or euthanasia," Aldridge said, hanging up the phone. "But the flip side is public safety. I can get behind that. Three dogs shouldn't be running loose and attacking someone who is on a bicycle. It was an adult on the bicycle for this freak accident, but what if it hadn't been? What if it was a 7- or 8-year-old kid? It could have been a tragedy."
Anytime Aldridge's team picks up an animal, it is taken to the shelter for a holding period, evaluation and payment by the owner of any outstanding fines and restitution for veterinary care. The only exceptions are cases of owner surrender. If he or she signs over the animal, it can be transported to the humane society or an organization like Big Dog Rescue.
Regardless of the destination, overcrowding is a perpetual issue. The shelter transfers overflow residents to facilities in other parts of the state or country whenever possible, but not every story has a happy ending.
"Those are the hard decisions they are facing right now," Aldridge said. "Between the city animal control and county animal control, 10 dogs come in during a given day. Even if it's five or two and the shelter is full, what two dogs get put down to make room to hold these two for seven days?"
This is the dynamic Aldridge faces as she strides into Tallahassee Animal Shelter — a poor woman who loves her dogs and likely cannot afford to get them back, much less construct the concrete-floored, padlocked backyard prison legally required to keep aggressive dogs at bay. After a half hour, she returns to the truck looking defeated. The owner is unwilling to sign a surrender form, and if she contests the charges, the evidence is not likely to exonerate her dogs in court.
Patience is the most necessary trait of an animal control officer, Aldridge posits, patience with people sometimes more than animals. No two days are the same. Officers may spend their day tracking a rabid fox through Buck Lake, corralling a loose llama on the edge of town, pulling an abandoned dog from a sinkhole or comforting an emaciated horse in its final moments.
For Aldridge, the best part of working with animal control is serving as an advocate for animals, holding abusive and neglectful owners accountable and educating those who misstep rather than punishing them.
Some days are better than others.
---
Leon County Animal Control works with several organizations that assist with the free distribution of food, vaccinations, spay and neutering services and kennel construction. They include:
» Voices of Change Animal League
---