The Cracker Prince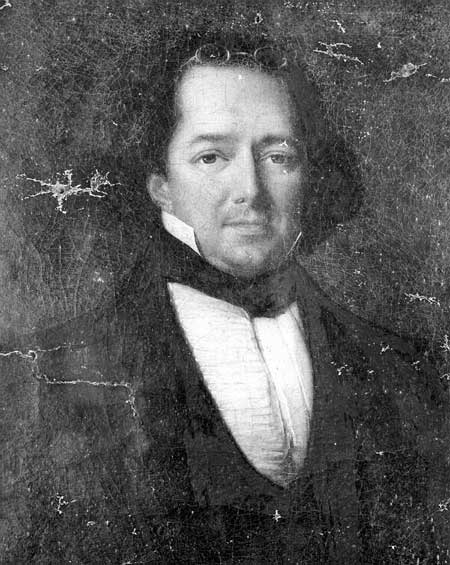 The story of adventurer Achille Murat, Tallahassee's prince and pioneerClick to enlarge
The Cracker PrinceEccentric Achille Murat Brought a 'Royal' Touch to Early Tallahassee
By Gibby Conrad
On March 4, 1824, Gov. William Pope Duval issued a proclamation stating that a site had been selected for the new territorial capital of Florida, "about a mile southwest from the old deserted fields of Tallahassee," the former homeland of the Apalachee Indians.
That summer, Duval built a log cabin on the foundation of an old Spanish fort. By early fall, other settlers and territorial officials began to arrive and erect temporary shelters. The sounds of the saw and the ax filled the air as a new capital was cut out of the ancient pine forest. Trees were felled for government buildings, commercial establishments and houses. The legislative council christened the new village "Tallahassee" in December 1824, although the act of incorporation would not come until the following year. By the end of 1825, hundreds of inhabitants had arrived, a school had been established, and many new business had opened their doors.
As word spread of the availability of large tracts of fertile land surrounding Tallahassee, planters, primarily from Virginia and the Carolinas, came down to establish new plantations. Among those first settlers was one very unlikely pioneer — Charles Louis Napoleon Achille Murat, prince of Naples and nephew of Napoleon Bonaparte.
Prince Murat was in exile in the United States after the fall of Napoleon. He stayed briefly in New Jersey with other exiled relatives before setting off for the territory of Florida. He lived in St. Augustine for a while, establishing his reputation as an eccentric by setting up a table and chairs under an umbrella on the beach and conducting business as the waves rolled in under the furniture.
In 1825, after learning of the land available around Tallahassee, Murat moved and bought a plantation he named Lipona, an anagram of his former principality – Napoli.
Far removed from the glitter of the European courts, Murat was quick to adapt to the pioneer lifestyle. He built a one-room log cabin, slept on a moss-filled mattress, dressed in buckskins and crude homespun cloth, and adopted the practice of using a bullwhip for driving cattle. The loud crack of these whips led to the term "cracker" to describe Florida's pioneers — and earned Murat the title of "Cracker Prince."
To say that Murat was eccentric would be an understatement. He had a strong aversion to water both in and on his body. He never drank it, proclaiming that water was for the beasts. He much preferred wine or brandy, and bathing was to be avoided at all costs. The prince once fell into a vat of cane syrup. His servants yanked him out, fearing that he had been badly burned, but Murat's main concern was that now he might be forced to wash.
Click to enlarge
He became addicted to chewing tobacco and used a large, shaggy dog that accompanied him everywhere as a spittoon. In spite of his questionable personal hygiene, the prince courted and married Catherine Willis Gray, one of Tallahassee's most desirable young belles. On their first meeting, the prince removed Catherine's slipper, filled it with wine and drank a toast to their future. Many of the local planters, including Catherine's mother, felt that she had married beneath her station. Catherine was the widowed daughter of an old Virginia family and, as a blood relative of George Washington, was considered royalty in her own right.
After the marriage, Murat's one-room cabin was expanded and Lipona became a social hub for Tallahassee's planter class. Catherine's social graces, combined with the prince's wit, intelligence and eccentricities, proved to be a wonderful combination.
Like many of his countrymen, Murat considered himself to be a culinary master. The woods and fields of his plantation were his pantry, and there was nothing that he would not attempt to cook. Rattlesnakes, alligators, bats, lizards and woodpeckers all found themselves in the prince's pot. The only ingredient that ever beat him was the turkey vulture, causing Murat to exclaim, "Zee tukkey bouzard, I roast heem, I stew heem, I fry heem; but he eez no good!"
Guests had to be prepared for anything when they visited Lipona. Gov. Duval once sat down to a most memorable supper. After a long ride from his plantation, the governor had built up quite an appetite. The table was set with fine French china, linens and silverware. But when the main course was served, Duval was surprised to see a whole baked owl with the head intact. The governor never tired of telling the story of the meal that looked back at him.
Despite Murat's royal lineage, or perhaps because of it, the former prince was fascinated by American democracy and liberty, stating, "It is the American Union which gives us the best model of government." He wrote a number of articles and essays on the United States that were published in several languages and widely distributed throughout Europe.
Murat applied for U.S. citizenship soon after arriving in New York from Europe in 1823. Five years later — the time required for naturalization — he took the oath that made him a U.S. citizen in Quincy. That same year, 1828, he applied for and was granted admission to the bar; he was appointed to a judgeship in Jefferson County in 1834.
Murat served in the Florida militia in the Indian Wars and was given the rank of colonel — a title he came to prefer over prince. He had become a valued citizen of the territorial capital; however, in 1830, the prince decided to return to Europe to try to reclaim his family fortune and title. The Murats' going-away party at the Planter's Hotel in Tallahassee was the social event of the season.
Unfortunately, he was not successful in his quest; and since Murat had mortgaged part of his plantation to pay for the trip, he found himself in financial trouble when he returned to Tallahassee. To make matters worse, Murat made other bad investments in Florida and Louisiana, and the Great Panic of 1837, which ushered in a five-year economic depression, all but ruined the prince financially. He lost Lipona and had to move to another, smaller plantation called Econchatti. Both Lipona and Echonchatti were located in what is now Jefferson County off the Old St. Augustine Trail west of Waukeenah.
He made one more attempt to reclaim his family fortune after his Queen Mother died in 1839. Once again Murat was unsuccessful, and he returned to Tallahassee, where he died in 1847 at the age of 46. After the prince's death, Catherine moved to another property that had been in the family called Belle Vue. (Belle Vue house was was moved to the grounds of the Tallahassee Museum in the late 1960s and that is where it is today.)
  Ironically, not long after his death, Murat's cousin, Napoleon III, became emperor of France and Catherine received all of the claims that her husband had tried in vain to recover, including the title of princess.
Princess Catherine turned out to be better at business than her husband and became a successful planter, splitting her time between Belle Vue and Econchatti. The Civil War took its toll on her plantations, but Catherine was able to continue to live comfortably thanks to the money she received from the French government. After the war, Catherine lived out the remainder of her life at Belle Vue surrounded by a few servants who stayed with her after emancipation. She died in 1867 and was laid to rest beside her husband in the old Episcopal cemetery in Tallahassee — the exiled Cracker Prince and his American princess.