The Comic Book Came Calling
Billy Penn's inner child has a coming-out party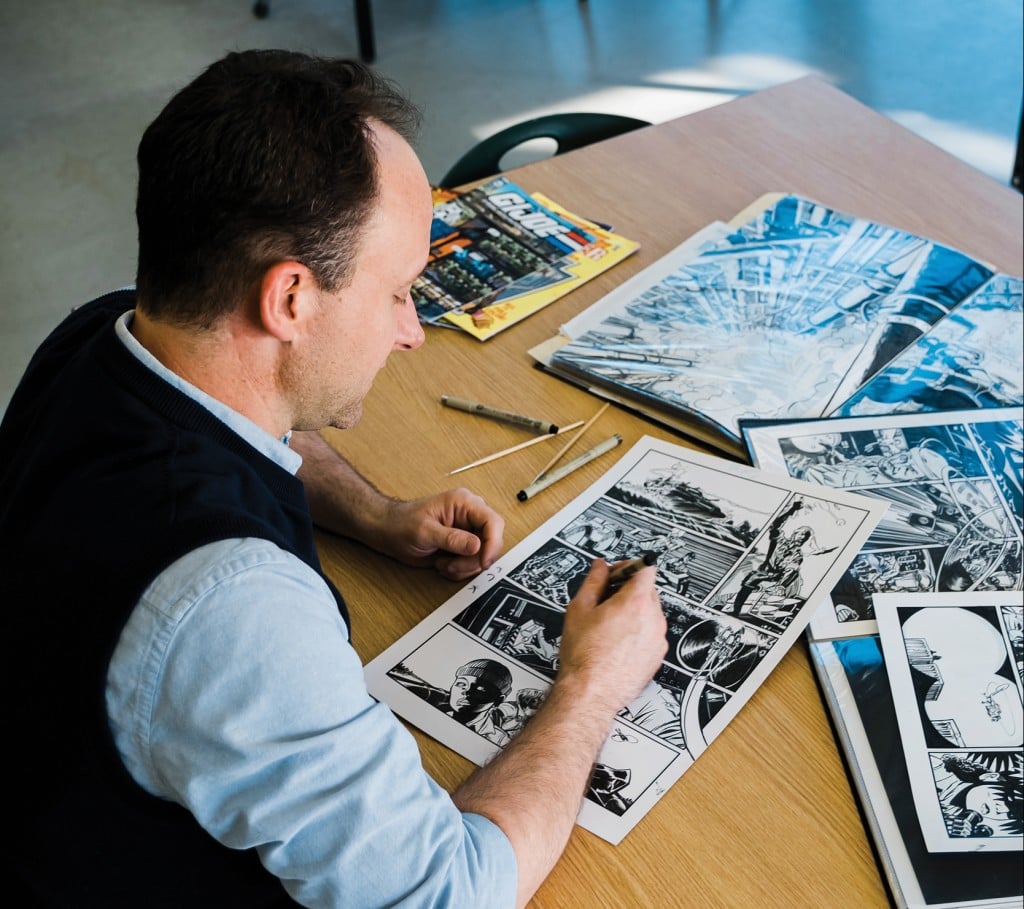 Kaboom! Bam! Pow!" The silent sound effects loved by comic book fans worldwide may be what first draws little boys into that often exploding and enemy-filled world.
But for Billy Penn, it was very likely the muscled heroes and devious villains drawn in brilliant colors. Even as a child, he could make characters come to life with his crayons.
Today, the Tallahassee-born Penn, 43, is the father of two sons who are not as fascinated by superheroes and mega-thugs as he was while young. But as an art teacher at Killearn Lakes Elementary School, Penn has used his lifelong love affair with art to inspire hundreds of students to express themselves on paper.
Did Billy Penn finally get over his affection for comics? Well, no. In fact, Penn recently was tapped to illustrate a national publication, G.I. Joe, An American Hero, a 20-page comic that can be found in stores and online. That experience has him craving more.
Still, Penn knows where his heart lies.
"I think my then girlfriend, now wife, saw it first," Penn said. "She knew I was good with kids and good at art, and though I fancied myself succeeding as a dropout cartoonist, she saw something different, and she was right. I ended up majoring in art education at Florida State."
Today, surrounded by a mother who was a teacher at Kate Sullivan Elementary and wife, Betsy, who is a two-time winner of the Teacher of the Year award at Deerlake Middle School, Penn says his life is just where he wants it to be.
Penn said his creativity was sparked by experiences in Tallahassee's public schools.
"Even in first grade, I was being selected to do drawings for the class," he recalled. "And then when I was in fifth grade, there was a contest put on by the Tallahassee Democrat. My drawing got chosen and was in the paper."
Two years later, the Democrat offered Penn a contract to create its "Back to School" section cover.
"This year is the 20th anniversary of signing my first art contract," Penn said, sounding as excited by the memory as he must have been in seventh grade.
Seemingly always in touch with his inner child and given his desire to positively influence and connect with children, Penn has followed the advice of his wife and mentor, Betsy: "Make yourself indispensable to those around you."
At Killearn Lakes, he is known for involving his fifth-grade students in outdoor mural projects.
"There's no weaving or yarn involved in the projects we do," Penn laughed.
Instead, kindergarten through fifth-grade students experiment with sculpture, drawing and painting using tempera and watercolor paints, colored pencils and tin foil.
"Last semester, the kindergartners made sculpted Olympic medals," Penn said in February. "This year, they'll be doing a whole section on American painter Georgia O'Keefe. We'll make huge flowers on poster board with markers and then add water to let it bleed like watercolor. It will be great!"
But in the background, the lure of comics always lurks for Penn.
"There had always been only one writer of the G.I. Joe comics — Larry Hama," Penn said. "And when he would come to comic book conventions, I would try to court him, showing him my work." He likewise pursued the comic book's editor. And then, after three years of solicitations, there arrived an email asking if Penn were interested in doing the next edition. He didn't have to think about it.
"First, you're sent the script," Penn said. "From that, I do stick-figure sketches that are kind of a storyboard version of the plot and the action. Approval has to come from the author, the editor and from Hasbro, who holds the rights. Only then do I begin the finished drawings. The word bubbles are like Step 5."
Penn says he most likes doing faces, which he patterns after snarls and grimaces he makes in the mirror.
With one G.I. Joe under his belt, will there be others for Penn? He isn't sure. They have hinted at that possibility and have also asked him for drawings of Ninja Turtles.
"Between teaching and comics, I'm like the circus performer who's spinning the overhead plates," Penn said. "And I love it all."
G.I.
Joe
When Barbie dolls were introduced in 1960, inventor Stanley Weston, then the owner of a merchandising firm, resolved to come up with an action figure for boys. In 1963, he sold the G.I. Joe concept to Hasbro, and it soon became one of the most successful toys in history. Weston was a U.S. Army veteran, himself. His firm represented properties and personalities including Dr. Kildaire, Soupy Sales, Twiggy and How the West Was Won.