The Christmas House
The Holiday Spirit is Everywhere at Jan and Hollie Thomas' Place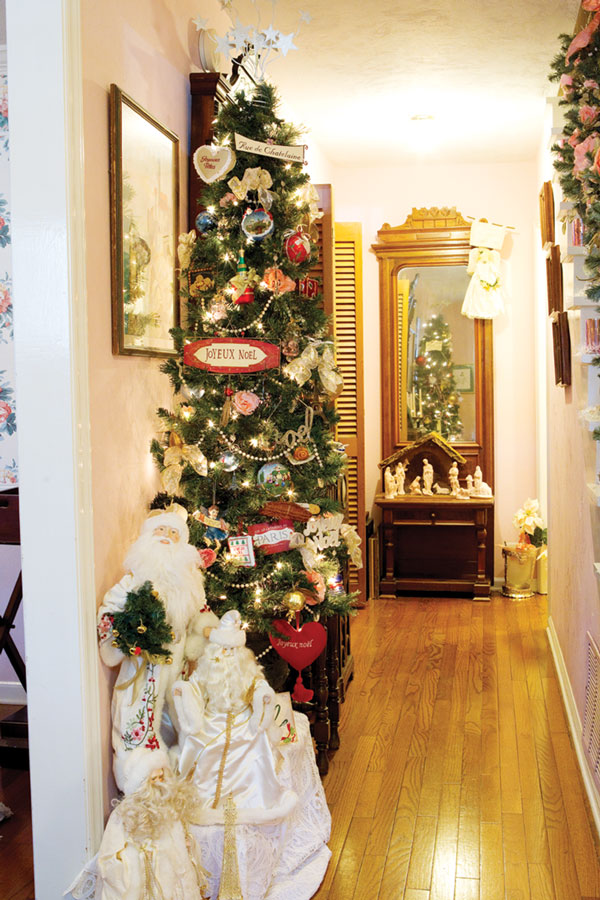 When the Thanksgiving festivities are over at Jan and Hollie Thomas' Killearn home, it begins to look a lot like Christmas — emphasis on a lot.
Every room — bathrooms too — have a Christmas tree and a nativity scene, and pretty much every flat surface features some nod to the holiday.
"I'm big into traditions (and) it's just fun to pull out the stuff every year," Jan says. "I've always been Christmas crazy." Hollie, not so much, but he's a good sport and "the world's most patient husband," she says. "He helps with everything. He helps me get everything down (from the attic) and get the trees up."
Guests walking in the front door are immediately greeted by a tree decorated with ornaments either from France or with a French theme, a nod to the couple's vacation home in the south of France about an hour away from the Mediterranean Sea.
The pair started traveling to France with a trip to Paris in 1993 and, a few years before they both retired, bought a small home on a whim 10 years ago in the twin towns of La Capelle et Masmolene, which have a total population of less than 400 between them.
"It's very Old World," with no television, she says of their rural home-away-from-home. "For us it's an escape. Even though we're retired we're real, real active and real, real busy. It gives us time to kind of reconnect and be away."
A display of Santons is a piece of holiday tradition they've brought home with them from France. Translated as "little saints," they are France's version of the crèche. When religious displays were banned during the French Revolution, the manger scenes included little clay statues of people who populated the villages of Provence during that time period. So instead of angels and shepherds, you would find a miniature of a fishwife or a scissor grinder gathered around the manger.
"There are hundreds of these little figures, like this is the town baker and the milkman," she says, pointing to her own collection.
Jan says she decorated her first out-of-the-living-room tree in her son's room when he was about two years old. He's grown now, but the tree still features ornaments that were tied on his packages over the years. The house-wide tree collection didn't begin until about 18 years ago, after she and Hollie married and combined their households.
"When we moved to this house … there are so many rooms, and I just started doing all these theme trees," she says. "I think every room should have one because you don't want to lose the focus."
Her beach-themed bath has a seashell tree. Her room dedicated to scrapbooking (impressive in its own right) has a tabletop tree adorned with little scissors and photo albums. Last year she added a new dog tree to commemorate the latest addition to the family — a black lab/border collie mix rescue puppy named Sophie.
On a sideboard in the dining room, three trees decorated in the colors of rival universities — Florida State, Florida and Georgia — manage to exist in harmony. "I have a degree from all three," explains Jan.
The focal point of the dining room is a large table set with dishes in Spode's traditional Christmas Tree pattern. For her twentieth birthday, which is in November, Jan's mother gave her a set of four mugs in the pattern, which features a Victorian Santa atop a gift-laden tree. The next year, she got four dessert plates. Now, many November birthdays later, "I have just about every serving piece, a cookie jar, little candle lamps, vases, candlesticks and service for 12 with all the pieces."
She breaks out the Spode "at the first of December and we use it the entire month for every meal, because it goes in the dishwasher and it goes into the microwave." Plates, cake stands and other serving pieces sit on a side table in the formal living room; they'll be filled with desserts for her holiday houseguests to nibble on during their visit.
That room also houses a pink-and-lace Victorian tree, which coordinates with their antique furniture from the same era. The den houses what Jan calls their "traditional family tree."
"When my son was little I did lots of needlework, so there's lots on here," she says. When Tyler was born, she also started a collection of nutcrackers for him. Each had a special meaning relating to the year it was given — a baseball player when his All-Star team went to the playoffs, a fireman after 9-11. "I told him whenever he wanted them he could have 'em and two years ago he took them, so I had to start over." The fireplace mantle has been repopulated with nutcrackers, many of them paying homage to the couple's French home.
In addition to houseguests, many others have been able to enjoy the abundance of Christmas cheer in the Thomas home. When both were working — he was an FSU professor, she was an administrator for the state — they would host back-to-back holiday parties for their coworkers, his on Friday and hers on Saturday. "We kind of discovered that a lot of (guests) knew each other, and then we started having both groups at the same time … and then we just threw in a few friends," for a giant festivity. Jan also invites friends for an afternoon "girlfriends' tea," where the small-world-Tallahassee syndrome was also in effect.
"I would invite all my girlfriends from all my different walks of life," she says. "It was funny, the first year, how many of them knew each other, but didn't know the other one knew me."
Both Jan and Hollie are collectors — he likes furniture and tools, she favors linens and glassware — and they sell the items in a booth at the Traditions antique store in Havana.
"We love to go to auctions, but we don't need anything," she says. "Now, when my shopping demons are up, I can go shopping and then just sell it."
In addition to estate sales in Kansas and Missouri, where they visit Hollie's daughters and grandchildren in the summer, she's also on the lookout for sales in France. "I buy a lot of hand-knit baby sweaters over there," Jan says. "Lots of times people will tell me, 'It's one that my belle-mere made for my child, and she only wore it once.'" (As an aside, belle-mere means "beautiful mother" and usually refers to a mother-in-law.)
One might wonder where all of this holiday décor goes for the other 11 months of the year — and how in the world Jan knows where everything is. "It's all up in the attic and it's all stacked along one side," she explains. "When I take a tree down, it goes into stackable boxes. They're labeled, so everything that goes on that (tree) is together."
And there they will stay, patiently waiting in the attic for the next Thanksgiving, when the process starts all over again.