The Challenges and Joys of Grandparents as Parents
Raised by Dinosaurs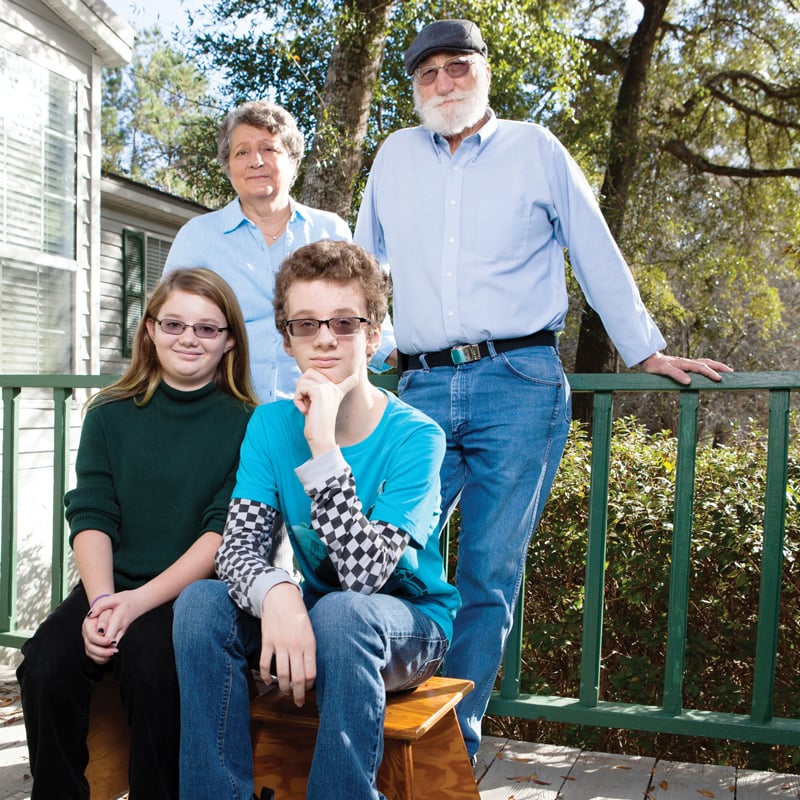 Like many couples in their 60s, Ron and Grace Mathis were looking forward to an active retirement, full of adventure and traveling.
And then, suddenly, they became responsible for raising their two grandchildren. The Mathises took charge of a baby and a toddler, and their lives and their plans were upended.
"It's hard. A lot of life changes had to be made," Ron Mathis said.
"We had gotten to the point where our three children were out of the house, and we were by ourselves. We could go where we wanted to go and do what we wanted to do, and when these two kids came along, it changed everything,"
Now that their grandchildren are 12 and 13, the family of four has a lot more independence. While raising grandchildren can mean a big change for both grandparents and the kids, it's becoming increasingly common. More than 150,000 grandparents in Florida are raising over 160,000 grandchildren, according to the 2010 U.S. Census.
Matt Burke
Grace and Ron Mathis have been "parents" to grandchildren Autumn and Noah since they were small.
The Mathises said they are lucky to have custody of the grandkids. They had become estranged from the man who "used to be" their son because of his struggles with addiction as well as his high-stress marriage. But they went looking for their grandchildren, and when they showed up in the midst of his legal battles, he agreed to sign over custody. Despite a tough transition, both grandparents and grandchildren feel this is the best place for them to be.
Van and Donna Poole are in a similar situation, raising their 5-year-old great-granddaughter, Jasmine. The couple had already adopted and raised his grandchildren from children of his previous marriage. Once they were grown, the lobbyist (him) and Public Employees Relations Committee commissioner (her) were planning to spend this part of their lives traveling more as empty nesters. Raising their great-granddaughter has had a huge effect on their lives — not only because they are responsible for a young child but because they are learning how to approach her autism.
"If I had to do it all over again, I might go into child development instead of law," said Donna Poole. "It makes me appreciate this organ up here and how they're all so different," the 59-year-old said, pointing to her head. "Right now this consumes me. It's so fascinating."
"She doesn't sleep," said Van Poole, 79, referring not only to his wife's care of Jasmine but her constant research into autism. "You've got to put the little one first — her problems with autism and PTSD. It's a real strain on my wife, but she never complains. To me, she's a saint," he added later.
"More grandparents are raising kids with special needs because they're more difficult," Donna Poole said.
The Pooles say their lives have changed a great deal since Jasmine came to live with them. Her complicated schedule gets her the different types of therapy she needs and helps keep her disciplined.
"I had all these great plans to travel more and visit the house in Montana. Then this happened, and Boom!, it all just stopped," Van Poole said. "It's something that's laid at your doorstep, and you have to deal with it," he said later.
"I don't socialize as much with my friends. I've lost touch with a lot of them, and that makes me sad," Donna Poole said.
She said it was hard for her brother to understand why she had been so unavailable, but when Jasmine "lost it" at a family event, she said he finally understood.
"We didn't think it would be this long," Donna Poole said of Jasmine's time with them. "But you play the hand you're dealt."
Many factors can lead children to live with their grandparents. While some are coping with the death of one or both parents, many have seen their parents struggle with addiction, mental health and legal issues.
"There are so many cases of people raising their grandkids," Van Poole said. "The sad part is a lot of it is a drug situation. Some get through it and some don't, but grandparents step up. As many as there are, it's just a few compared to what's being dumped in the system today."
Poole said it's hard to deal with a family member on drugs, and it's tough to raise their child, but he didn't want to wonder what would happen to his great-granddaughter if she wasn't in his home.
"Something that is hard to handle is to remember we're not dealing with the same person we raised. You have to separate that," he said, referring to the granddaughter he raised.
While grandparents face a huge change in lifestyle, so do the children coming to live with them. Many have been in unstable situations and exposed to violence, whether directly or indirectly.
Both the Mathises' and Pooles' grandchildren have struggled with night terrors and required a little more discipline about expressing their anger.
"We had to teach her; we don't hit, we don't bite and we don't throw," Donna Poole said.
Grace Mathis said that even when children come into the home very young, they're still confused, hurt and angry.
"If they were being raised by their parents, they wouldn't stand a chance," she said. "But your mother is your mother, regardless of whether they are what they should be. There's still a loss."
When the Mathises went looking for their grandchildren, they were already part of a family-services case. While the grandchildren now refer to the Mathises as Mom and Dad, they went through their own grieving cycle. Wanting to acknowledge their parents after their mother died and their father gave up custody, she made a photo album of them that later disappeared. A year later, Grace Mathis found that one of the kids had stuffed it under a mattress.
"A lot of these kids are very angry," she said. "They're hurt. You're taking on something you're really not ready to do, that you're a little old to do, that you're not prepared to do, and they're angry.
"You're numb," she added later. "You're adjusting to this mess you didn't know would happen to you while the kids are dealing with their own issues."
Both Noah and Autumn Mathis say they know they're being raised by the best possible people. They also know plenty of kids in the same situation. The only difference, they say, is their grandparents are a little more tired and forgetful than the average parent.
Autumn wrote her Tropicana Speech contest entry about what it's like being "raised by dinosaurs"; Grace Mathis carries a laminated copy of it in her purse. The speech details, in the way that only a fourth-grader can, that any lack of energy from her grandparents is more than made up for by their devotion. She says her grandmother taught her a love of reading, and they have tons of books. When she lived with her parents, they only had a few.
Grace Mathis says that in some ways she feels a little more out of touch as a parent this time. Schools communicate less, technology habits are hard to discipline and the world just doesn't seem as safe anymore.
"It's a scary world to be raising children in. How do you get them to understand those dangers, without making them phobic?" she asked. Making sure the kids only get age-appropriate content on the Internet is a huge concern for her, but technology is not her forte.
Mathis also mourns her chance to be a typical grandparent, both to Noah and Autumn and to the other grandchildren she has in town.
"It changes the relationship. We have no time to be grandparents because we're their parents."
— Grace Mathis
While there are new challenges, many grandparents say they think they're doing a better job this time around.
Matt Burke
A proud Grace Mathis carries a laminated newspaper article about a loving speech given by Autumn about her "dinosaur" grandparents.
"I don't stress those things I did with my children or stress her by being nitpicky. I let her wear what she wants to wear, as long as it's appropriate for school," said Geneva Vaughn, a member of the Grandparents as Parents group. Started by the city, the monthly support group gives local grandparents a place to talk, as well as access to legal advice, health screenings and seminars pertinent to their situation.
Vaughn's granddaughter came to live with her at a pivotal time in her life. Her husband had just passed away when her daughter, a college freshman on a basketball scholarship, became pregnant.
"In the back of my mind, I was kind of happy when she was pregnant," Vaughn said.
She absolutely wanted her daughter to finish school but said her granddaughter filled a gap for her in a very lonely, empty time in her life.
"With the death of my husband and my daughter leaving for college, it was a blessing. She really is a blessing to me," Vaughn said.
Vaughn said that before she got involved with Grandparents as Parents, she didn't know other people in the same situation.
"I don't really have other family here. I don't have a support system," she said.
The group meets for monthly luncheons, giving the grandparents a chance to talk and vent "without it going any further," Vaughn said.
The group includes people of all demographics and backgrounds, with grandparents from ages 40 to 90. There are even some great-grandparents in the group who are raising children for the third time. In addition to lunch, they also have local nonprofit groups come to each meeting to offer their resources, such as legal aid and elder care.
Many grandparents have to deal with issues relating to guardianship and public benefits.
"A lot of people are under the impression that to leave a child with a person, you can just leave a note or power of attorney — but it's not as simple as that," said Jimmy Midyette, an attorney with Florida Legal Services Inc. He said that many times, grandparents don't have issues until the child is enrolled in school or when they realize they can't legally make health decisions for their grandchildren.
While the Mathises say they are lucky to "hold all they keys" with their grandchildren, many grandparents do not. Some must fight the parents or the state for custody. One member of the group has been lobbying legislators to give grandparents more rights over the welfare of their grandchildren.
Money is another issue. The group sent another attorney to do a presentation on the downsides of reverse mortgages, as finances can be tight in a group where many are retired but still supporting a family.
"I'm already retired. I need a job, though, with all of them in the house. I'm really in a hole, you know," said Rosa Martin, 79, a member of the group raising a total of six grandchildren.
Sid Jenkins, 68, another member of the group, delayed his retirement when his grandchildren came to live with him and his wife, Suzanne Parke.
Parke, 67, said they've had to become a little more financially conscious, but seeing a huge transformation in their granddaughters in just a few years has made it all worth it.
She said they've gone from living in a chaotic situation, with almost no guidance as to how they should treat people or property, to becoming responsible, helpful girls working their way through the International Baccalaureate program and involved in ROTC.
"It's very rewarding. It's tiring and more than we were expecting, but it's rewarding watching them grow, change and thrive," Parke said.
Van and Donna Poole say they also feel positive about the difference they're making in their great-granddaughter's life, as well as the ones she's making in theirs.
"One of my friends said to me, 'You're the only guy I know that's managed to have a child in every generation,'" Van Poole said with a laugh.
While raising Jasmine is tough, she always makes him laugh.
"There are very basic things about life that we're all so busy that we forget about the real world. They force you to slow down and see these things," Poole said.
---
Raising a Grandchild? Need Support?
Grandparents as Parents meets the last Wednesday of every month from noon to 1:30 p.m. in Meeting Room A of the downtown Leon County Public Library. Reservations must be made with Karen Boebinger at (850) 891-4027 or karen.boebinger@talgov.com.