The Business Journal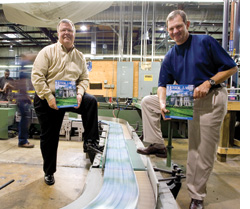 In the ever-changing world of American commerce, it's hard for businesses to grow and thrive over the decades. Meet four local businesses that have stood the test of time and become true survivorsSurvivors
Spotlighting local businesses that grow and thrive over the decades, despite changing times and competition.
Teaming Up for Long-Term SuccessChanging with the Times and Technology Keeps Homes & Land and The Printing House Growing
By Jason Dehart
It was the right product at the right time.
Homes & Land magazine, the widely popular, full-color real estate advertising publication, has connected realtors with homebuyers for almost 34 years.
But Homes & Land magazines is just one-half of the equation for long-term success. The other half is Quincy-based The Printing House Inc., the third-largest commercial printer in Florida. The two companies have had a successful, symbiotic relationship for 30 years, each building on the success of the other.
"Homes & Land and The Printing House are examples of typical entrepreneurial business, where somebody had a vision and the drive to make a business and push ahead to make it successful," said Bill Needham, a 25-year Homes & Land executive who retired from the company a couple of years ago.
Filling a demand is crucial to the success of any business. At its inception, a real estate magazine like Homes & Land was a new concept. But being ahead of the technology curve and granting franchises have contributed greatly to the Tallahassee-based company's success, too.
"One of the biggest things that happened to Homes & Land – and still today – is adapting and changing technology and adopting whatever technology that's out there to make sure were able to keep the company moving forward," said Allen Harrod, chief operating officer over the combined empire of Homes & Land, The Printing House and Century Publishing Company Inc., the media group's West Coast printer.
Homes & Land started out in 1973 as the dream of local businessman Jerry Lundquist, who saw a niche just waiting to be filled.
"Essentially, he was an entrepreneur, and he was looking for a business to make a living at," Needham said. "In traveling around the state, he perceived there wasn't a pictorial real estate magazine available."
The first issue of Homes & Land was a 24-page newsprint affair with black-and-white photos. The first run of 15,000 copies was distributed in real estate offices, shopping centers and other places throughout town, Needham said. In the beginning, Lundquist was doing all the work, and he published an issue every two weeks.
The Printing House, based in Quincy, printed Homes & Land starting in the late 1970s. The Printing House bought Homes & Land magazines in 1989 and started the push toward an electronic future.
"We are definitely a vertically integrated company," said Harrod, who rose through the ranks of The Printing House. He said that in the old days before electronic publishing, typesetters and paste-up artists did everything by hand, a slow and time-consuming process.
"The next phase of that was actually desktop publishing," he said. "It started about 1988, when we were first introduced to desktop publishing. Del Archibald (then owner of The Printing House) bought Homes & Land from Jerry Lundquist in 1989, and then we really started the push to move all the publishers into desktop publishing. And that's when we started having the ability to track listings, track photos, know how many listings we were dealing with and what the pickup rate was, how many homes were actually moving. We started having some data available as to the trends in the real estate market because of that."
The company took quick advantage of the newly emerging Internet in the early 1990s, Harrod said.
"We were the very first to have any listings on the Internet, on Prodigy, which were all text-based listings," he said. "Then from there, the Internet started evolving – and now we have HomesAndLand.com, which happens to be one of the 'stickiest' Web sites that there is in the real estate industry. People stay on our site in excess of 16 minutes, on average."
Today, 65 million Homes & Land magazines are printed each year. HomesAndLand.com draws 500,000 visitors a month.
Homes & Land publications cover about 65 percent of the U.S. population, said Chief Executive Officer Patrick Nadler.
"Not everybody in the United States can pick up our magazine on the street … so we see that as a great opportunity for growth for us," he said. "Which is even more important to make sure we have the right technology, and we've adapted to those things so we can continue to bring on new franchisees that we call publishers," he said.
An ever-expanding group of Homes & Land franchises also has contributed to the company's success. The company started a system of selling franchise, rather than independent licensing arrangements, in 1983 and continued to grow and restructure. Nadler said there are about 175 Homes & Land franchisees, and about 30 new ones start up every year.
"I think the reason for our success is the fact that we have a very strong franchisee-publisher network and all of this is local, even though we're fairly national in scope," he said.
"Today, we have a dedicated franchise development team that works coast to coast and that's always looking for new franchisees to come onboard," Harrod said. "Between Homes & Land and The Printing House, it's a great company with tremendous employment opportunities."
 "There have been different owners up to the present time, but Homes & Land is the nation's largest franchiser of community real estate advertising magazines," Needham said. "There are other companies that publish real estate magazines. They may have more magazines or do more pages, but none of them are franchises."
Jerry Osteryoung, the Jim Moran Professor of Entrepreneurship at Florida State University, measures the longevity of businesses like Homes & Land by the challenges they are willing to undertake.
"I think the No. 1 critical factor for ensuring long-term longevity of a business is making sure the entrepreneurial owner keeps on challenging himself, taking on new markets, taking on new projects," Osteryoung said. "Those entrepreneurs that are successful, for longevity, are those who reach out, who are not satisfied, and who keep on challenging themselves to do better and better."
Chez PierreThe Future Looks Yellow
By Erica Bailey
While the fast-paced, casual-dining chain restaurants popping up all over Tallahassee have sent other homegrown restaurants on the way of the dodo, Chez Pierre has managed to survive by evolving – taking the best of what made it popular when it opened more than 30 years ago and adapting to changes in the market.
The original Chez Pierre started downtown in 1976 as a small, 60-seat restaurant owned by Pierre and Rainey Vivier. Eric Favier and Karen Cooley had met the Viviers and quickly became friends.
"Eric and I really admired their little restaurant," Cooley said, "and always said if (the Viviers) decide to sell, keep us in mind because we'd really be interested in it."
In 1991, Favier and Cooley took over Chez Pierre and ran it for the next several years. When the original location was slated for demolition to make room for expansion of the federal courthouse, Chez Pierre moved to its current location at the corner of Thomasville Road and Sixth Avenue.
"We met the original owners of this property, we hit it off, and it just seemed like the place had the right charm, the right character," Cooley said.
With the new location, Favier and Cooley set out to make it the restaurant that they envisioned. But after 11 years, the stress of managing a much larger enterprise – the wait staff more than tripled with the move to the new location – was beginning to affect both of them.
"I started to get burnt out," Favier said. "We were thinking to sell the business. We didn't find the right fit."
It wasn't until they met David-Michael Sprowles that they decided to keep the business and make some changes to the traditional Chez Pierre.
Sprowles had an extensive background in the restaurant business, with expertise in meal service as well as a strong culinary background.
"Anybody who is successful in a restaurant has to know as much about the front of the house as the back of the house," Sprowles said. Taking that knowledge, the trio came up with the idea of adding an outside bar and grill. Under the bright yellow canopy, the restaurant-in-a-restaurant 2 Chez opened last Dec. 31.
"We attract a younger clientele, a young professional clientele," Favier said. "The older clientele still come and love it because it's a mixture of young and old together, which is a good recipe for success. We feel that we are attracting a much bigger part of the market share."
So far, the idea has been a success.
"We kind of decided to make changes based on people's tastes," Sprowles said, "Time restraints put a crunch on everybody's lifestyle as far as going out to eat. What was popular 10 years ago – going out and having a three-course dinner, a bottle of wine and dessert and spending two hours at dinner – there's only a small part of society that does that on a regular basis. (The restaurant) was always inviting, but it's more inviting now because it's got a lighter feel to it."
Making Chez Pierre more appealing to a wider group of customers is what continues to drive the changes.
"Updating is a necessity, but that probably sinks most restaurants," Sprowles said. "You have to change but still stick to your roots."
More changes are planned, including adding a pick-up-and-go option and focusing more on catering.
"Because we are not a chain and we're privately owned, and because we're very hands-on, it's still a nice family atmosphere," Cooley said. "Even though we're a big family, we haven't lost that. People feel a lot of loyalty and stay with us a long time." 
Keeping Tallahassee Dressed for SuccessNic's Toggery is a Family Affair For the Gavalas Brothers
By Robert Zerbe
If he's a Tallahassee heavy hitter with a Platinum card and a sense of style, chances are he shops at Nic's Toggery. Governors, lobbyists, lawyers and businessmen have passed the portals of the high-end men's clothing store for the past 57 years, making their sartorial selections with personalized help from a staff of experienced salespeople.
The business is owned and operated by three of the four Gavalas brothers, who are maintaining the traditions started by their father and the store's namesake,
Nic Gavalas.
The son of a tailor from Augusta, Ga., the senior Gavalas started the first Nic's Toggery back in 1950, just one block from the old Capitol building downtown. Gavalas branched out and added a new location for the business in the Tallahassee Mall in the late 1960s. In 1982, the Tallahassee Mall location was closed down and the current Market Street store was born. Following this change, a Governor's Square Mall location was opened in the '80s. This location operated for about 10 years, when it closed and the businesses' current big-and-tall location opened at 1885 Northwood Blvd. near Northwood Centre.
George Gavalas, the youngest of the brothers and current vice president of Nic's Toggery, started working at the store in 1978 after graduating from Florida State University with a degree in business management. It has been his full-time job ever since, even after his father retired 15 years ago.
The business' responsibilities are spread out between the three brothers.
"We've all got certain duties that we handle," George Gavalas said. While he is in charge of marketing, sales personnel and training, his brothers Victor and Mike serve as president and financial officer, respectively.
"It seems to work out really well," George Gavalas said.
A fourth Gavalas brother, Steve, is a Certified Public Accountant in Tampa.
George Gavalas said he finds the family-run style of their business to be an advantage, admitting that, while the three brothers don't always agree on everything, in the end they agree on what's best for the business.
"We work well together," he said. "We all have a great understanding of what we really want out of this. It's the same common goal that my father wanted when he was active. We've kind of carried that through. It's just kind of a great working relationship, and you don't see that with this many family members in one business."
The "great working relationship" that Nic's Toggery has obviously is paying off.
"We've been in Esquire magazine's 'Top 100 Men's Stores' for the past five years in a row," Gavalas said. "Basically, business has been built on personal relationships with customers over the years. We really take a lot of pride in working more one-on-one with customers in helping them with their needs, whether it's building a wardrobe or for special occasions."
Every business has a secret to success and, according to Gavalas, Nic's Toggery's is customer service.
"It's the people that make the difference," he said. "We definitely try to hire the best people that we can. All of our people usually stay a long time with us. (The customers) like the consistency and the longevity of our sales people because they know they're stable."
Gavalas said that one of the biggest obstacles the haberdashery has faced in the past few years is the "C" word – not "competition," but "casual," as men's style has evolved into a less formal look.
"I guess you could say the total world has gotten a little more casual," Gavalas said. "We're predominantly a clothing-driven company."
The family was faced with the task of reorganizing the business after this seismic clothing style shift. Fifteen to 20 years ago, the brothers worked with a consultant to reorganize themselves and the way they did things.
"That's probably been the biggest thing that we did that really kind of (enabled) us to withstand the test of time," Gavalas said.
The Relationship BankAfter 112 Years, Capital City Bank Still is About Delivering Needed Product and Being a Good Neighbor
By Jason Dehart
When businesses think of longevity, the operative term is stability. And that is something Capital City Bank has lots of.
The bank was founded by George W. Saxon in 1895. It survived World War I, the Great Depression, World War II, and it seems to be weathering the ups and downs of today's stock market as well. In a business where consolidation seems to be the name of the game, Capital City Bank has avoided being bought up by a larger bank.
That is something they don't concentrate on, said Capital City Bank Group CEO Bill Smith, son of Godfrey Smith, the bank's fourth president and a local banking legend. (So highly esteemed is the elder Smith that the Greater Tallahassee Chamber of Commerce named its highest service award after him.)
"(We focus) on running a bank, having a good product, taking care of our clients and producing good results for shareowners," Bill Smith said of the publicly traded company.
Individuals own 80 percent of Capital City and institutional investors own 20 percent, Smith said.
Hard work and adapting to change certainly have played roles in the company's longevity, the younger Smith said.
"We were delivering services at the firm a century ago that people still need today – they just need them in different ways," he said. "And we were able to change and adapt with them."
But there is more to it than hard work.
"We were just lucky, you know? We've been blessed with being in a great market, blessed with great people who bank there and great associates to work with," Smith said.
"All of our associates have had a consistent message of great service that they've been delivering over the years. We've been able to survive a couple of world wars, a depression, and while we've stayed true to our business principles, we've consistently tinkered with what we're delivering, what the client wants, and how we deliver it, to keep up."
At this point in the bank's 112-year history, the company has 69 offices, with four more expected to come online soon. You can find the familiar white star logo of Capital City Bank scattered throughout parts of Florida, Alabama and Georgia. Branches also can be found in small towns such as Havana and larger communities like Tallahassee and Macon, Ga.
But as the bank aggressively expands its holdings, it remains true to its status of small-town community bank that prides itself on building relationships with people.
"We've got a handful of anchor markets in the larger communities, but really, the backbone is built around the smaller towns, the Monticellos and Quincys and Havanas and Crawfordvilles, that are wonderful communities and are growing really nicely," Smith said. "I hope we helped them grow because of our participation in the community. It gets back to being in the relationship business ­– we view ourselves as being in a relationship banking business. We preach that to 1,100 employees, and I think we have good buy-in."
Another key issue relevant to the company's longevity has been the longevity of its senior leadership. Godfrey Smith spent more than 60 years with Capital City Bank, and his son said it is a tradition of commitment that today's leaders are following.
"I look around at the senior people at the Capital City table today, and they all average over 20-plus years with our company," Bill  Smith said. "So I think that the senior, the consistent leadership has really proved to be a great benefit to us."
Leadership aside, Smith said longevity is about providing a service that people need.
"This is the business of making dreams come true for people, helping them get a business started, or helping people buy a home, buy an automobile, whatever the case might be," he said. "So we are in the business of fulfilling dreams, making them come true. That's really been a good business to be in."
Business Briefs
 
Out with the Taurus, In with the Edge
Ford Motor Company is fighting to stabilize its falling market share with a new president – Allan Mulally, formerly of aerospace giant Boeing – who is known for his ability as a turnaround, crisis management leader and for his successful launches of new products.
Tallahassee Magazine writer Jason Dehart recently had the opportunity to test-drive one of Ford's new products, the Edge, a "crossover utility vehicle" designed for the downsizing, downtown-dwelling baby boomer who still likes to take a spin in the country on the weekends. The Edge is called a "crossover" because, unlike a traditional SUV, a CUV is built on a car frame.
While in Tallahassee recently to give a speech to the Economic Club of Florida, George Pipas – manager of sales analysis and reporting for the automaker – sat down with Dehart, who asked him why Ford decided to quit producing the Taurus. At one time the Taurus was the most popular sedan in America; Ford produced more than 7 million of the vehicles over a period of 21 years.
In short, production ended, Pipas said, because the vehicle was "too popular."
"In the last two years, it's been sold almost exclusively to fleet customers," he said. "Not to retail customers. And mostly to daily rental companies. We'd like to move away from the idea that when you go to an airport you see a sea of Ford Tauruses … Ford is going to dramatically reduce its presence in the daily rental market.
"Having a car that's used almost exclusively by fleet customers doesn't do anything for your brand, in terms of your image and reputation," Pipas said. "We need balance. It's OK to have Fusions available at the Hertz rental counter – even a Ford Mustang for a vacationer in the Orlando market – but to overly rely on the daily rental channel, just like over-reliance on incentives and deep discounting, is a concept that doesn't lead anywhere in terms of a viable, sustainable business."
New Promotion, Office for GVA's Hewett
Lucas Hewett recently was promoted to president of GVA Advantis' Northwest Florida regional office. As president, Hewett will serve with John K. Hutcheson, chairman and chief executive officer of GVA Advantis, and four other regional presidents on the company's Executive Committee.
Hewett was the regional office's senior director before being promoted in May. He will continue to be responsible for regional operations, including brokerage, property management and construction – the latter a new service being offered for the first time in the Northwest Region.
Coinciding with Hewett's promotion is the relocation of his office and staff to bigger digs at 1430 Piedmont Drive East, a block north from their previous home. They now are located on the second floor of a spacious mansion-style office suite owned by Ruben Rowe of Southland Contracting Inc.
"This new office gives us more space and it highlights our status as a private, employee-owned company apart from St. Joe," Hewett said. "This is a great space for us."
GVA Advantis is a full-service real estate firm that leases, manages and sells office, industrial, retail and other commercial real estate properties and sites. The company also provides tenant representation, corporate real estate, construction and project management services.
PBS&J Gives Godby Students Training – and Laptops

PBS&J is teaming up with Godby High School to provide free laptop computers to selected students who participate in the engineering firm's "kidsclass," "Computer Lab Adventure for Super Students."
 
The computer training program is designed for disadvantaged students. Weekly sessions, held at the engineering firm's Tallahassee office over six weeks, introduce students to advanced computer applications such as Microsoft Excel, Access and PowerPoint. Hour-long training sessions begin with a presentation by a PBS&J employee from a different discipline within the firm; each student then is paired with a PBS&J employee mentor to help him or her complete each lesson. Students were selected based on aptitude, desire to learn, interest in the fields of science and technology, and lack of access to computers at home.
Six students took home computers at the end of the 2006-2007 school year, and PBS&J plans to continue the program when school begins in the fall.
 
Previous "kidsclass" programs in Tallahassee were geared toward elementary and middle school students. But the program switched its focus to high school students after Godby instituted a magnet program that will prepare students for careers in information technology and computer science. When school begins in August, students in the program will be able to earn valuable industry certifications while still in high school. ­– Rosanne Dunkelberger
SATSair's 'Air Taxi' Touts Wings, Not Wheels
It's a bird, it's a plane, it's … a new transportation service soaring into Tallahassee.
For 30 days in February and March, SATSair co-founder Tim McConnell headed up the "Fly Florida Tour," stopping at 104 airports in Florida to spread the word about the growing company.
The innovative "air taxi" provides an alternative to regular commercial air travel, allowing customers to reserve private flights on a state-of-the-art Cirrus SR22 aircraft. Avoid the hassle of the airport terminal and pesky passengers for $595 per hour, or choose a block package that may be shared among family members or employees. Agree to buy 50 hours for $22,000 and the hourly rate drops to $440 per hour.
You can feel free to "leave the meter running." If need be, the plane can be scheduled to wait at your destination for $70 per hour.
SATSair flights are scheduled based on availability. The company predominantly serves the eastern United States, but plans to expand as the market grows. Visit satsair.com or call (800) 639-6192 for more information on pricing, reservations and approved airports within the service area. – Ashley Kahn