The Big Bend Community Orchestra Begins Its 21st Year
The 'People's' Orchestra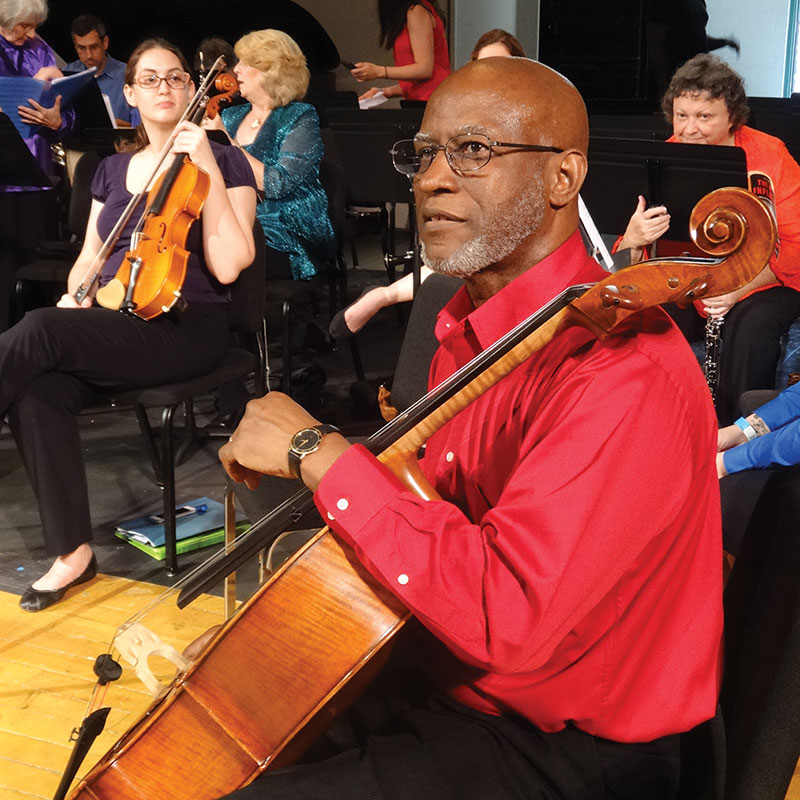 The lights dim momentarily before the gels along the proscenium cast cascades of blues and pinks onto the orchestra. In a black Nehru jacket, the conductor raises both arms, silhouetted before the players like a genie emerging from a magic lamp. 
The orchestra is poised; bows hover millimeters above strings; the reeds of wind instruments are wetted; the circular mouthpieces of golden horns are pressed into the embouchures of men with powerful lungs. And they wait — as attentively as soldiers primed for assault or for the surgeon who will make the first cut.
What will follow is a tidal wave of the known and unknown … an orchestra unleashed with the dropping of the tiny white wood of the baton … a movement that will bring the past into the aural present and emotionally connect 200 people on the thread of a sound.
To be inside an orchestra as it rises and falls, drives powerfully forward or whispers secrets of the heart is a privilege few have. Yet for the past 20 years, the Big Bend Community Orchestra has offered that opportunity to volunteer musicians who rehearse together, practice at home and find the exhilaration of playing works of the great symphonic masters another of the surprising musical bonuses of living in Tallahassee.
Ginny Dinsmore is someone who knows. Along with Waldie Anderson, a retired voice professor from Michigan State University, they founded the Big Bend Community Orchestra in 1994. Though Dinsmore had played with the precursor of the Tallahassee Symphony, that fledging group had collapsed before it later reemerged as a professional organization in 1979. In the meantime, Dinsmore, who for 25 years taught kindergarten through fourth grade music at Florida High, continued to occupy her free time playing clarinet with the Tallahassee Community Band.
"A fine organization for sure," she smiled. "But I really wanted to play symphonic music."
About the time Dinsmore retired from teaching and was "starting to get my clarinet skills up to par," Anderson and his Florida State University professor wife, Carolyn Bridger, were settling into Tallahassee. Anderson too played with the Community Band but also hankered for more classical fare. Then at a band party, much like Judy Garland and Mickey Rooney in the movies of the 1940s, Ginny and Waldie decided on a whim to "put on an orchestra."
"We rounded up 22 string players and enough personnel for a complete wind and percussion section," Dinsmore said. "For several years we rehearsed and played at local city high schools. Many concerts were at Lee Hall on the FAMU campus." Today the orchestra rehearses at Tallahassee Community College and plays most of its three concerts per year in Turner Auditorium. TCC and Florida A&M students who play with the orchestra receive college credit.
From the beginning, the Big Bend Community Orchestra's mission was expansive: All concerts would be free to the public. And it would serve as an outreach. Dinsmore and Anderson wanted to include professional players, homemakers, music teachers and students, and those at a variety of levels of expertise.
"Music education is one of our major goals," Dinsmore said. "And not just for kids. Having the opportunity to play Mozart or Sibelius doesn't fall into everybody's lap, and that's pretty wonderful. But being introduced to new composers as adult players is truly a unique and thrilling challenge."
As a longtime music educator, Dinsmore's thoughts often go to children.
"Teaching music in the schools and after-school instruction is so important," she said. "It's the basis for understanding and becoming curious about not only music written at a certain point in the past, but about history too. What was going on when Beethoven wrote the 'Eroica'? What political background can you hear in Mahler? By giving advanced students the opportunity to attend and even play with a large orchestra, you can sometimes make a life-changing difference." And it's even fun if you don't play an instrument.
Dinsmore said co-founder Anderson had wanted to introduce little children to the dynamic that makes up an orchestra. Following his lead, before the last piece of the concert, children under 12 are still invited up on stage to sit or stand beside a musician of their choosing. Wide-eyed 6-year-olds perch cross-legged at the feet of a cellist while pre-adolescent boys stare at the blur of a timpanist's sticks, each one experiencing the power of an orchestra in full throat.
But what keeps busy professionals coming out on Thursday evenings to rehearse for two hours? What motivates them to pull out their horns or harps, cellos or oboes to practice in back rooms or kitchens during the week?
James Brown is a retired assistant superintendent of schools and a former band director himself. Brown plays concert piano, clarinet and a variety of other instruments, but "I'd never experienced the challenge of strings," he said. Ten years ago, he bought himself a cello, which fit his hands better than a violin. Brown said he practiced two to three hours a day in the beginning. A year later, with some butterflies, he joined the orchestra.
"For me, orchestral playing is more soothing than band — and harder," he said. "But the people are so accepting. In fact, I think I like rehearsals even more than performances!"
Over the past 20 years, the Big Bend Community Orchestra has undergone its share of adaptations. For many years it was connected with the Artist Series; today, the orchestra has applied for its own nonprofit status. James Croft, a director of bands at FSU, took over when Waldie Anderson stepped down in 2004 and continued on the podium until passing the baton to the current conductor, FAMU Assistant Band Director Shelby Chipman, in 2007.
What's next for an organization that has played 325 orchestral compositions and had 724 musicians pass through its ranks over the past 20 years?
"Well, we'd love to see more players like Matthew Kajicinski, one of our violinists who now plays in Europe; Ashanti Floyd, a viola concertizer; and Dunwoody Mirvil, a trombonist with the Tallahassee Symphony, cycle through the BBCO. We love to nourish talented musicians," Dinsmore said. "And we'd love some more babies!"
Babies?
"Sylvia Howell, a violinist who has moved to South Carolina, has given us our first 'baby BBCO,'" she explained. "Called the Lake Murray Symphony Orchestra, she says she missed our Big Bend Community Orchestra enough to clone it in South Carolina." Dinsmore, who has no children of her own, laughs that her own years of teaching gave her hundreds of children to love, and now in South Carolina she feels she has another one. And guess what? She's hoping for more.