The Best Way to Get Around Downtown
Pedal Power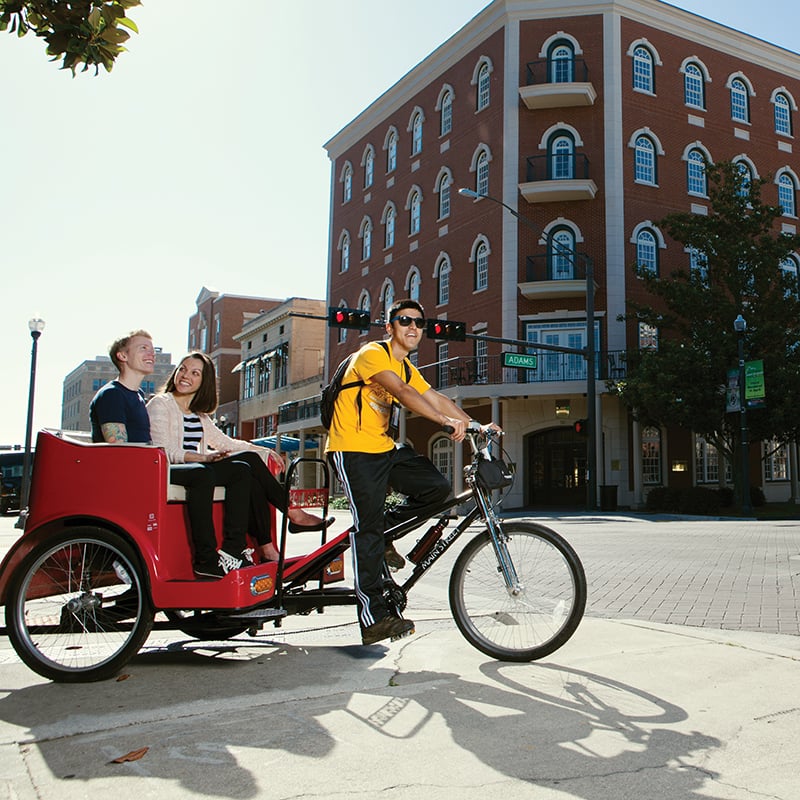 A taxi-driver strike in New York City in December is hardly something to be happy about. However, every snow cloud has its silver lining: For Ron Goldstein, it was the inspiration to start something big. While the Big Apple's famous yellow taxicabs were sidelined, its pedicabs were busier than ever.
A pedicab, also called a cycle rickshaw or bike taxi, is a giant tricycle with a traditional bike seat on the front and a larger seat for one or two on the back.
"After walking several city blocks, we came upon an unusual pedicab shaped like an octopus," Goldstein writes on his company's website (capitalcitypedicabs.com). "It had several seats with pedals arranged like octopus tentacles. All of the passengers pedaled together to get to our destination."
That image stuck with Goldstein and, eight years later in 2013, he opened Capital City Pedicabs. That put Tallahassee on the map of cities with a pedicab business presence, along with Manhattan, San Francisco, Toronto, and even Paris and Copenhagen.
One benefit of using pedicabs is lowered carbon emission rates; the bikes run on manpower rather than fossil fuels, so they're great for the environment. In fact, as manager of Capital City Pedicabs, one of Mike Goldstein's primary duties is getting the word out about the company's positive impact on the planet.
"One of the latest additions to our company is the bike bar," says, Mike, who is Ron's son. "There are eight seats, plus the operator's seat; everyone is pedaling, and our operator does the brake work and the steering." This novelty transportation experience is both fun and significant: The bike's "people power" keeps as many as eight cars' worth of exhaust fumes out of the atmosphere.
In Tallahassee, the pedicab has attracted a young demographic thus far.
"It's definitely something people are getting acclimated to, but we're growing for sure," Mike Goldstein says. "The young professionals are our biggest customers, as well as people who use us for events. We've done weddings, we've done festivals (and) progressive birthday dinners. If you need it, we'll make it happen."