The Benevolent Bethel African Methodist Episcopal Church
Historic church aims 'to make a fundamental difference'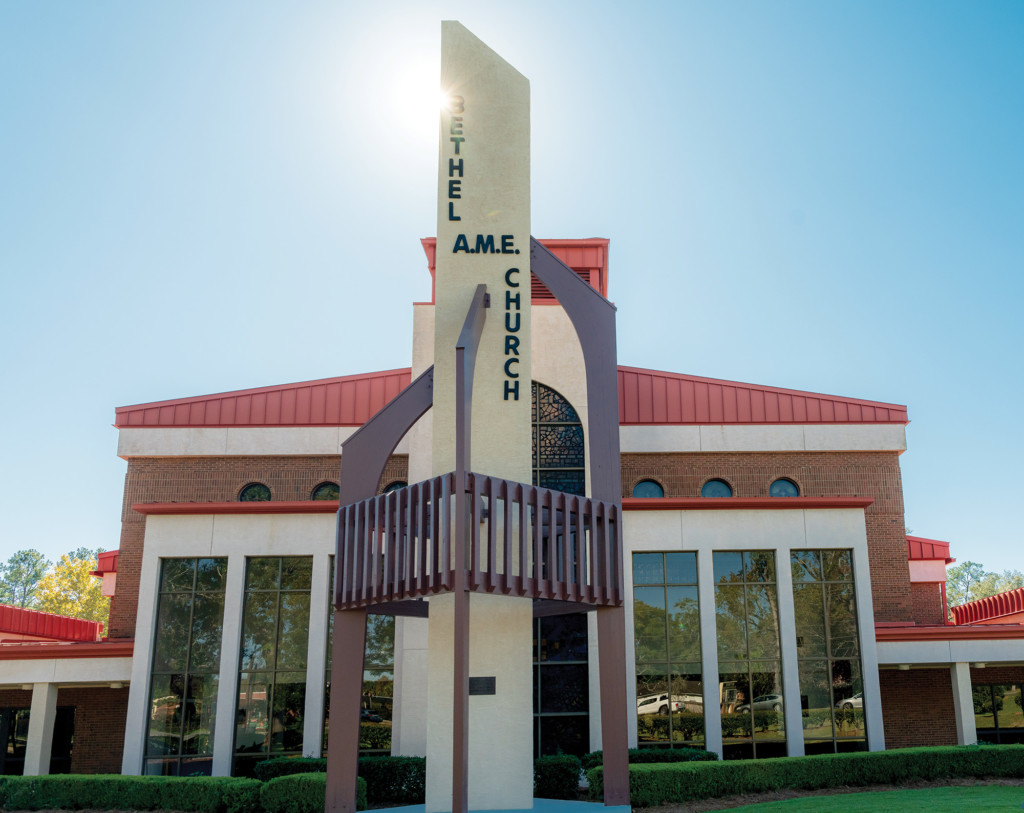 The church today hails them as courageous freedmen.
In 1865, as Bethel African Methodist Episcopal Church tells it, 116 black Christians walked out of Tallahassee's Methodist church and worshipped at an open-sided shelter at the corner of Duval and Virginia streets.
"Many times we worshiped in the gallery, and I think that we wanted more," the Rev. Dr. Julius H. McAllister Jr., senior minister of Bethel AME, told Tallahassee Magazine recently.
In 1866, the new church conducted a cornerstone ceremony for a suitable facility.
African Methodist Episcopal missionary Robert Meacham of Monticello helped lay the stone on Duval Street, according to the book Trinity United Methodist Church: Tallahassee's First Church.
That new church continues today as Bethel AME, which offers services in a spacious multipurpose complex at the corner of Orange Avenue and Wahnish Way.
Bethel AME boasts about 2,000 members and stands as a "tremendous epicenter of social justice, community and civic engagement, and political empowerment" in Tallahassee, the Rev. Quardricos Bernard Driskell wrote recently in The Christian Recorder, a publication of the AME Church.
Bethel feeds children and families, builds and repairs homes and works to keep itself "on the caring side of ministry," McAllister said.
"We have always had an opportunity to make a fundamental difference," he said.
It started more than 150 years ago when those 116 worshippers took a stand and a new start.
"We wanted more," McAllister said, "and we wanted to feel this Jesus that we believe ultimately provides the spiritual sustenance we need from day to day so that we can experience a little heaven here on earth, even before we reach the pearly gates."
McAllister, who joined Bethel AME in 2008, shared his thoughts on the church's history, congregation, social outreach and more.
We edited his comments for length and context.
On the church's history …
"We have a very rich and vibrant history. Our church ultimately started, as far as the African Methodist Episcopal Church, in 1787.
"And so we started a relationship with the parent organization in Philadelphia. We began to grow here in Tallahassee and started meeting the needs of men and women in this social context.
"Our church began to grow so much so that now we're up to about 2,000 members. Bethel has always been a church that was concerned not only with the concerns of our parishioners but also the social and cultural concerns within the framework of Tallahassee.
"We've always been on the cutting edge of providing services or ministry experiences. They not only touch our cerebral capacity but also our heart."
On the congregation …
"That's the most wonderful thing about Bethel AME church. It's a great melting pot. You will find persons of all ages, from infants all the way up to a centenarian, within our congregation.
"We have families, we have college students, we have young children. We have persons from FAMU, Florida State. We have persons who are well trained and educated, and we have persons who work really hard to make ends meet.
"The former city manager, Anita Favors Thompson, is a member here. Former Mayor Andrew Gillum is a member here. County Commissioner Bill Proctor, City Commissioner Curtis Richardson.
"Also, we've had about three or four presidents of FAMU to play an active role, serving as officers, teaching Bible study and Sunday school, being really active in the life of our congregation.
"So here you will find everyday people who ultimately love the Lord, worship the Lord and want their hearts and minds to be challenged."
On the church's tenets, beliefs and ideas …
"We're no different from any other church, any other congregation, as it relates to our belief and ultimately having an eternal resting place, which is in heaven.
"We believe just what the Bible says, that if you confess with your mouth and you believe in your heart that Jesus the Christ is your personal Lord and savior, then you're saved. You're not perfect, because we all make mistakes.
"We all from time to time make blunders and do things that we know we should not do. But we believe in a God who ultimately looks beyond our faults, our concerns, our issues, our problems, our shortcomings and meets every single need.
"And we believe in grace and mercy and that Jesus is the very embodiment of it all, because God sent His only son 2,000 years ago.
"We stand on the word that says that God so loved the world, that he gave his only begotten son, that whosoever believeth in him shall not perish but have everlasting life. John 3:16.
"And we stand on that promise and we believe that. So we open our hearts and our minds to all believers."
On meeting with other churches to discuss the bigger picture …
"We do. We have conversations and discussions. And a lot of times, it's centered around social issues or justice issues or concerns that we feel, especially when people are being mistreated."
On social outreach …
"Several things. During the summertime, we have provided delicious meals for school-age children who need hot meals and who may only receive one meal that day.
"We'll go to different parks and recreation centers. We'll go to various churches. We'll go to Tallahassee Housing Authority, and we'll provide two home-cooked, hot meals, for lunch and for dinner — full-course meals that we hope make a difference.
"We have a Bethel Community Development Corporation where we build homes.
"We rehab homes. In the last 11 years since I've been here, we've built or rehabbed homes for persons who are low-income, and we have done about $14 million in 11 years with the assistance of the City of Tallahassee.
"We also collaborate with the City of Tallahassee with senior citizens, persons who may live in homes that are in deplorable condition.
"And we're able to rehab them. We do Thanksgiving Day baskets where we provide meals for families.
"We also provide toys and clothes for kids during the Christmas season where this congregation will have over a hundred families that we will adopt and make sure that we provide gifts and toys for persons who are not even members of our congregation.
"We always want to be a place where it's easy to find God and hard to forget Him. Secondly, we want to make sure that Bethel is always on the caring side of ministry."
On how the church has adjusted to changes in society …
"You always have to make your message contemporary.
"So the goal for any proclaimer, any messenger, any handler of the holy is to know your audience.
"And after being in sincere prayer and asking for God's revelation to permeate your heart and your mind and to share, not Julius Harrison McAllister Jr.'s word — but your word.
"And simply say, 'Lord, speak for your servant heareth,' or 'I'm listening.' After you received that word, then it is your prayer that it will touch the canyons of the hearts of men and women in your congregation.
"Of course, you have the cell phones, you have the iPad, you have all of the various technologies that you use, and we use them here in our church.
"And we really believe that it helps to enhance the worship service. It helps to enrich the vitality of all that we do and the framework of our worship service."
On the top issues that people are struggling with …
"In any congregation, I think we're all struggling with the vicissitudes of life.
"We all struggle with raising children.
"We all struggle with dynamics of our jobs.
"We all struggle with making sure that we have all of the sustenance and all of the things that we need in order to make ends meet.
"That's a part of the commonality that I talked about, the commonality in our humanity that makes us the same.
"I don't care if you're African American, if you're Caucasian, if you're Asian, Korean — we all have basic concerns.
"We have concerns even with our walk with God and trying to reconcile our differences as it relates to the way we want to walk compared to the way God wants us to walk.
"And we all struggle with that inconsistency."
***
This is the fifth in a series of articles on Tallahassee's historic churches.