The Beauty and Tradition of "The Front Porch"
Cool and Friendly Porches Offer the Best Seats in the House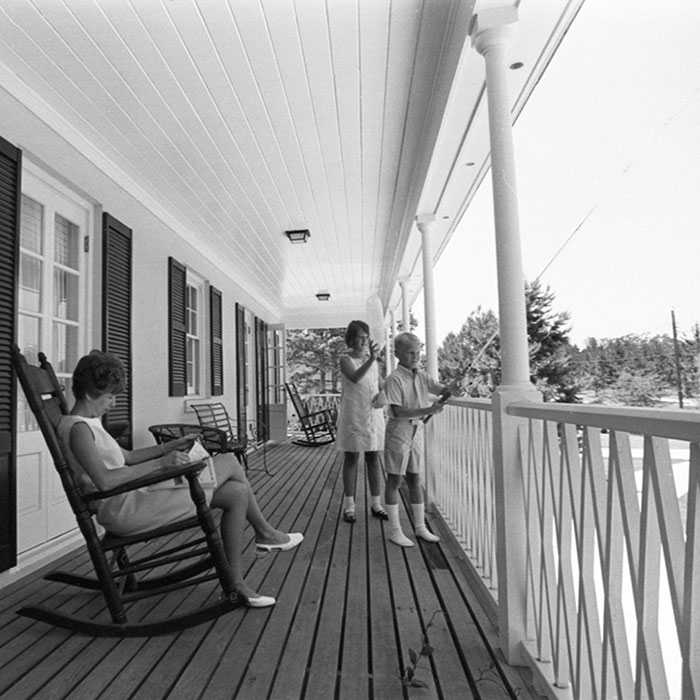 For many Southerners, their "front rooms" are places for end-of-the-day discussion, those stolen first kisses and the memories of days gone by. In Tallahassee, the tradition continues in many neighborhoods. Nobody, it seems, wants to get out of the swing and go indoors. The bits of conversation one hears on a front porch are undoubtedly repeated across the South; everything from religion to politics to grandchildren is fair game for a front-porch conversation.
On a recent weekend, beautiful weather offered the perfect opportunity to enjoy a few serene moments on the porch. For many, this brought back a variety of nostalgic thoughts — vignettes of summer in the South.
"Relaxing on the porch is really a Southern thing," says Pete Piper, owner of Olsten Services. "My grandmother in Pennsylvania had a large front porch, but no one sat on it. On the other hand, my other grandmother's porch in Virginia was where the family congregated before dinner each night. It was nice and cool. Everyone would relax and cool off from the day before going in to eat.
"That porch was the center of activity for the neighborhood," Piper says fondly. "It was screened in, with a rocking chair, a glider and an old sofa. I remember the best feeling was to snuggle up with a book on that old sofa."
That front porch held a special place in the hearts of both young and old, says Piper.
"The porch was the home base for us as kids,'' he says. "You might decide to go swimming or play tennis, but you would always meet back on the porch.
"All of the kids in the neighborhood would congregate on the front porch and drink iced tea," he says. He laughs and adds, "And you didn't dare do anything wrong while on the porch, because our parents or neighbors could hear or see you. However, you could plot and plan things on the porch!"
For the adults, he says, the porch was also a social place.
"Our porch was the place for the family and friends to congregate and talk. You could have friends over, but you didn't have to fluff the pillows or clean the room before anyone sat down. It was just comfortable."
The traditional Southern front porch first gained great popularity in America during the mid-19th century. Andrew Jackson Downing, a noted architect of the time, seized upon the idea of the British verandah and transplanted it to the United States. Many old farmhouses were "updated" to include porches, and almost every new home was built with a porch.
The Southern porch serves a number of purposes — emotional, functional and social. As Kevin McGorty, the director of the Historic Tallahassee Preservation Board, says, "Porches are both aesthetic and practical. They provide a cool breeze to help in the hot, humid weather of Southern summers.
"Hunting-plantation owners and tenants alike used the porch to cool off in the summer."
McGorty notes three beautiful examples of porch architecture in Tallahassee: the Brokaw-McDougall House on North Meridian, the E.L. White House on North Monroe Street and the Knott House on East Park Avenue, where General McCook read the Emancipation Proclamation to the citizens in the Tallahassee area. Although most porch events are not quite as earth-shattering, today's porches are still vital parts of Tallahasseeans' lives.
"Porches are an extension of the living area — it's like moving from inside to outside. Porches expand the house," McGorty says. "They're also very social. They let people see what their neighbors are doing!"
Porches also have a way of attracting those same friends and neighbors. Flecia Braswell, a columnist for the Tallahassee Democrat, is a faithful fan of "porching."
Kate Byrd and Elizabeth Byrd, standing, along with Rubie Byrd and Janet Byrd, shared time at a porch swing.
State Archives of Florida, Florida Memory
"I'd never have a house without a porch," she says. "When we bought our house, it didn't have a porch, but it did have a carport. I knew I could make that carport into a porch. We put up lattice work around the sides and put down indoor/outdoor carpet. We got white wicker furniture and lots of plants, flowers and rabbits — it now has the feel of a real Southern porch.
"All of our friends just love it," she says. "As soon as they come over, we all just go out to the porch. We do a lot of entertaining out there. We have cookouts all year-round. It doesn't matter what season it is — we enjoy having drinks, appetizers and dinner out there. We sit on the porch in the winter and freeze, and we sit out there in the summer and sweat. We're on the porch on Christmas Day and on the Fourth of July."
The indoor/outdoor nature of the porch opens a whole new category of furnishings. The "front room" requires furnishings that are attractive, yet durable enough to stand up to scorching heat and drenching humidity.
White wicker furniture, plants and flowers, of course, are all essential traditional porch items. Rocking chairs are also favorites, as are pieces of folding canvas furniture. The ultimate in front-porch furniture, however, is probably the porch swing or glider, as many people call them. Previous generations tell many stories of budding romance on front-porch gliders. The best part of the porch, they say with sly smiles, is that it's far enough from the rest of the house to provide a little privacy, but close enough to the house to make certain there's not too much privacy.
Functionally, porches are also quite effective in warding off the summer heat. A well-designed porch keeps sunshine away from lower-floor windows and reduces the heat that reaches the home's interior during the summer. In the winter, the sun's rays are lower-angled and are permitted to enter ground-floor windows, thus helping to heat the house.
Porches also provide an indoor/outdoor area that enables people and pets to catch even the slightest cooling summer breeze in the warm twilight hours and still be sheltered from summer rain showers.
Rebecca Wyatt and her daughter, Minner Smith, have been porch-sitting for most of their lives. At Wyatt's home on Bannerman Road, the porch is a place for quiet reflection and family gatherings.
"We sit out here every day, especially in the summertime," Wyatt says. "Sunday afternoons after church is the best time. We talk about everything — the good things and bad things." Wyatt, age 80, says she has lived in the house for 62 years and has been sitting on the porch since it was built.
Some memorable things have come about on their small porch, says Smith. There was the time, she says, when her father had been in an accident, and the family was gathering at Wyatt's home to monitor his progress and to offer moral support.
"It occurred to us as we were all standing out here," she says. "It was like a family reunion." At that point, gathering the family together under happier circumstances became a tradition.
Smith also recalls humorous times. The love in the family is obvious as she discusses an argument she overheard between her mother and father as she sat on the porch many years ago.
"I don't remember what they were arguing about," she says. "I just remember Mama telling him, 'You've gotten my best days, and you're certainly going to get my worst!'"
All kinds of events — large weddings, small arguments, touching silent declarations of affection between family members — seem more real on the front porch. Like precious few other things, sitting on the porch is an equal-opportunity activity. And in most places in the South, when people are sitting on the porch, it's almost impolite not to speak to them.
Piper says he regrets what he sees as the diminishing popularity of the porch.
"I think the demise of the front porch came about because of two things — air conditioning and people no longer talking to each other in the neighborhood. When was the last time you talked to your neighbors? People used to sit on the porch and watch the activities in their neighborhood. It was 'crime watch' before it was fashionable."