The Bark
Vegan/vegetarian restaurant promotes punk subculture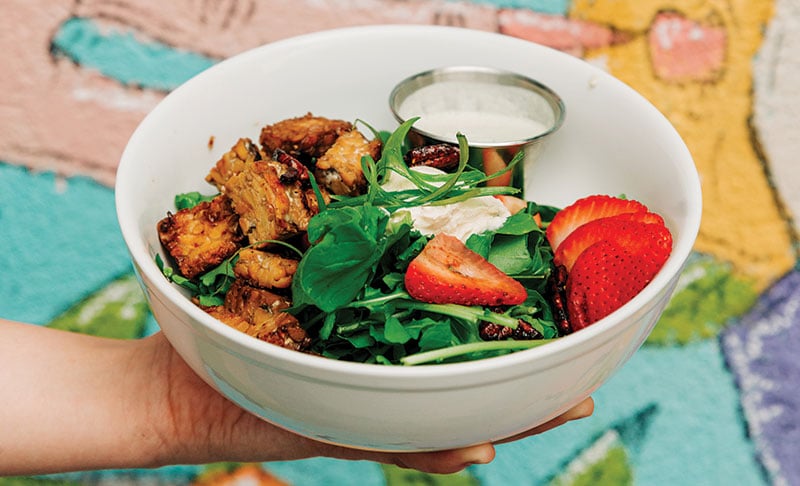 More mainstream restaurants are offering plant-based dishes these days, but The Bark is still one of the few true vegan/vegetarian venues in Tallahassee.
Since 2017, the colorful restaurant located in the All Saints neighborhood has been a venerable destination for its core customers while gaining an even broader appeal.
"We like to say you don't have to be vegan to eat here," said Susie Petty, co-owner of The Bark. "It's just good food."
On Facebook, its owners teasingly call The Bark "A vegan/vegetarian restaurant and dive bar that sells goofy cocktails and has DIY shows and events."
Derek Phillips, who co-owns the Handsome Harvest Farm in Quincy, offers another perspective.
"The Bark is a hidden gem of a gourmet-level restaurant, wrapped in an unassuming punk venue that leaves one delightfully surprised at the elevated level of all their offerings," Phillips said. "Not only have I personally seen their commitment to buying local produce, they have also been a building force in the community for years."
The commitment shows.
Bark's sandwiches and salads are brimming with farm-fresh vegetables. Just about everything is made from scratch, including the sauces and dressings.
Oh, and the heavenly bread. One bite, and you can tell it's homemade.
You can dine inside or out in the "Barking Lot" for brunch, lunch and dinner. Place your order at the bar, and a server will deliver food to your table.
The laid-back venue is especially popular with the younger crowd, who have driven the vegan movement in recent years, but the restaurant welcomes all generations.
The setting took me back to the '60s. The dining area, brightened by lots of twinkly lights, features colorful murals of fanciful animals going in different directions.
Petty said The Bark is a collaborative effort. She generally runs the culinary show, while her business partner, David Green, handles the entertainment and events.
For Petty and Green, creating a space to spotlight vegan/vegetarian fare and music has been an enduring goal.
Petty, a bassist, and Green, a guitarist, met while in a band called Low Life, which was short-lived. At one point, Green worked for Petty when she was running a vegan/vegetarian cafe inside the former Bread & Roses Kitchen co-op on All Saints Street.
The friends eventually joined forces and set up shop across the street in the long-vacant Perry's Restaurant and Lounge. They spent months cleaning, painting and replacing the air conditioning, and they scoured Craigslist and other sources for equipment and furniture.
"This place started on a wing and a prayer with a lot of elbow grease," said Petty.
There weren't any windows, so the pair turned to artists Stephen Shrewsbury and Amanda Boekhout to paint the fanciful interior's murals.
With all the animals decorating the walls, you'd think The Bark was named after a pet. It's actually an acronym of Bread & Roses Kitchen, though Green and Petty quickly note that they do love dogs, the occasional cat and trees.
"We don't have the polished stuff, but we put our money where it's important," said Petty. "It's a little funky, but that's part of the charm."
It works, said customer Lauren Kasica. "I've done a lot of traveling, and I've not been to another vegetarian restaurant that stands up to The Bark," said Kasica, a vegetarian and assistant marketing manager of the Red Hills Online Market. "It's welcoming, and the service is very friendly."
Teacher Rachel Brayman Webber, her husband and 9-year-old son aren't vegan or vegetarian, but they have become regular customers at The Bark.
"We love it," said Webber, whose son prefers the vegan mac bowl or grilled cheese. "It's been consistently good, and the Banh Mi sandwich is fantastic."
The Bark's vegan version of the Vietnamese classic is served on a homemade baguette stuffed with pan-fried tofu, pickled carrots and other vegetables and brightened with cilantro, jalapenos, Sriracha, and peanut and sweet pepper sauces.
Other highlights include a beet or black bean burger, oyster mushroom po'boy, a BLT with tempeh "bacon" and entrees such as eggplant moussaka, pecan-crusted tofu and sweet potato tamales.
About three years ago, chef Cody Cook came on board and added his expertise from years spent cooking in local restaurants.
"It's been a team effort," Cook said. "Since I came here, I've been taking everything I've learned in the last 10 years and knowledge of French technique to make dishes vegan."
The restaurant also features a full bar and to-go cocktails.
As for the aforementioned "goofy" drinks, the bar concocts quirky specials that include the Water Moccasin — whiskey, peach schnapps, triple sec, lemon and ginger ale — and the Strange Weather, a mix of gin, melon, lemon, ginger ale and bitters.
Around 9 p.m., The Bark transforms into a night scene. The entertainment lineup brings "all kinds of shows," said co-owner Green. "It's a different space at night."
There have been jazz, acoustic, hip-hop, punk and R&B shows, monthly drag and comedy nights, karaoke Wednesdays and even literary gatherings.
The Bark is also known for its DIY, or "Do It Yourself" shows.
"The DIY culture in Tallahassee has a strong history of punk rock, bike riding, protesting, politics, vegetarian lifestyles and so much more," said Green. "A lot of the shows would, and still do, happen in houses around the country. Several people in Tallahassee opened nonprofit venues to give that culture a place to live and grow outside of people's homes. Unfortunately, they all went under."
Green said The Bark hopes to help DIY culture and young punks grow as much as they can. But, the ongoing COVID-19 pandemic has been a factor impacting both entertainment and food service at The Bark.
"It's been tough when half of our existence has been during COVID," said Green.
When the pandemic hit, The Bark closed for everything but takeout for a year. The Paycheck Protection Program helped the venue survive and maintain staff.
An upside has been the "dramatic jump in interest" in plant-based diets, said Petty. "You don't have to stop eating meat, but you can absolutely eat less meat and have fun doing it."