The Art of Travel
The Gadsden Arts Center & Museum's newest exhibit allows you to explore America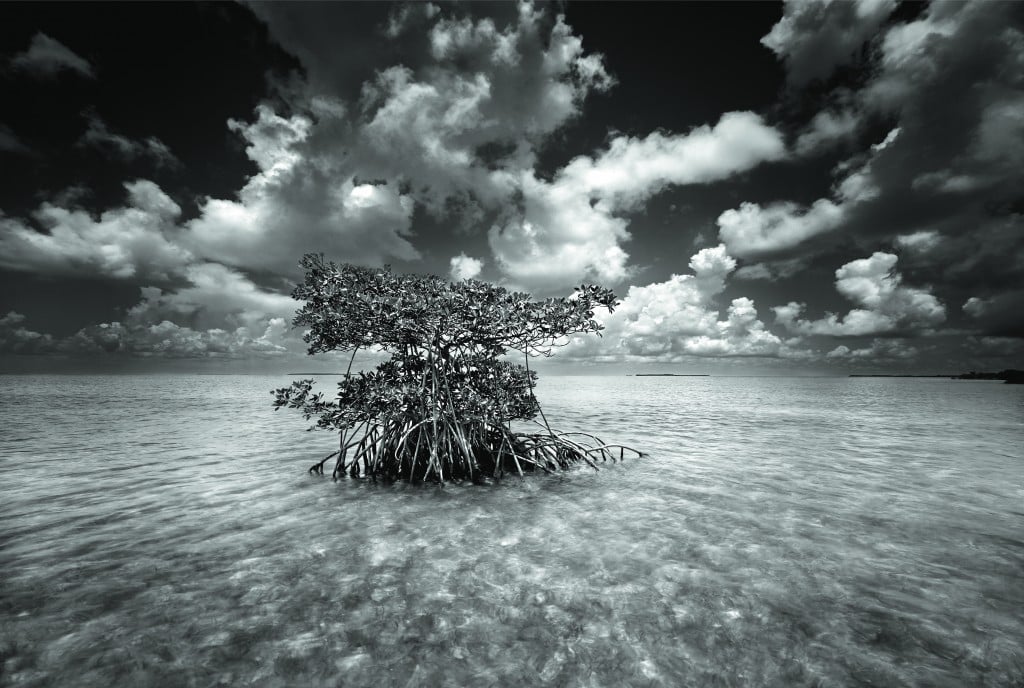 Imagine travelling from the snow-capped peaks of Oxbow Bend to the towering majesties of the redwood forest to the scenic ecosystem of the Everglades — all in one day. America the Beautiful The Monumental Landscapes of Clyde Butcher, on display at the Gadsden Arts Center & Museum, allows you to do so. 
Since the 1960s, acclaimed photographer Clyde Butcher has travelled throughout the United States using his camera to deliver the beauty of this nation onto large scale canvases. Butcher is largely inspired by the natural beauty of untouched environments and has made it his mission to promote conservation and education efforts through his art. 
"After his son passed away, Butcher found solace and healing in Florida's Big Cypress National Preserve; he then focused solely on using black and white film and creating works on a monumental scale," said Angie Barry, Curator of Exhibitions & Collections at the Gadsden Arts Center & Museum. "He intends for his audience to appreciate nature and use art as a healing tool, whether creating it or viewing it."
Where the landscapes themselves are impressive, Butcher's techniques are inspiring in the dedication, patience, and vision he commits to his art. Butcher waits hours, days, and in some cases, years to capture the image he envisions. 
He carries large format camera gear, weighing up to 120 pounds, through swamps and up mountains, waiting for the ideal light and agreeable weather conditions to compose each shot, of which he only takes one or two at a time. 
 Then, in his studio dark room, he uses the negatives to create silver gelatin prints on a large scale, up to 9 feet long. These traditional black and white negatives are composed via long exposure creating ethereal and otherworldly pieces. 
"This exhibit is especially timely right now as we have all been cooped up and cannot travel normally," said Grace Robinson, executive director of the Gadsden Arts Center & Museum. "As a result of the scale and pristine quality of these images, you feel completely immersed in the landscape. Standing in front of this art provides the novelty and experience of travelling the country just by coming to the museum."
This is a major exhibition consisting of nationally and internationally recognized works of historical and cultural importance. To view major exhibitions, guests often have to travel to cities such as Atlanta or Jacksonville. As a nationally accredited art museum, the Gadsden Arts Center & Museum is working to  bring more major exhibits to the area, and they will welcome two in 2021. 
Alongside Butcher's exhibition, from January through March, multiple virtual events will occur, one highlight being a "Meet and Greet with Butcher" on March 11 at 1 p.m., where guests can ask him questions. A second major exhibition will be presented this fall, entitled Women Artists: Four Centuries of Creativity, an exhibition organized by the Reading Public Museum in Reading, PA to celebrate the remarkable achievements of women artists through 400 years of art history.
The Gadsden Arts Center & Museum is open with a maximum capacity of 20 guests. Masks must be worn, social distancing standards are in place, and alongside rigorous cleaning, hand sanitizing stations are available. Tours can be scheduled for a maximum of 10 by calling ahead. 
Where the museum once held large community events and hosted field trips, they have adapted to the pandemic by moving to virtual events and exhibit viewings while offering take-home art kits to over 500 area children. Amidst it all, they are committed to creating opportunities for adults and children to learn about and engage with art. 
"We hope that guests appreciate how and why these works of art were created," said Barry. "We hope people experience a sense of calmness and hope by seeing these works up close and in-person." 
Clyde Butcher's America the Beautiful will be on display from Jan. 15–April 3. To learn more about his art and the Gadsden Arts Center & Museum visit: GadsdenArts.org.