The Art of Summer Salads
The Why and How to Localizing Your Summer Salad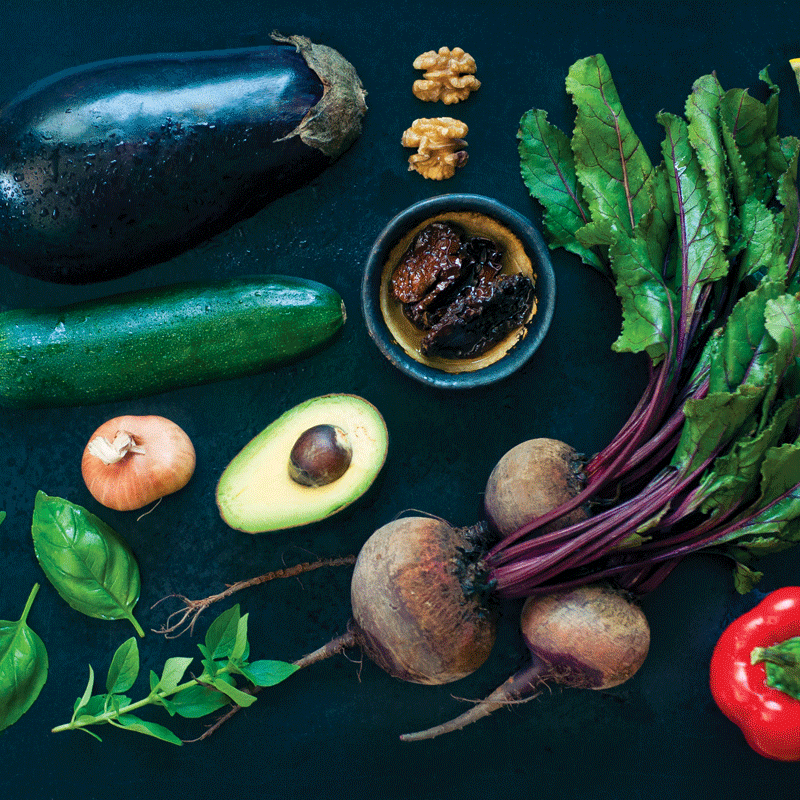 When the sun's at its peak and temperatures are rising, there's nothing quite like the crisp crunch of a chilled salad. Refreshing and healthful, salads are many a Southerner's go-to meal during these endless, sweltering summer months.
You might not know it, but what seems to be a match made in heaven is actually anything but.
As local farmers will tell you, the majority of leafy greens and lettuces simply won't grow in our region during the dead of summer — it's far too hot for their delicate surfaces to withstand. As a result, supermarkets stock their shelves with produce that is not only imported, but lacking in the basic health and flavor characteristics that make greens and lettuce a wise choice to begin with.
"We're used to having whatever we want all the time at the supermarket, even if it's not in season," said Claire Mitchell, who was farm manager and volunteer coordinator at the now-defunct Ten Speed Greens Urban Farm. "That means it comes from other places around the world. It's definitely not as fresh, and your money is going to places that (are) not your local farmers."
While many Northwest Florida crops die off in May, some are designed to withstand the elements. Arugula, basil, okra, sweet potatoes, pole beans, zucchini, cucumbers, tomatoes, eggplant and peppers are all well acquainted with the scorching summer sun.
But artfully incorporating these seasonal ingredients to make, at least in part, a locally sourced meal can be tricky.
"The challenge I would say is to get creative and to realize that you're not going to be doing lettuce and spring mixed salads in the summer," said Danielle Krasniqi, former sales manager at Ten Speed. "If you want to eat locally and seasonally, you're going to have to open your mind a little bit and start using different things."
---
Zucchini Salad
Ingredients
⅓ cup extra-virgin olive oil
2 tablespoons fresh lemon juice
1 teaspoon coarse kosher salt
½ teaspoon freshly ground black pepper
¼ teaspoon dried crushed red pepper
2 pounds medium zucchini, trimmed
½ cup coarsely chopped fresh basil
¼ cup pine nuts, toasted
Small wedge of Parmesan cheese
Directions
Whisk oil, lemon juice, coarse salt, black pepper and crushed red pepper in small bowl to blend. Set dressing aside.
Using a vegetable peeler, work from top to bottom of each zucchini, slicing it into thin (about 1/16-inch thick) ribbons. Place ribbons in large bowl. Add basil and nuts, then dressing; toss to coat.
Season to taste with salt and pepper. Using the vegetable peeler, shave strips from Parmesan wedge over salad. Serve chilled.
---
Roasted Eggplant and Pepper Salad with Tomato Jam Vinaigrette and Goat Cheese
Ingredients
4 medium peppers
3 Japanese eggplants
3 tablespoons olive oil
4 tablespoons crumbled goat cheese
For Vinaigrette:
1 tablespoon tomato jam
1 tablespoon apple cider vinegar
1 tablespoon Dijon mustard
3 tablespoons olive oil
Squeeze of lemon juice
Salt and pepper to taste
Directions
Preheat oven to 350 degrees.
Cut peppers and eggplant into small, bite-sized pieces; coat in olive oil and spread evenly on separate baking sheets. Roast until soft and almost charred or approximately 30 minutes. Remove from oven to cool.
Combine ingredients for vinaigrette, then coat eggplant and peppers. Top with goat cheese.
Salad can be served as-is or over a bed  of arugula.
---
Arugula and Beet Salad
Ingredients
¼ cup balsamic vinegar
3 tablespoons shallots, thinly sliced
1 tablespoon honey
⅓ cup extra-virgin olive oil
1 cup pickled beets
6 cups fresh arugula
½ cup walnuts, toasted, coarsely chopped
¼ cup dried cranberries or dried cherries
½ avocado, peeled, pitted and cubed
3 ounces soft fresh goat cheese, coarsely crumbled
Salt and freshly ground black pepper
Directions
Whisk the vinegar, shallots and honey in a medium bowl to blend. Gradually whisk in the oil. Season the vinaigrette to taste with salt
and pepper.
Toss the arugula, walnuts and cranberries in a large bowl with enough vinaigrette to coat. Season the salad to taste with salt and pepper. Mound the salad atop four plates and arrange the beets around the salad. Sprinkle with the avocado and goat cheese. Serve.
Did You Know?
Arugula — also called rocket — is not technically a lettuce but rather a member of the mustard family. It has a peppery flavor and can withstand the heat of our summer gardens.