The Adoption Option
After Adding Six Boys to Her Family, Deborah Polston Encourages Others to Consider Giving Orphans a 'Forever' Home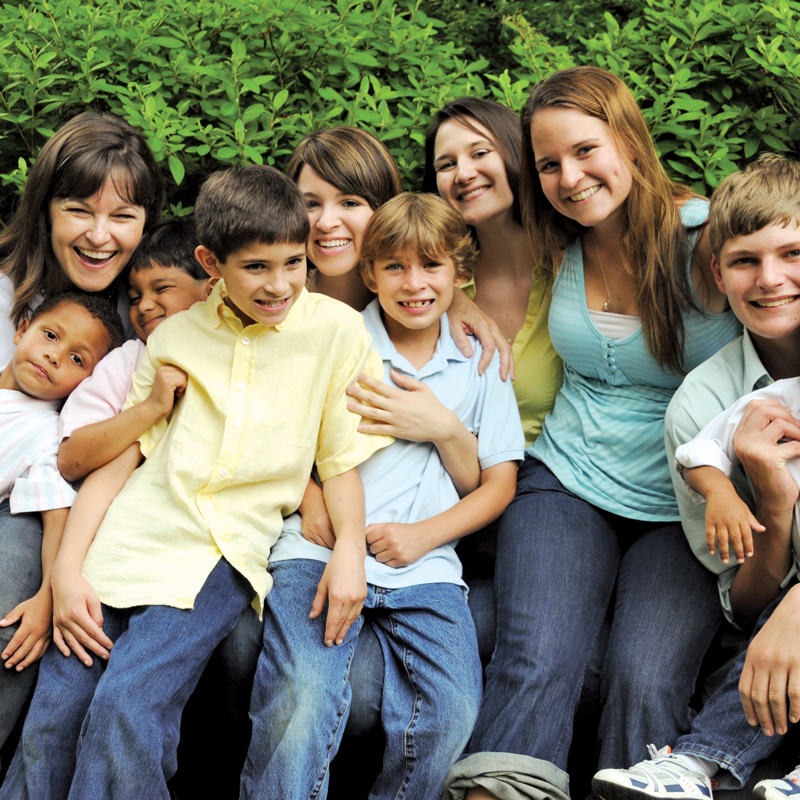 Deborah Ehler Polston is an adoption advocate married to Florida Supreme Court Justice Ricky Polston. They have four daughters ranging in age from 21 to 27 and have through the state of Florida adopted six boys who range in age from 3 to 17.
Polston recently spoke with Tallahassee Magazine writer Lilly Rockwell about their adoption of six boys and why she promotes adoptions through the state of Florida.
---
There was no question in my mind that I wanted to advocate for state adoption when we adopted our own children, a sibling group of six brothers, from the state of Florida. This was seven years ago.
My heart would break daily as I looked through the pictures of all the waiting children. It was clear to me that the children being left behind were those with physical, emotional and mental challenges, sibling groups and children over the age of 10.
When our four biological daughters were almost grown, I knew we had so much love to give to another child or children. I was drawn to the sibling groups. We brought home a 10-year-old, a 3-year-old and a 2-year-old, and since that time seven years ago, we have added three more brothers, each one coming to us as an infant.
Our daughters are all out on their own, leaving us with a houseful of boys, ages 3, 5, 7, 9, 11 and 17. Needless to say, we have a very lively house, and each and every day brings new challenges. These boys are our life now, and we love and adore them.
Children without parents or a permanent family are considered orphaned. Taking in one of these children from another country, another state or our own state serves one major purpose — and that is for these children to be loved and cared for by a 'forever' family.
I have good friends who have adopted children through international and private adoptions. I also have friends and know a lot of people who have successfully adopted from the state of Florida. I am not for one form of adoption over the other. I believe all orphans deserve to be loved in a family of their own.
Because of my own personal experience with adopting our six children from the state, I have seen the advantages. There is little to no cost for adopting a child from the state. Special-needs children are provided with extra help, including a monthly subsidy, college tuition and health care. If the child needs counseling, tutoring, physical or occupational therapy, whatever the need, the state will provide ongoing care for that child.
With private and international adoption, you would be responsible for the cost of these special areas, and that is after the initial cost of almost $30,000 to adopt.
State adoption gives you peace of mind, knowing you are not left to figure it out all by yourself. In Florida, the children available for adoption have already had their parental rights terminated.
Most anyone married or single can adopt, if you have passed all of the local, state and federal background checks. You must also be able to provide a safe and nurturing home and pass home inspections. You will be provided a case history and the child's medical background and developmental level.
Before advocating for adoption, I had an inner-city homeless ministry called New Generation Without Walls. I would take a college group into the city parks and the homeless shelters, and they would sing and dance and share with the homeless.
My heart was forever changed during this time, and I knew I wanted to give back.
What I did not know at the time was how this would prepare me for understanding the situation our boys come from. Our oldest son had lost hope as a 10-year-old in the state foster care system.
One week before meeting him for the first time, he said to his state social worker, "Go ahead and adopt out my baby brothers, I don't want them to suffer because of me. No one will ever want me, I'm too old." Now that 10-year-old is a 6-foot, 7-inch senior in high school, looking to the future with excitement and college-bound.
Our life has always centered on our children. Before the boys, we had the girls, and we enjoyed traveling to all the states in the U.S., except Alaska, and most of the provinces of Canada. We even took the girls individually to the country of their choice after high school graduation.
We have very fond memories and still cherish the times when we're all together. I look forward to traveling with the boys too, in the coming years, and exploring new and exciting places.