The Academy at FSU
Going Back to School Has Never Been Easier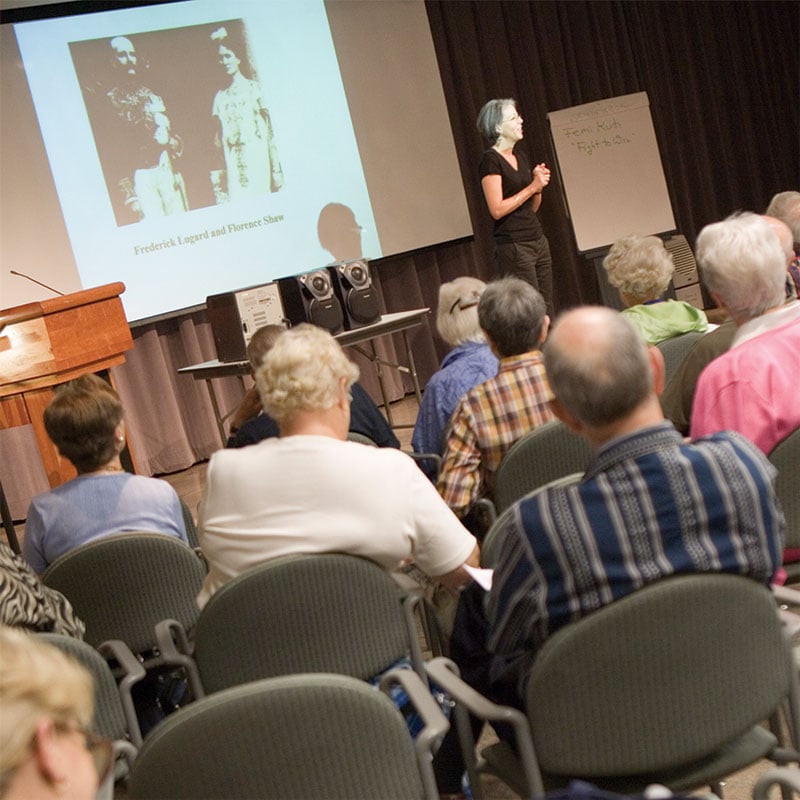 Professor Heike Schmidt stands in front of the class. The topic: colonialism in sub-Saharan Africa. Before the class starts, students are reminded to turn off their cell phones. A few chatty folks are shushed by their fellow classmates. All eyes are turned to the professor as she begins teaching.
These seniors bring a lifetime of experiences to Professor Schmidt's classroom.
nikki ritcher
An ordinary class at any university, right?
Not quite. The "coeds" in this class are different – every one of them is over the age of 50.
Welcome to the Academy at FSU. Academy membership is made up of adults ages 50 and over who wish to continue their education in a university setting. Six different classes are offered one day a week for six weeks on Monday, Tuesday and Wednesday mornings and afternoons at Florida State University's Pepper Institute for Aging and Public Policy. In addition to academic classes offered in the fall and spring, there are noontime lectures, field trips, an art and culture club, a book club, a writer's group and special-event celebrations. Though the Pepper Institute sponsors the Academy at FSU, it's not funded by FSU.
"The Academy is run a lot by the members themselves," said program coordinator Terry Aaronson. "We have a president. They help select classes. They also chair the different clubs we have."
In the 2006-2007 academic year, the Academy has grown to more than 200 members – along with a greater number and variety of classes. Topics are diverse and offer something for everyone.
"We have genetics, physics, and then we have cultural classes – we have music and art and history and theater classes," said Susan Lampman, associate director for education at the Pepper Institute. "So they really attract people who have a really high education." The members help decide what courses are offered.
Each member is free to participate as much or as little as he or she wants. Many come away with an interest in a topic that they had never been exposed to before.
"One of the things that has grown out of the courses that we've taken is that it has stimulated our travels," said Gay Howard, who is the Academy's current president. "For instance, after we studied Russia and China and Eastern Europe, we went there." She and her husband, Jim, now plan their life around the Academy.
"It also gives us things to talk about," Howard said. "I think Jim and I are more interesting conversationalists, too, with each other and with other people because we're going to the class. I hope by staying involved . . . it will keep my mind active."
With such a wide range of classes, students are given opportunities to take subjects that might not have been appealing when they were younger.
"The fine arts just weren't my thing in those young years – history too, for that matter," said Ramona Brown, this year's president-elect and a nine-year Academy member. "Suddenly after a chance to be an adult and have a chance to travel, history, geography – those things that had little meaning when I was a child or young adult are far stretched by now in meaning."
For the six-week "semester," students choose the number of classes they take, depending on their level of membership. At the first level, the fee includes noon lectures, field trips, special lectures and the art and book groups. The second level adds the choice of taking two classes per year. The third level entitles members to everything the Academy offers, with a choice of unlimited classes for the year. Typically, those who sign up to take one class each semester end up having a hard time choosing which subject to take.
"Every time, we try to cross the board with literature, history, geography, science and music, so we kind of try to run the gamut of subject areas," Aaronson said.
At the end of each semester, students rate the course and professor and make suggestions for topics for the following academic year. According to Howard, board members get together and take a look at the suggestions made. If there is enough interest in a subject, the Pepper Institute approaches FSU's departments to recruit professors.
"What we wanted to do was use the resources of the university to offer these classes," Lampman said, "so one of the things we had to do was convince faculty . . . that teaching these classes was a worthwhile public service. And the faculty response has been tremendous, absolutely tremendous."
The Academy's teachers are those who already have made their mark at the university – full professors, department chairs or emeritus professors. At the top of their fields, the professors are allowed the freedom to design a course that does not rely on a grade.
After four years of teaching for the Academy, Bruce Bickley, a professor emeritus from the department of English, is an old hand at teaching American literature classics such as Herman Melville's "Moby Dick" and Mark Twain's "Adventures of Huckleberry Finn."
"It's so liberating not to worry about grades, no quizzes," he said. "It's a lighter touch because nobody's threatened by assignments . . . They've all been to school, so they like the fact that they can go to school in a different way – have at it, enjoy it, dive in when they want to, get behind, get ahead, it's OK."
Schmidt, an assistant professor in the department of history, was recommended by a colleague, and the African colonialism class was the first she has taught at the Academy.
"This is (my) first time teaching mature students, and I'm truly impressed," she said. "One of the differences, of course, is the generational difference. I find that in a university classroom, I have to translate a lot across generations, even when I teach contemporary issues. Whereas here, when I teach very contemporary issues . . . I'm having a conversation with contemporaries, and that provides a very different context in which I don't have to translate quite so much and explain the time period much. That is a very pleasant difference."
The members also are aware of the differences in the classroom. Young, first-time college students usually are actively pursuing a degree and have little time to focus on classes outside their field of study. Here is where the Academy differs. There are no degrees, no tests, no homework – and no stress.
"There were always things that I wished I had time to take when I was taking all that education curriculum, and I couldn't do it because there wasn't time to do it," said Howard, who successfully completed three master's programs and stopped just shy of a doctorate. "The difference is that you have a broader range of subjects you can learn about, and I enjoy that. You have time to relax, and even though you don't have to study more now, I often do – because I have time to go in depth with whatever it is we're learning now."
The Academy provides opportunities outside the classroom as well. The noontime lectures feature guest speakers who cover a variety of topics relevant to members. Offered on Tuesdays, the topics range from health care to legal information to current issues, both national and international. The field trips mostly are day trips that explore the areas around Tallahassee. For the fall 2006 semester, the art and culture club had an overnight trip to Alachua County to see a performance of "Hairspray," tour Marjorie Kinnan Rawlings' home and visit the butterfly exhibit at the Florida Museum of Natural History. There also are opportunities to meet new people at the socials that wrap up each semester.
According to Lampman, the future looks bright for programs such as the Academy because approximately 78 million baby boomers in America are preparing for the next big phase of their lives.
"(Baby boomers) are healthier and wealthier and better educated than any group prior to this time," Lampman said. "They are looking for things to do. They're not going to retire to a rocking chair."
Several major universities across the country are responding to the needs of mature adults and offering them the opportunity to go back to school. In 1991, Lampman looked at various programs set up at different universities and returned to Tallahassee to pitch the idea to the Center for Professional Development at FSU. The Academy started with seven members and offered two classes.
Spread mostly by word of mouth, the Academy is expanding steadily to meet the needs of more people. In May 2006, the program introduced summer workshops so that members can learn new skills, such as digital photography or cooking. The workshops are held at the FSU Seminole Reservation and are open to all members. There also are plans to add more classes as the number of students increases.
"This is what they remember as being some of the best times of their life, and they want to continue to grow now that they are through the biggest push in their career," Lampman said. "This is called lifelong learning, so it's for your own personal enrichment – and that's how everyone approaches it."