The 12 Days of Mason Jars
Brighten the Holidays With Gifts, Food and Decor Utilizing These Glass Kitchen Classics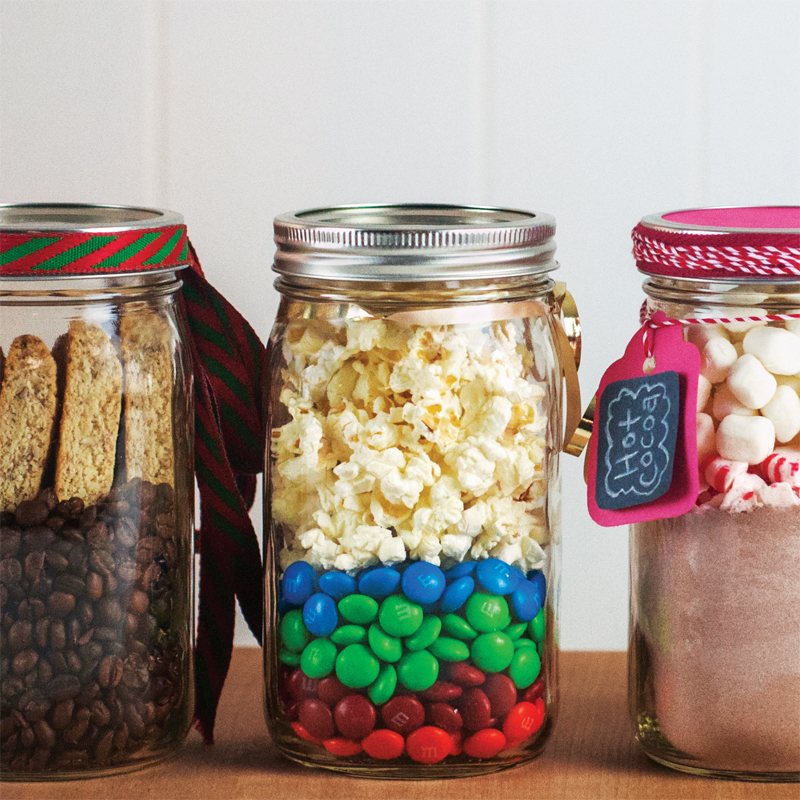 By Rosanne Dunkelberger, Styling and Photography by Saige Roberts
History tells us that, in order to feed a hungry army, Napoleon offered a prize to the person who could create a method for preserving food. The result was a heated and boiled airtight glass jar sealed with cork and wax. It worked — but not perfectly.
In 1858, John Landis Mason would create a more practical product, consisting of glass jars that utilized a rubber seal. The five Ball brothers would further refine the product and, in 1903, the Kerr company would come up with today's ubiquitous canning jar — featuring a wide mouth and a two-part lid that included a gasket permanently attached to the lid and a screw-down ring.
Canning would be the purview of farmer's wives for many years. But the skill took on a new life during World War II, when tin for cans and foodstuffs were rationed and housewives were encouraged to plant food "Victory Gardens" and preserve their bounty by canning.
In the '50s and '60s, canning would fall out of favor as the freezer became the favored method for conveniently keeping food fresh.
But the mason jar is no longer consigned to obscurity, thanks to Martha Stewart, Pinterest and creative crafters everywhere.
While some back-to-the-earth sorts are reviving old-fashioned water bath canning, others have come up with 1,001 uses for the classic jar that have nothing to do with making jelly or preserving tomatoes.
Tallahassee lassie Randi Shiver wrote the book on the versatility of these kitchen classics — really, it's called "Little Miss Mason Jar" — and you can buy it in several shops around town. Her mason jar obsession started as a convenient method for her to have a ready supply of lunches and dinners for her busy family. Shiver's book includes dozens of recipes for creating meals and other uses for canning jars.
Here, Little Miss Mason Jar shares a dozen creative ways to use these kitchen favorites for food, gifts and home décor throughout the holiday season.
Click on the mason jars below to read more about them & their recipes:
---
1. Cocoa-zy Up
Create Hot Chocolate Mix in a mason jar by pouring cocoa powder in and topping it with mini marshmallows, chocolate chip morsels or crushed candy canes.
2. Float Your Boat
To create floating candles, fill a large mason jar with Christmas tree trimmings and fresh cranberries. Cover them with water and add a floating candle on top.
3. All is Bright
Glittery candles will light up your décor.
Paint mason jars with glitter on the outside and pop a tea light inside. You can do stripes, solids or polka dots with the glitter in red, green, gold or silver.
View others:
---
4. Play, Doh!
Perfect for kids. Pick your recipe for homemade holiday play dough — peppermint or gingerbread. Fill a mason jar with the dough and attach a Christmas cookie cutter with a piece of twine to the jar.
View others:
---
5. Let's Go to the Movies
A Merry Christmas is coming to a theatre near you when you give a movie in a mason jar. Fill the jar with popcorn kernels or fresh popcorn, and place a movie gift card inside along with candy.
6. Merry Manicure
Pack a jar with a manicure set, nail polish, a small bottle of lotion, cotton balls, and/or a gift card for a manicure.
7. In Joy Mint
Fill a jar with homemade peppermint sugar scrub. Attach a loofah or a small nail file to the jar.
View others:
---
8. How the Cookies (Won't) Crumble
Stack already-baked cookies in a mason jar.
9. The Latte Lover
A mason jar is filled with either whole coffee beans or chocolate-covered espresso beans, mini biscotti cookies and a coffee shop gift card. A paper coffee liner would be perfect to place under the lid of the jar to make a cute presentation.
10. Salad on the Go
Take a break from shopping with a light and healthy lunch. Caprese Salad fits in with the Christmas season because it is the perfect colors — red tomatoes, green basil and white mozzarella cheese.
View others:
---
11. White Christmas
A snow globe in a mason jar is a fun family project.
You can make these with the jar upright or turned upside down. Both look cute! Decide on the scene you want in your snow globe (ex: snowman, small trees, small animals, etc…) You can find these items in the Christmas section of the craft store and also in stores that sell dollhouse furniture and toys. Hot glue the figurines into the jar. If using the jars upright, use chopsticks to help get them down in to the jar. If turning the jar upside down, hot glue the figurines onto the bottom of the mason jar lid so the jar can fit over it. Consider using spray paint and glitter to perk up the figurines going into the jar. The glitter will stick to the wet paint and provide the perfect sparkle.Sprinkle fake snow into the jar to cover the bottom of the snow globe scene.
View others:
---
12. Chili and Cornbread
Put prepared chili into a mason jar and add cornbread batter on top. The jar is then baked to create a perfect combo to keep warm during dinner on a cold December night.
Ingredients
1 cup onion, chopped
¾ cup green bell pepper, chopped (any color pepper will do)
2 cloves garlic, minced (or 1 tablespoon prepared garlic/garlic powder)
1 pound lean ground beef
1 15-ounce can black beans, drained and rinsed
1 15-ounce can kidney beans, drained and rinsed
1 15-ounce can hominy, drained
1 14-ounce can diced tomatoes with juice
1 tablespoon chili powder
1 tablespoon cumin
½ teaspoon salt
½ teaspoon pepper
2 ½ cups beef broth
For the Cornbread
1 8.5-ounce package of cornbread mix
¾ cup corn (canned or frozen)
1 cup Monterey Jack cheese, shredded
3 green onions, sliced
¾ cup milk
1 egg
Directions
Cook onion, pepper, garlic and ground beef over medium-high heat for 10 minutes or until beef is no longer pink and vegetables are soft. Drain grease if needed. Return beef mixture to a large pot and add the remaining ingredients — beans through broth. Simmer over medium-low heat for 15 minutes. In a bowl, stir cornbread mix, corn, cheese, green onions, milk and egg. Carefully spoon chili into pint-size mason jars, filling halfway. Add 1/3-cup cornbread mix to the mason jars. Bake chili and cornbread in the oven at 400 degrees for 15–20 minutes or until cornbread is golden brown. Remove from oven carefully and let sit for 10 minutes before serving.
View others: