The 12 Best Beaches in Northwest Florida
Discover and explore the top beaches that our beautiful region has to offer.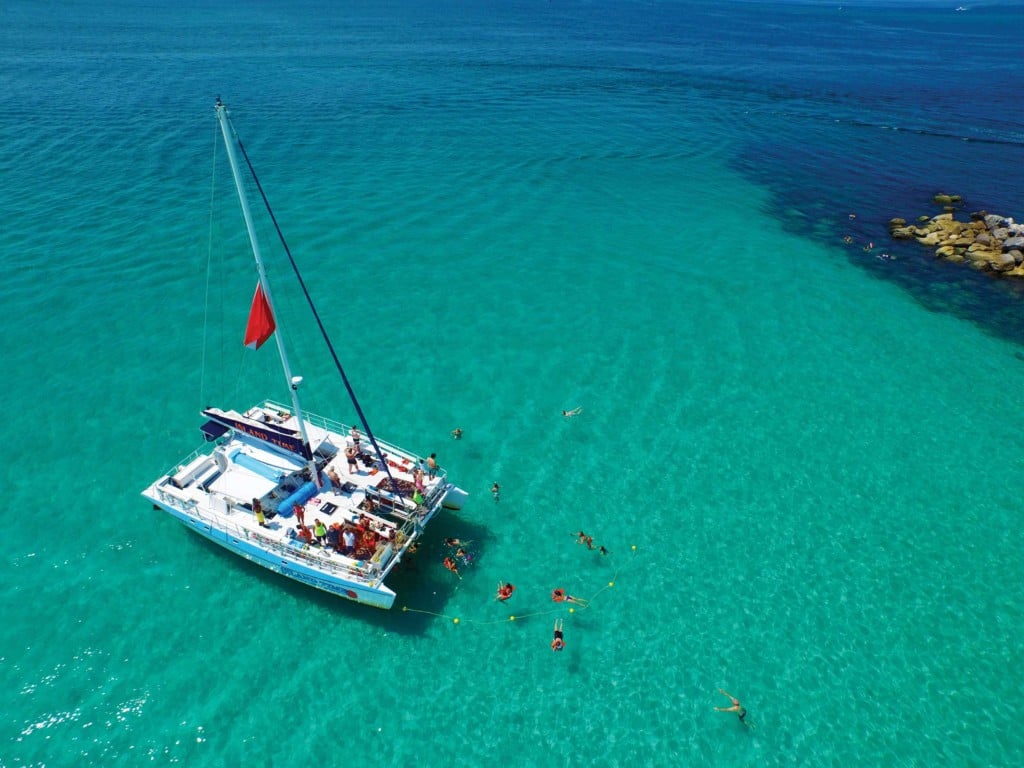 It's no secret that Northwest Florida boasts some of the most beautiful beaches in the world. We are home to soft, sugary sand and iconic emerald water, luxurious resorts, idyllic, secluded parks, world-class shopping and Gulf-fresh seafood on demand.
With that in mind, we've compiled a list of 12 must-visit beaches spanning the Panhandle, each presenting unique qualities and abundant allure that will have you packing your beach bag.
Panama City Beach
Panama City Beach, lovingly known as PCB, is a hot spot for spring breakers and family vacationers alike because of the abundance of activities, parks and restaurants along the 27 miles and 100 public beach access points that compose the area. Golf, shop, bar hop, dine, hike, bike and sunbathe through the city.
For those in tune with Mother Nature, PCB has two stunning state parks. St. Andrews State Park is unique in that it's surrounded by three bodies of water, the Gulf of Mexico, St. Andrews Pass and Grand Lagoon. Fish from the pier, snorkel in a jetty, paddle in a canoe or camp for a night or two.
Camp Helen State Park is the epitome of Northwest Florida nature — 185 acres of oaks, a freshwater dune lake and, of course, beaches. Shipwreck Island Water Park and Gulf World Marine Park are two family-friendly favorites. Panama City Beach is the ideal beach for those who enjoy an active vacation centered around plenty to do.
St. George Island
George Island is a 22-mile serene and secluded barrier island. If you desire unobstructed coastline views, plentiful beach parking and coastal wilderness, St. George is your personal paradise.
Charming cottages and spacious beach homes are available through vacation rental services — providing plenty of room for the whole family. That includes the dog since St. George is one of the few pet-friendly beaches in the region. The translucent waters are ideal for snorkeling, swimming, fishing and kayaking.
At the scenic, undeveloped eastern end of the island is St. George Island State Park, an oasis of lush forestry surrounding white sand dunes gently kissed by lapping waves. The park consists of forest hiking trails, boardwalks and observation platforms providing glances at wildlife, flora and the bay marshes.
The Cape St. George Lighthouse is another great vantage point. You can't leave the island without supping on briny and sweet Apalachicola oysters.
Destin
Destin earned the moniker of "World's Luckiest Fishing Village" for world-class fishing opportunities throughout its emerald waters. Fish from shores and piers or rent a boat, charter a trip or schedule a deep sea excursion — it's guaranteed you won't leave empty-handed.
The beaches are lined with world-class luxury resorts and rentals that vacationers near and far reserve months in advance. Destin attracts people year-round for a plethora of notable, signature events.
While the beaches are the main attraction, highly acclaimed shopping, dining and golfing lure many. Shop 'til you drop at Destin Commons, HarborWalk Village, Silver Sands Premium Outlets, The Village of Baytowne Wharf and more.
There is no lack of restaurants that serve up seafood and sunset views ranging from low-key lunch spots to indulgent fine dining. Trade the white of the sand for the green of a golf course at Kelly Plantation, Emerald Bay Golf Club or Sandestin. With countless options via sand and sea, it's easy to see why Destin is one of the first Northwest Florida beaches that comes to mind.
Grayton Beach
Grayton Beach is for the hip beachgoer. This funky, eccentric little beach town resides inside of Grayton Beach State Park. The park spans nearly 2,000 acres of unspoiled land.
A hidden gem is the brackish Western Lake, which connects to the ocean providing fresh and saltwater fishing. Both also cater to swimming, kayaking and canoeing.
A simple stroll through Grayton Beach is pleasing as it's full of historic charm, being over 100 years old.
Locals and frequent visitors will tell you to go to The Red Bar — you should listen. Grayton Beach is the juxtaposition of white picket fences and trendy artwork, magnolias and beach grass, salt water and fresh water, historic and modern.
Cape San Blas
Cape San Blas, located near Port St. Joe, is a 17-mile peninsula dipping into the St. Joseph Bay.
The beaches are typically uncrowded and are welcoming to pets. St. Joseph Peninsula State Park is a popular spot for its 119 campsites, wilderness preserve, beachside camping, snorkeling, kayaking, hiking, horseback riding, birding, scalloping and fishing.
The Cape San Blas lighthouse was moved a short distance away to Port St. Joe but can be seen from Cape San Blas. The short drive to it greets you with 131 stairs and a rewarding view. The fresh, Florida seafood is in abundance at a variety of local restaurants.
Cape San Blas encompasses the natural aspects that make Northwest Florida so unique.
Perdido Key
Perdido Key is a 247-acre barrier island located near Pensacola, making it the city's quieter, more laidback cousin.
It's a beach town for those seeking tranquility and solitude, with the option of nearby amenities. Visitors tend to brag on how clean and well-kept the area is, making it easy to simply let loose.
Perdido Key State Park is located about 30 minutes south of Pensacola and is a retreat and reprieve. The scenic dunes host a variety of wildlife, including the endangered Perdido Key beach mouse, seabirds and nesting sea turtles. Shell selectors will delight in the gems that dust the sand.
In Spanish, the word "perdido" translates to "lost." Rent a beach house, grab a good book, take to the sand and get lost for a bit.
Navarre Beach
Those who have visited this stretch of beach return again and again for the sense of peace they were gifted there.
Navarre doesn't need much dressing up as it's simply beautiful in its naturalistic way, winning best beach year after year. Sunbathe, picnic, swim, bike and hike the nature trails and simply enjoy the pristine sand. They claim relaxation is the main attraction, and they aren't wrong.
For animal and sea-life lovers, the Gulf Breeze Zoo and Navarre Beach Sea Turtle Conservation Center are nearby.
Seaside
Seaside is a way of life with a distinct style and flair. The town of Seaside is acclaimed worldwide for its iconic architecture.
With peaking roofs, pastels and picket fences — the style has many influences yet is completely its own. You may even recognize parts of it from the popular movie "The Truman Show."
The thriving town center features 12 delicious eateries and 41 shops and galleries that are easily accessible from the 300 surrounding rental homes.
Bud & Alley's, Amavida Coffee and Tea and Great Southern Café are popular spots to grab a bite or a pick-me-up before hitting the sea and the sand. Seaside is a one-of-a-kind community that stands firmly to its motto of creating a "simple, beautiful life."
Fort Walton Beach
Fort Walton Beach features the glittering glint of emerald green that's hard to pull your eyes away from.
But if you do leave the beach, you'll find museums, shops, restaurants and entertainment abound. Fort Walton Beach is widely known as the home of Eglin Air Force Base, which welcomes visitors to the Air Force Armament Museum composed of a collection of over 15,000 aviation artifacts.
Just a few minutes from downtown is the Emerald Coast Science Center and the Gulfarium Marine Adventure Park.
Pensacola Beach
Pensacola has proven itself as a happening place to be. The American Planning Association recently named its main artery, Palafox Street, as one of the "10 Great Streets in America."
The pulsing and vibrant downtown scene offers up restaurants, boutiques and nightlife. Speaking of nightlife, stop by the iconic Florabama for live music and their famous Bushwacker drink.
During a sunset stroll on the beach, take notice of the sand, which has a slight iridescence and makes a faint braking noise. There is quartz in the sand from the Appalachian Mountains, causing both effects.
Eighteen miles of Gulf seafood, beautiful beaches and a lively, downtown center are the essence of Pensacola.
Mexico Beach
Just 20 minutes away from energetic Panama City Beach is a well-kept secret: Mexico Beach. The five miles of beach are lined with cute cottages and delightful vacation homes accompanied by plenty of parking and beach access spots for day visitors.
The city constructed beach walkovers that span the length of Highway 98, creating convenient and direct beach access. Take a dip in the bathtub-warm waters and enjoy life at a slower pace.
Santa Rosa Beach
Santa Rosa Beach has been recognized and applauded in many ways — recently and impressively named one of the "Best Beaches on Earth" by Travel + Leisure magazine.
Roughly 26 miles of turquoise waters and coastal charm welcome visitors from all over the world. The community of South Walton County possesses creative culinary options and an emphasis on art.
Point Washington State Forest is a 15,000-acre preserve frequented for hunting, hiking and biking.
You will delight in the many local restaurant options in the immediate area. Vacation in splendor at one of America's favorite hot spots.