Test Drive: The Winery at Red Bar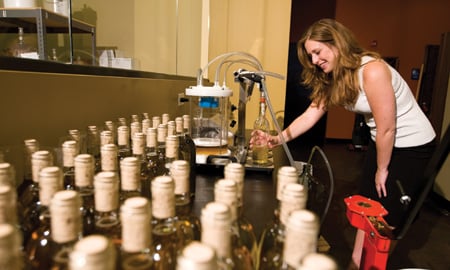 A spirited wine drinker learns how to make her very own vinoPhoto by Scott Holstein
Uno, Due, Tre … Vino!One Spirited Wine Drinker Learns How to Make It on Her Own 
By Ashley Kahn
Heard through the grapevine: Americans love wine.
In fact, we love it so much the United States recently surpassed Italy to become the No. 2 consumer of wine worldwide, second only to France. If trends continue, we're expected to be numero uno by 2010.
I like to think I contributed to this statistic – one sip at a time. Contrary to the brimming coolers of lager and ale outside Doak Campbell Stadium, I'm not alone. Tallahasseeans are sipping pinot and cabernet with more gusto than ever.
Even if we can't pronounce them, we now can ferment, bottle, cork and brand our own vintages at The Winery at The Red Bar on Thomasville Road.
One crisp, spring day I stroll over to Manor@Midtown, where the J-Team (owner Jon, manager Josh and winemaker Jeremy) greets me with a smile – and an apron.
"But this is my wine-making dress!" I huff. "The color is pure merlot."
"Stop whining … and start stomping grapes."
"My shooooes!"
OK, that conversation is entirely fictional. Here's what really happens: Reluctantly, I put on the apron. Then, more willingly, I listen to a step-by-step "how-to" on making my very own vino.
There will be no stomping of the grapes.
Instead of mush in a barrel, there is fresh juice concentrate in a bucket. Straight from California, it comes with a certificate verifying the grape type and the exact row of the vineyard where the fruit came to fruition.
During the initial tasting, you'll decide which varietal to produce, then immediately get to work. From a complete inventory of chardonnay to sangiovese, I choose a full-bodied shiraz.
We begin with a 5-gallon white bucket, a little water and a long stirrer. Then we add the concentrated grape juice and a series of additives that sound suspiciously chemical but actually are natural.
First, bentonite, a derivative of clay, is added to the water. It acts as a fining agent, resulting in clearer wine. The juice goes in next – enough to yield at least 24 bottles. (The total comes out to $350 for the whole shebang, no matter which type of wine you create, or a cost of about $14.50 a bottle.) Then comes tannin, the bitter plant substance that produces the dry feeling at the back of your throat. Oak chips from home and abroad are stirred in for flavor – American oak imparts a sweeter, vanilla taste, while French oak adds spice. Finally, the preservative metabisulfate keeps bacteria away.
When I have stirred to my little heart's (and forearms') content, we put a lid on the bucket and affix an airlock to the top. The device lets carbon dioxide bubbles out but prevents wine-spoiling oxygen from coming in.
Now I'm told I can leave – for two months if I like. But what happens to my wine?
In five or six days, it will be transferred to a glass carboy (it looks similar to a water cooler bottle) and placed on a rack. A few weeks later, the wine will be degassed, bringing carbon dioxide to the surface via rapid stirring. Sorbate, a stabilizer, will stop the fermentation process.
By week eight, the wine should be safe to taste. At this point, the body of the wine will have set, but you can still adjust the tannins and oak – two or three additional tastings and modifications are typical. A clarifying agent will be added at least a week before the wine is bottled, so schedule your bottling party early.
Bring friends and family, because bottling is a true celebration at the winery. The Italian-made Enolmaster bottler does most of the work for you with its self-leveling, vacuum-powered spigot. The floor corker – a red, levered contraption – requires little strength but delivers major satisfaction.
Here's the best part: You can customize your own label. Bring in a flash drive of your selected image and text, or just e-mail them to the store. (Hint: If you want a personalized gift but can't wait six weeks for the wine to ferment, the guys will affix your label to their house wine – often with same-day service.)
Now that you've bottled and branded your wine, it is yours to enjoy. Just be mindful that at this stage, the wine is still very young and may not taste the way you'd expect. The longer it ages, the better it will be.
Alla tua salute! (Here's to your health!)
The Winery at The Red Bar 
Manor@Midtown
1122 Thomasville Road
(850) 219-9463