Telegenic Chemistry
On and off camera, there is no denying this friendship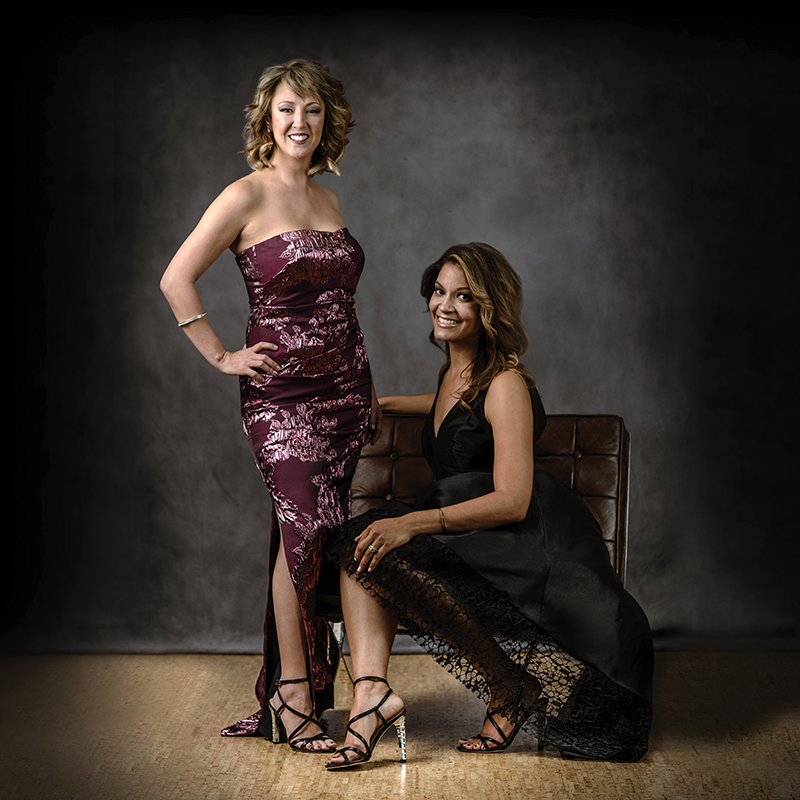 It is likely that you, while sipping your morning coffee, have looked at the co-anchors on your favorite morning show and pondered whether their banter and apparent camaraderie is genuine or just a mirage playing out in front of glaring lights and rolling cameras.
---
Spend even two minutes with Ann Howard and Audra Pittman of the local television program, "AM Break with Ann & Audra," however, and it becomes apparent that their rapport is authentic and their affection for one another is real. They even showed up to an interview with Tallahassee Magazine dressed in complementary color schemes, laughing yet unsurprised by that coincidence.
Neither can recall how and when they met. Somewhere between attending the same events and running in similar social circles, they became aware of one another. A lightbulb moment hit Howard one day as she spotted Pittman from across a room: She had found her future cohost for a locally based women's show she had been dreaming about pursuing for years with producer Joel Silver. Pittman, unbeknownst, would soon face her fate.
After hours of talking about the idea, they decided to take on Tallahassee television. Howard studied journalism in college, while Pittman had no prior knowledge of the craft.
"I remember I showed up at 'Best of Tallahassee' in 2014 and Ann handed me a microphone. Then she left me to fend for myself," Pittman laughed. "I ended up doing all right, and it came more naturally than I thought."
After almost two years of airtime, "natural" has become a lifestyle that wouldn't be complete without one another.
"It has come from not really knowing her to now she's a part of my family," Pittman says, smiling toward Howard. "She's genuine and does everything from the heart."
"I feel the same about her," nods Howard. "I'm impressed by her constantly. She's the whole package and has so much that she juggles in her life, but she never complains and makes it all look gracefully effortless."
While this is a tender moment and the two immensely value each other, their friendship is versatile enough that they are hysterically laughing at an inside joke moments later.
"Her sense of humor, she just gets it," Howard says. "As women, there are things I've told her that are personal, and she reacts exactly in the way I hoped she would. On the show, she will start laughing at something and I know exactly what triggered it, so I lose it too."
Their friendship extends beyond the workplace or television screens as they try to make time for each other at a minimum of once a week, plan cultural dates and constantly text one another — anything from encouraging messages to inappropriate jokes.
"You can't fake authenticity, and viewers can tell that these two ladies really like each other and are having a great time doing what they do," says "AM Break with Ann & Audra" producer Joel Silver. "Ann and Audra are both Type A, strong leaders, but somehow they make their friendship work. They have a lot of fun on air, but we have even more fun once the cameras stop rolling. They have something really special between them."
Neither woman is from Tallahassee, and at first they wrote the city off. Many years spent raising families here and sharing their friendship have changed their minds.
"I'm pretty sure we are going to die here," Howard says. "At this point, we are fully involved in our community and all of the amazing things going on here. And at this point, we couldn't be without each other. I've found someone who will laugh with me at the stuff you shouldn't laugh at."
---
Clothing and Jewelry from Narcissus Casual photos (on cover) Audra (blue dress): Amanda Uprichard cobalt cut-out dress, $170 \ House of Harlow Accessories, $98 Ann (black dress): Alex Evenings collared wrapdress, $195 \ Fringe earrings, $22 Formal photos Audra (black dress): Monique Lhuillier high-low formal, $698 \ Kate Spade strappy pumps, $264 \ Alexis Bitter lucite drop earrings, $135 Ann (maroon dress): Aidan Mattox metallic rose gown, $495 \ Crystal bracelet $20 and earrings, $27 Props from Hearth & Soul Cup and saucer by Montes Doggett, $59 (on cover) \ Soho cigar chair, $1,747.50