Tedeschi Trucks Band Headlines This Years Word of South Festival
Writers and musicians, including Tedeschi Trucks Band, fill Cascades Park for a weekend of (mostly) free events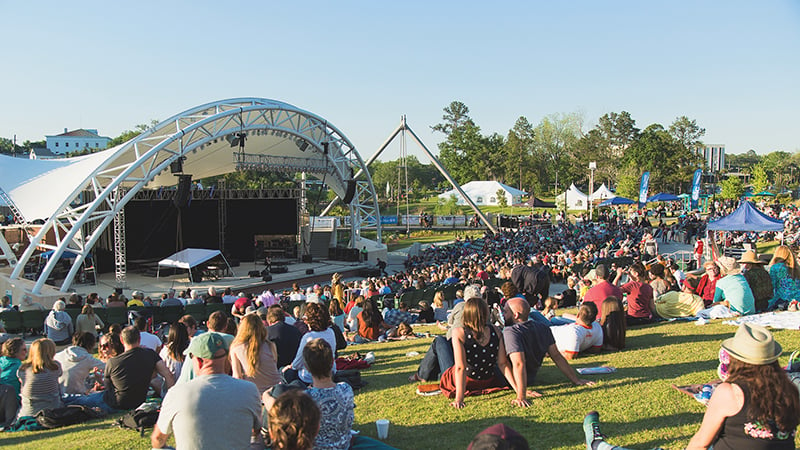 Jeff VanderMeer's fiction is difficult to classify.
A Publisher's Weekly review of his most recent novel, Borne, named him as the practitioner of a new genre —"weird literature"— for his books' postmodern, fantasy, ecological and post-apocalyptic themes.
Paramount Pictures has adopted Annihilation, the first book in his Southern Reach trilogy, into a feature film.
VanderMeer, who has lived in Tallahassee with his wife Ann since 1992, was an early supporter of Word of South, a unique festival known for combining literary and musical performances, now in its fourth year.
"I liked the fusion of music and literature that still forms the backbone of Word of South," he said. "It made the festival idea unique. I was excited by the thought of Tallahassee having its own nationally known festival with a unique slant."
The brainchild of lawyer, author and former city commissioner Mark Mustian, the three-day Word of South festival returns to Cascades Park April 13–15 with eight stages plus the Capital City Amphitheater hosting performances.
Word of South will kick off this year on Friday, April 13 with a performance by Tedeschi Trucks Band.
Their set at Capital City Amphitheater promises to be a fire-on-all-cylinders show — led by a husband and wife team, the 12-piece touring juggernaut never plays the same set twice. It's also one of few ticketed events at Word of South; most are free.
Other musical headliners include Suzanne Vega, The Jacob Joliff Band and jazz trumpeter Byron Stripling, who will join Tallahassee Symphony Orchestra
to perform.
Last year Eric Paslay, Lisa Loeb, Joan Osborne, Sarah Potenza and Shovels & Rope headlined the festival.
Jeff VanderMeer is planning for some unusual guests at his performance. "Birds and wildlife are pretty integral to my recent fiction, and I'll be focused on Borne and related short book The Strange Bird for the festival. Although it's not yet set, we're hoping to have actual raptors on stage in addition to my reading and humorous anecdotes, to be in-conversation with an expert on bird communication — which just happens to tie into the festival's musical slant, in a way," he said.
All in all, Word of South in 2018 will feature more than 50 acts — readings, concerts, events for kids and one-off collaborations between writers and musicians that the festival dubs "muashups."
"Our muashups bring together performers for an experience that our audience won't be able to see anywhere else," explained Word of South manager Sara Marchessault.
For example, Bob Shacochis, an acclaimed novelist and literary journalist who lives part time in Tallahassee, will join RAM, a mizik rasin band fusing Haitian folk music with rock 'n' roll, an account of whom appears in Shacochis's book about Haiti, The Immaculate Invasion.
New this year: an acoustic stage on Sunday afternoon. Also new, a partnership with digital magazine Bitter Southerner, who will sponsor their own stage. Among other acts, such as a return to Word of South by musician John Paul White and panels about Muscle Shoals and Mississippi hill country blues, the Bitter Southerner stage will host Patterson Hood of the band Drive-By Truckers.
Word of South will also present a writer of young adult fiction for the first time: Jason Reynolds, author of a string of celebrated YA favorites, including Ghost and Long Way Down.
Marchessault said that the Story Fort and Middle Ages tents will return with a hands-on, book-inspired "maker table" stocked with plenty of crafty materials and free book giveaways for kids. Among other children's entertainers, Pickle Pie Productions will perform.
More highlights include singer/songwriter Loudon Wainwright III, who has written a memoir, Liner Notes; local favorites The Good Little Chickens, Jerry Thigpen Trio, and The Fried Turkeys; Martha Barnette, host of NPR's "A Way with Words"; and Poppy Tooker, host of the popular weekly radio program "Louisiana Eats!"
Organizers believe Tooker will carry on the delicious tradition set last year by John T. Edge — a pig roast champagne brunch — with a foodie event of her own. Meanwhile Edge, director of Southern Foodways Alliance at University of Mississippi, will return on the Midtown Reader stage.
Readers will be able to stock up on spring and summer reading materials thanks to two local, independent bookstores: Midtown Reader and The Bookshelf.
Word of South is funded by financial contributions and grants from city and county sources, foundations, businesses and individuals — a "healthy combination of places," Marchessault said. Tallahassee Community College returns as the festival's presenting sponsor.
Marchessault, who has volunteered at Word of South since its start in 2015, pointed out that the festival celebrates Tallahassee's book culture.
"It's an opportunity for people who love books and music to come out and meet people they otherwise wouldn't get to know and hear new music. You get to enjoy a beautiful park for the day, too," she said.
VanderMeer said he attends the festival in years he is not a guest, in support of Word of South and his home.
"I've grown to love Tallahassee for its now-burgeoning cultural scene and the friendships I've made here, but also because of the trees and the wilderness … Tallahassee permeates almost all of my fiction."