Teamwork Makes the Dream Work
To run a world-class medical facility requires an A-team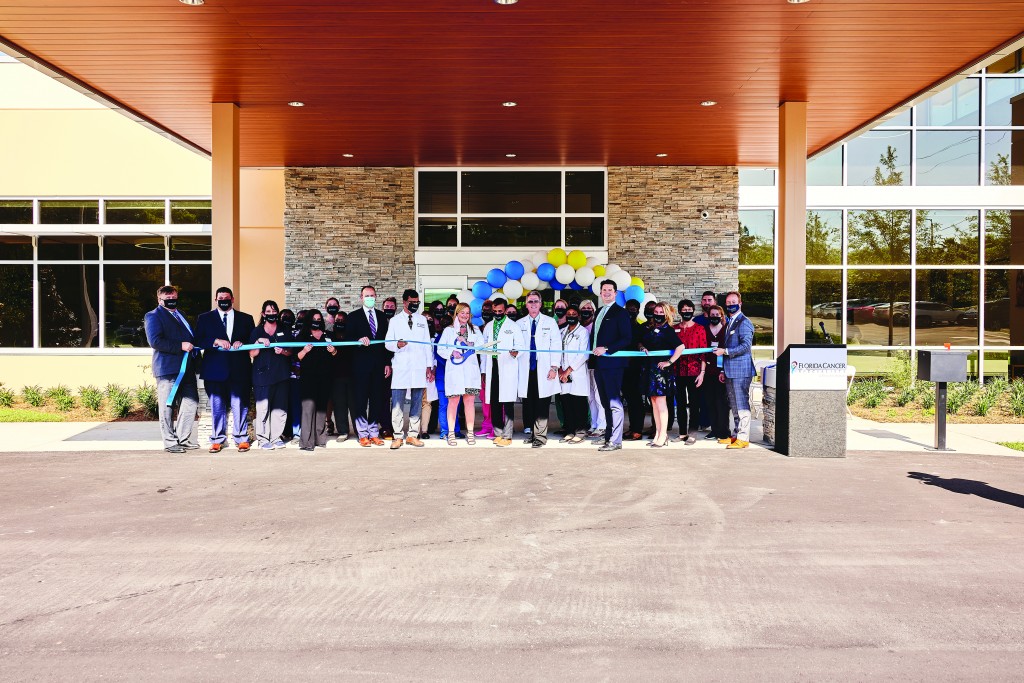 To run a world-class medical facility requires an A-team. The Florida Cancer Specialists & Research Institute (FCS) Tallahassee Cancer Center has precisely that.
"We have one of the best teams I've ever seen in a medical facility," says senior office manager Suzanne Harrison. "It's probably the compassion that every single team member has and the camaraderie they have with one another. I am proud of them. Each one is a super person. Together, we are a family."
Meet three members of the FCS family who work out of the newly consolidated center in Tallahassee. 
Suzanne Harrison
This no-nonsense, New York-born healthcare administrator was known affectionately for her hard-nosed work attitude, but that changed when she joined FCS four years ago.
"When you step into oncology, your entire mindset has to change," Harrison says. "All the employees are just as emotionally invested as the patients. As a manager, you have to have compassion for everyone in the building."
Akin to an air traffic controller, it's Harrison's job to ensure the daily operations for this multi-faceted practice run as smooth as possible. This includes the front office, medical assistance staff, a full lab, an infusion center, as well as the financial and research teams.
This 16-year administrative veteran oversees a 43-member team that supports four physicians. Until recently, that meant managing three different physical locations. After more than a year of planning and construction, the Tallahassee Cancer Center is a dream realized. Today, the only private oncology center in the city boasts 24,000 square feet that houses 16 exam rooms, two procedure rooms, a research area, a fully-certified lab, in-house CT and PET scanning capability and an infusion suite equipped with 59 chairs and two semi-private rooms with beds.
"This is a big deal. It is brand new and gorgeous, yes, but the consolidation is important to us, ultimately, because it will allow us to be even more efficient and that will better serve our patients," Harrison says.
Becky Lollie
Becky Lollie will do anything for you — except sugarcoat things or bite her tongue.
Just ask her patients: the 86-year-old who bragged he finally gained 2 pounds thanks to his 36 cans of Ensure each month; the dear on a fixed income who gets Hormel meals delivered to her home; the elderly woman who can shop essentials at Walmart because FCS paid her rent; or the fellow who finally got a new roof after Hurricane Michael stole his. These stories — and many more — are badges of honor for this 60-year-old financial counselor.
"I want to help everybody," Lollie says in her Southern drawl. "I don't want anyone to hurt or not have."
After three years at FCS, she still enjoys the one-hour commute from Bristol, Florida to liaison between patients and their insurance companies. She uses her resourcefulness to help patients find a path through the financials. She says the secret to her success is simple: "I listen, and I will not give up."
It wasn't easy for her to leave her job in the optometrist office after 27 years; it was destiny.
"I was meant to be here," she says emphatically.
Four years ago, in June, Eric — Lollie's eldest of four sons — was diagnosed with a brain tumor. Though he initially was told he only had months to live, he's still fighting thanks to specialists who didn't give up on him.
Lollie wanted to fight, too … for all the Erics out there.
"I felt I needed to be somewhere where I could help people," she says.
"I told Eric, 'I hate that you've got cancer, but as bad as it is, good has come out of it because I ended up here and get to help people every day.' "
One way she does that is by sharing her personal story.
"I tell my patients about Eric," she says. "It gives them hope. I say you'll have bad days, but don't you ever give up."
Veronica Battle
If she were an emoji, she'd be a smiley face. Lead medical assistant Veronica Battle is a people person who loves to talk and laugh. As this 42-year-old, effervescent Florida native puts it, she tries to "find the half-full perspective on everything."
As the liaison between the medical assistants and the office manager, it's Battle's job to ensure everyone is properly trained and "knows the ropes."   
For Battle, FCS is much more than a medical facility.
"More than just a team taking care of people, we're home for a lot of patients," she says. "We're a home away from home, and that's what we try to make it."
As "rough" as cancer is, Battle's pledge to all her patients is, "We are going to be with you every step of the way."
Some days the biggest rewards are found in small things.
"I come home feeling like I've done something special for someone … that I've given someone having a tough time a good laugh. It's important to be able to enjoy that moment," Battle says.
Battle's career took a welcome U-turn after listening to the radio while cleaning a pool in Fort Lauderdale.
"I heard a commercial about being a medical assistant and I signed up five days later," she says.
After becoming a certified clinical medical assistant, she completed an externship at U.S. Oncology in Plantation, Florida, where she worked for 12 years. She recently marked two years at FCS.
"I have always been a caregiver. It is my nature. I love helping people. Oncology is a very fulfilling specialty. It's very tough but very fulfilling," she says.
Battle says the team is a "well-oiled machine," in part, thanks to the physicians —Viralkumar Bhanderi, MD; Margarett Ellison; MD, Paresh Patel; MD and Scott Tetreault, MD.
"If you don't know something, they will teach you," Battle says. "They are
so approachable, human and down
to earth."
For Battle, working for FCS feels more like a calling than a job.
"You know you are where you're supposed to be when what you do is not just a job, and a paycheck is a bonus. I would do it for free," Battle says with a big smile.