TCC, FAMU Students Meet State Leaders in Ghana
Learning of the untold history of Africa and the cultural differences from America.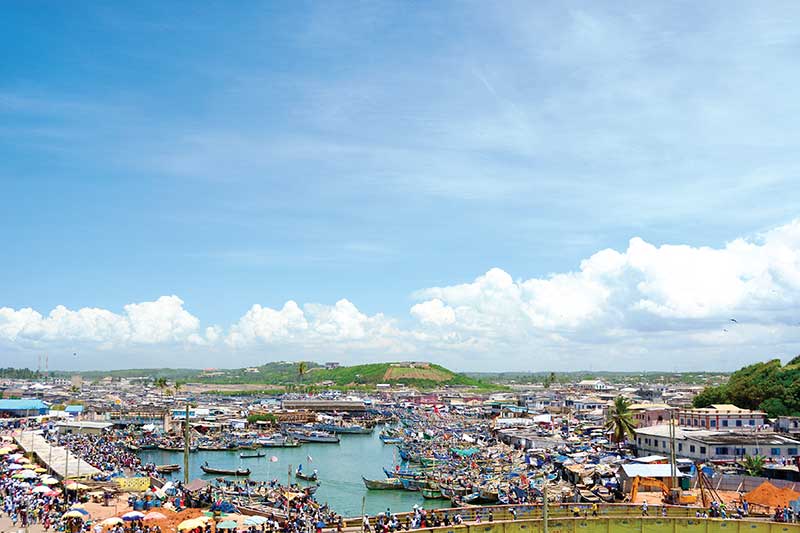 In African-American history class, chapter one is about slavery," said Dahlia Valles, a pre-med student at Tallahassee Community College.
Valles and several other students had just returned from the spring break of a lifetime — a global immersion trip to Ghana organized by Forster Agama, a professor in TCC's English Department.
"We learn about African history from the point where slavery started. (Africans) emphasize that there is a long history before that," said Carson Gaines, a TCC public relations student.
A first for the college's study abroad program, TCC students joined a larger contingent of students and faculty members from Florida Agricultural and Mechanical University for a nine-day trip with stops in Dubai (United Arab Emirates) and in Ghana. Dr. Yussif Mijirah Dokurugu has been leading the trips for FAMU for 10 years.
"At TCC, we go to China, we go to Europe, England and Taiwan, but we've never had trips to the continent of Africa. The way things are going now in the world, it's about time we explore the continent, starting with Ghana," Agama said.
"Ghana is the gateway to Africa. It is a shining star and a beacon of hope, if you will, for the entire continent," the professor, who is from Ghana, continued. "We have had stable governments since Ghana became an independent nation in 1957."
He added that because the official language in Ghana is English, students would be able to mingle with locals.
The itinerary included a brief stop in Dubai, then arrival in Accra, Ghana's capital, as well as the cities of Ho and Kumasi to meet with student groups and Cape Coast where slave castles are located.
Working with a travel agency based in Orlando, Agama and Dokorugu planned cultural immersion experiences in marketplaces as well as visits and meals with kings, queens and community elders in Ghana.
A week before the trip, students said that they were most excited about going on a safari at Mole National Park, Ghana's largest wildlife refuge, and about comparing life in Ghana to life in America.
As students met post-trip to talk about their experiences, they told anecdotes about the cultural differences they noticed — as simple as reversing "thank you" and "you're welcome" and as complicated as charity.
"(In America), if you don't have enough money to buy food and you go inside Walmart trying to get food, you (can't) get it. However, in Africa it is different. If you tell them how much you have they will try their best to make a deal. Which is really helpful because if you really don't have (the money) you know that they will possibly give it to you, because they are so kind," said Kene Gamble, an accounting major.
Some students praised Ghanaians' welcoming and open nature, in particular, government officials.
For instance, the minister of the Volta region in Ghana welcomed the group to his home, described as a "compound" or "palace" by some of the students.
"He told us about himself and he allowed us to ask questions about all topics, including cannibis," said Valles. "He was really honest, or he seemed to be honest."
Beatrice Shapiro, who has studied social work at TCC, got a behind-the-scenes tour of one of the markets.
"I liked going through the markets and seeing all the stuff that everybody makes. They all make it by hand. Everything is there — clothes, bracelets, backpacks, shoes, wooden sculptures. One of the guys who sold me a carved elephant took me back to where they were made. I watched his family making drums."
Despite Ghanaian openness, TCC students sometimes wondered what the people they met really thought of them.
"I heard people say when we would walk through, 'those are Americans.' I don't know if that's good or bad," said Valles.
Anthropology student Sierria Groom recalled another student's NASA shirt attracting notice. "You (pointing at Carson Gaines) were wearing a NASA shirt, and someone thought that you worked there. They thought it was crazy that we just send people to space."
"(People in Ghana) think it's crazy what we have time to focus on while they are developing. They mentioned that they're just trying to get infrastructure up. One gentleman said that they don't even have time to worry about particular human rights. They see that as a luxury for us," Gaines said.
Student Journals
"We arrived to the Governor of the Volta region's home where he greeted us and allowed us to ask any questions we had. We asked about the advances in agriculture, their universal health care, and the growing possibilities for their youth. Many people view Ghana as an inferior country, but after meeting with this governor my eyes were opened. These people are just stepping into democracy, and from what I have seen they are doing a better job than we did when we were their age." – Sierria Groom, anthropology student, Day 3
"To start the day we went to the W.E.B. Du Bois museum located in Accra. At the museum they focused on Du Bois's work in Ghana and his relationship with the first president of the country, Dr. Kwame Nkrumah. Through my studies I have only ever known of Du Bois's work in America, so it was incredibly interesting to discover that he actually renounced his American citizenship and chose Ghana as his final resting place. To make the day even better, later that night we were joined by one of the Queen Mothers of Ghana for dinner. She shared her stories about her path to becoming a Queen Mother and held an open discussion about women's rights in not only Ghana, but Africa as a whole. What really stuck out to me was that a woman of such high stature in this country was so open with us about any issue we wished to discuss, issues that many politicians in our own country would dance around out of fear of losing voters. We were even lucky enough to see a more personal side of the Queen Mother as she sang for the whole group to close out the night." – Carson Gaines, public relations student, Day 5
"We saw where they (the slaves) stayed. We live in Florida, in the South, and it was hard to see. They (the Ghanaian tour guides) would tell us to get in the slave cells and close the door for 30 seconds to show how bad it was. After the first time of that, I just stayed back and watched.
I would rather die than have had to go through that." – Ion Sancho, first-year student (undeclared), Day 6
"Being able to go to Africa and visiting Ghana has changed my way of thinking unbelievably … Not only did I make friends with a few Ghanaians, but I was also able to learn more about Ghana through first-hand experience. My overall favorite aspect of the trip was being able to mingle with the locals and getting to see how different yet similar their lives are from Americans. This was truly a blessing being able to attend this trip." – Beatrice Shapiro, enrolled student with a degree in social work, Day 7