At TCC, Trucking Program Is On A Roll
Capitalizing on an unprecedented demand for commercial truck drivers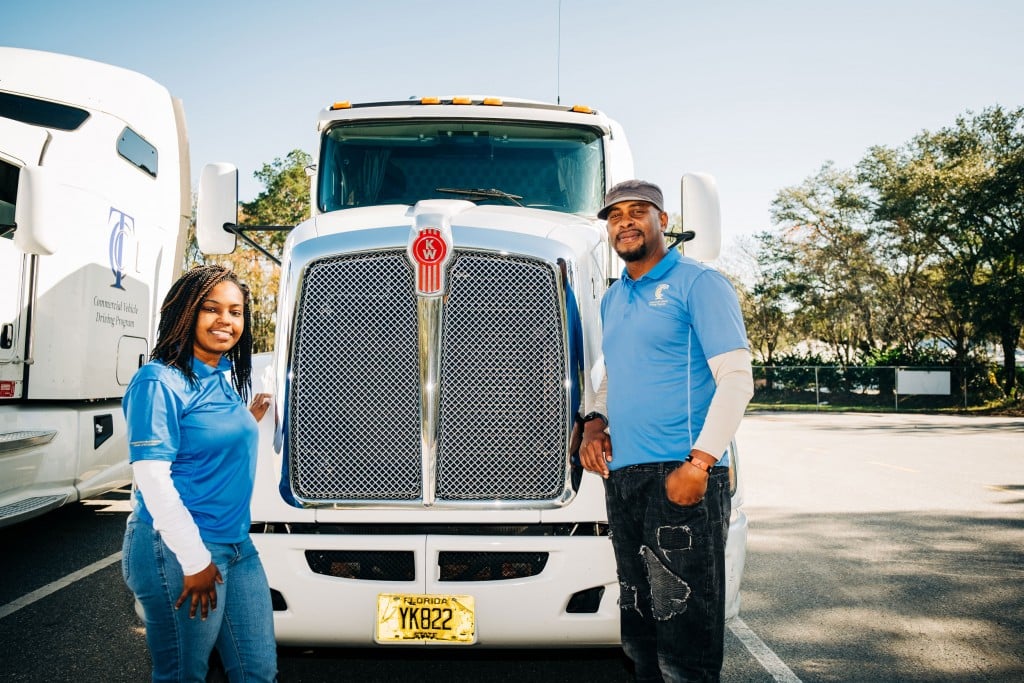 Tallahassee Community College's commercial vehicle driving program was born of a great idea that came about the way great ideas often do.
Out of necessity.
With online shopping and coast-to-coast trade more popular than ever, the last few years have seen an unprecedented demand for commercial truck drivers — and far too few drivers to fill those roles.
North Florida and South Georgia were particularly underserved, with the schools closest to Tallahassee located in Chipley and Jacksonville.
Planting a new truck-driving program at TCC only made sense. The college caters to thousands across the region, and although its two-year degree guaranteeing admission to state universities is still a major calling card, it has also recently focused efforts on workforce development and connecting people who want to work with the skills and certifications that lead to careers.
So, in 2016, TCC leadership went to the Florida Legislature seeking multi-year funding to get its new commercial driving venture off the ground. It came away with only a year's worth.
That, however, turned out not to matter much.
After just a year of training and churning out new truck drivers, it was clear that TCC had a winner on its hands.
Four years later, the TCC Commercial Vehicle Driving Career and Technical Certification program has spring-boarded dozens of new drivers — about eight to 10 in each eight-week, 320-hour course — onto highways across the country.
It's one of a few dozen professional certifications that TCC offers.
"We provide that pathway," said Kimberly Moore, TCC's vice president for workforce innovation. "The whole idea of getting someone at the onset of eight weeks, and then eight weeks later they have a career? Where else can you do that?"
But don't confuse "quick" with "easy."
The program's director, Jessica Griffin, and instructor James Brown have created a demanding, rigorous curriculum based on input and standards from other commercial driving school and industry leaders, as well as the state Department of Transportation and the Department of Highway Safety and Motor Vehicles, and the Federal Motor Carrier Safety Administration.
Each student learns the extensive pre-trip inspection process, navigates the challenges of backing their rig through tight spaces, and hits the road for hours of driving in city traffic, on rural back roads and high-speed freeways.
By the time they're finished, students will have logged at least 1,000 miles behind the wheel.
"We spend the whole day in the truck," said Brown, noting that students also get a few days of warehouse training. "Our goal always is getting them comfortable with the truck. The more comfortable you are, the more proficient you'll be."
That part takes time, too.
"They have the jitterbugs getting into the truck," Brown said with a laugh.
Those nerves typically fade before long. And in less than half the length of a traditional college semester, students are on their way to new jobs.
And, in some cases, new lives.
The program has helped several students overcome difficult circumstances — some returning to society after incarceration, some homeless and some just down on their luck.
When they enroll in TCC's commercial driving program, they not only find practical instruction and certifications. They also find friends and mentors.
"When you tell us what your goals are, we hold you accountable to that," Griffin said. "We're there to assist them, we're there to support them. We're there to see them through. We work hard to not let them give up."
Added Brown: "It sounds weird but it's just true — I love to see when the students come back through the door when they've completed our course. The new cars that you can see pull up in the parking lot. Or when they tell you the story of how they bought their first home."
Demand for truck drivers shows no signs of slowing down, and with millions pursuing new work in the wake of the COVID-19 pandemic, neither does demand for driving education.
Those within TCC's program believe that the industry will continue to evolve and fill its ranks with people not traditionally associated with big rigs — the profession is employing growing numbers of minorities and women.
"I've always thought of it as a 'male' industry," said Griffin, who started her career in information technology before becoming what Moore called the "architect" of the TCC program.
"I had a vision of what a truck driver looked like," Griffin said. "I'd ridden in trucks prior to now, but I never considered females in the industry or anything of that nature. But since starting this program, it's really shined a brighter light. There is a shortage of truck drivers, and they feel like women — and I love this part — are the solution to the problem."
Much like TCC's commercial driving program is a solution to people in need of a career path.
"I think of all the work we do in workforce development as opening a door or creating a 'comma,'" Moore said. "Because a lot of people have been a 'period, period, period.'
"This provides a pathway and a launching pad for so many other things."
Note:
Students seeking admission to the commercial driving program must have at least a standard high school diploma or GED; be at least 18 years of age; provide a seven-year driving history free of major traffic violations; and pass a Department of Transportation physical exam and drug test.