Tanque Verde Ranch Offers a Chance to Saddle Up and Head Out West
Dust Off Your Boots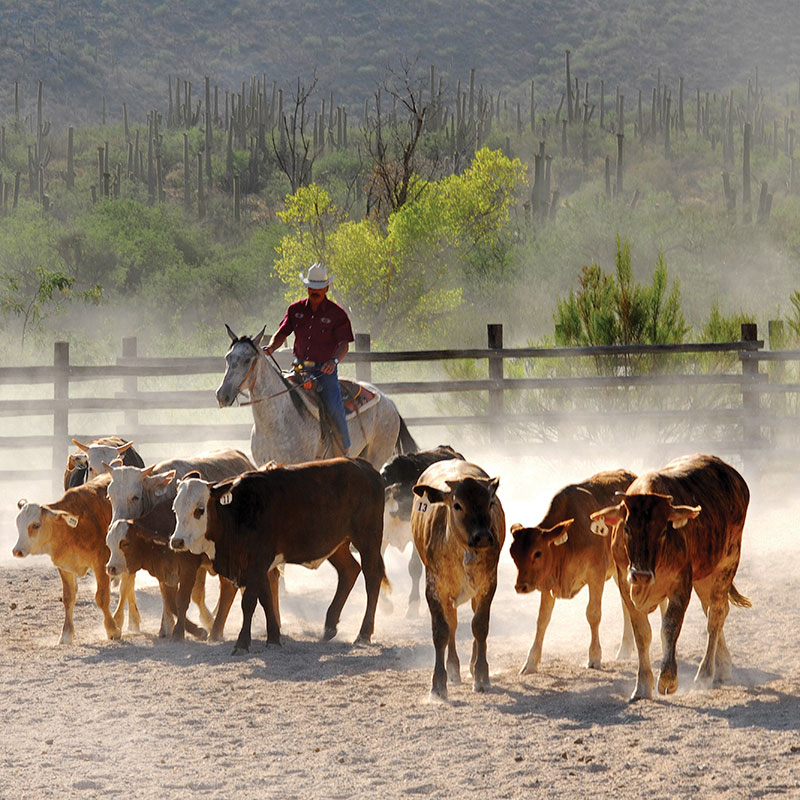 For many of our readers, watching Westerns was an exciting part of childhood. There was the long line of John Wayne films, "The Good, the Bad and the Ugly" with Clint Eastwood and, of course, TV shows like "Rawhide" and "Bonanza." Then they virtually disappeared from the landscape until Billy Crystal and a few compadres came out with "City Slickers" in the early '90s. The movie revived our interest in the rugged, Western way of life, which created a new type of destination experience: Dude Ranches — places where average people could go to relive the grit and glory of the legendary Old West.
Located on the outskirts of Tucson, Ariz., across 650 pristine acres of Sonoma desert, is the Tanque Verde Ranch. Established in 1868 by the Carrillo family, Tanque Verde originally served as a working cattle ranch and was named La Cebadilla, after the wild barley that grew there. In the early 20th century, owner Jim Converse operated it as both a cattle and guest ranch to generate extra revenue. In 1957 it was purchased by Brownie Cote, who renamed it Tanque Verde and converted it into a world class resort. Today, it is one of the premier sites for the unique, dude ranch experience.
Tanque Verde is an all-inclusive resort, which means that a daily fee ranging from $175 to $350 per person includes accommodations, three meals a day and an incredible range of activities. Guests can relax at one of the indoor or outdoor pools, pamper themselves at the full-service La Sonora spa, or have an action-packed Western adventure complete with everything from horseback riding to team cow penning competitions. The ranch also offers riding lessons, trail rides, backpacking, and musical and themed events. In addition, the resort has expanded several times to include fitness rooms, tennis courts, mountain bike riding trails, a full-service spa, nature walks with a naturalist, kids' programs and a host of daily events for the young and old.
The accommodations are large, bedecked in Southwestern style and within walking distance of all amenities. Wireless Internet is available throughout the entire common area.
The ranch has a stable of about 150 horses trained for all levels of equestrian ability. The staff will work with each individual to match the horses up with the person so there is a level of confidence and comfort. For those with no experience, the staff offers lessons to slowly introduce each individual to a safe and enjoyable riding experience. Each morning and afternoon, guided riders can escape into the beautiful locale and get a glimpse of what real cowboys of the Old West must have felt. There are rides tailored for families, adults and kids. Cow penning competitions, in which guests are grouped into teams of four to six and compete to move cattle from one end of an area to another, are held regularly. Tips and instructions are provided and this activity tends to be the one guests find most challenging, enjoyable and satisfying because of the sense of accomplishment.
The ranch has also brought in a professional mountain biker to expand its program. Similar to the equestrian programs, instruction is offered for all levels of interest and expertise and accompanied trail rides on their fleet of $1,000 mountain bikes provide yet another outdoor experience.
Food is an integral part of the Tanque Verde experience. They boast an award-winning chef who each day prepares a varied selection of Southwestern and American cuisine. Dinners vary from themed Mexican nights with live music and a wide selection of this ethnic flavor, to menus of steak, seafood and pasta dishes, all paired with recommended wines. On one night, guests will walk one-quarter mile into the desert forest to an old-fashioned barbecue cookout. Campfires are lit, a western cowboy sings and tells stories, and the resort chef cooks ribs, steaks, burgers and more over open flames. The evening winds down with Texas two-step instructions that bring young and old together for some high stepping.
The Tanque Verde experience is tailored for couples and families alike. It brings you back in time when life was a bit more simple and slow-paced. It is truly a unique American experience with many loyal customers who return year after year.