Tanning in a Bottle
With a Little Planning and Prep, It's Easy to Smooth on Safe Color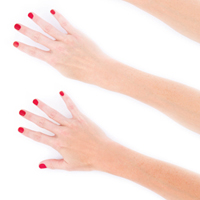 Photos by Scott Holstein
For illustrative purposes only. Not actual results.
You've heard the horror stories: orange palms, dark knees and the telltale streaks. They might have even driven you into the arms of another tanning option. But self-tanning doesn't have to be scary — and it can save your skin.
Overexposure to ultraviolet (UV) rays in a tanning bed or on the beach can lead to wrinkles, liver spots and even skin cancer. But it's not just sunburn that poses a health risk. Dr. Angela Bookout of Gulf Coast Dermatology says that when it comes to UV rays, "there's no such thing as a safe tan." In other words, your Bohemian beach babe look is a sign that damage has already been done.
"In order for there to be any pigment change at all you have to damage your DNA, and having a tan through the sun or through a tanning bed is proof of that," says Bookout.
To protect itself from further harm, your body produces melanin and delivers it to skin cells, which gives you a darker pigmentation.
But sunless self-tanners stop at the surface. Instead of inducing melanin production, they dye the outer layer of skin via the active ingredient dihydroxyacetone (DHA).
"DHA is not absorbed through the skin, and there is no evidence to suggest that it is toxic," says Bookout, making self-tanning a healthier option for pasty gals everywhere.
Self-tanning can also outshine other sunless tanning methods.
Spray tans in salons and spas take the guesswork out of getting color, but expect to pay anywhere from $27 to $38 per session. Do-it-yourself tanners range from $7 to $35 a bottle and provide multiple applications that can last just as long as those professionally applied.
Your self-tan may look real, but don't forget that it's only skin deep. Even with a self-tan, you should always wear sunscreen to protect yourself from the sun.
DIY Tanning No one has to know you're faking it. Follow these self-tanning tips for a natural, long-lasting look.
▪ Always choose a self-tanner one shade darker than your skin.
▪ Gradual tanning lotions are great for beginners. Apply one every day in lieu of your usual moisturizer.
▪ If you tend to miss spots, grab a tinted formula: They make it easier to see where you've already applied.
▪ Self-tanners can irritate sensitive skin: Use a face-only formula all over for a gentler approach.
▪ Shower and exfoliate to remove any dry skin, makeup or moisturizer.
▪ For an even look, shave, wax or pluck the night before.
▪ Miss a spot? Use a tanning towelette to blend the color gap.
▪ Exfoliate any areas that are darker than the rest of your body, but don't scrub hard enough to irritate the skin.
▪ If you end up streaky or splotchy you can always go darker. Use a gradual tanning lotion to even things out.
▪ Some producers of self-tanning products also make tan removers: Have one on hand for any mistakes.