Talon Training Builds Confidence and Skills for Self Protection
Taking a Shot at Teaching Self Defense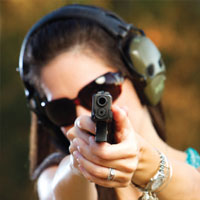 Photos by Scott Holstein
Local law enforcement officers have developed a new training center that teaches gun skills as well as a "mindset" for personal safety.
It's night, and you're walking to your car in the parking lot. You're minding your own business when suddenly a hooded figure lunges at you from the shadows between cars. Something flashes in his hand. You have nanoseconds to react. You can either become a victim, or do what's necessary to defend yourself. To do the latter, you need the proper training — and mindset.
"It all boils down to who controls your destiny," said Charlie Strickland, Leon County Sheriff's Violent Crimes Section lieutenant and co-owner of the new Talon Range, located in neighboring Gadsden County. "Do you want to seize control of the situation? Do you want to live in control of your life and walk the streets without fear? I give (our clients) the means to control what happens to them and their family. If you look like you're in control, and carry yourself with confidence, you'll be less likely to be a victim."
Strickland and his crew of business partners — all current and highly experienced law enforcement officers — have been teaching ordinary citizens how not to be victims for the past four years. Their company, Talon Training Group, offers a comprehensive curriculum of firearms training modeled after the kind given to police. The classes may be a tad expensive ($160 for the popular Firearms Safety/Concealed Carry class), but he says their knowledge could mean the difference between life and death.
Strickland said the company formed around a needed service. Many people had asked him where they could go to take concealed weapons classes, as a requirement for the state-issue carry permit. What few options were available didn't really impress the 20-year lawman, who has had his share of life-or-death situations.
"We saw an opportunity to help people but didn't want to just teach a minimal amount of information," he said. "You don't want to sell a fallacy. There's more to it than a gun, a holster and a piece of paper. There's a mindset, a lifestyle, and if they don't have the right mindset that can be dangerous. We wrote up a curriculum for civilians based on law enforcement training."
So far, Talon has trained a "couple of thousand" people in Tallahassee. But they've also trained people from Mobile, Northern Mississippi, Atlanta, Miami and Tampa.
"We have people who will travel a day just for a one-day class," Strickland said.
New Range, New Possibilities
For a period of time, the company rented classroom space and range time from the Pat Thomas Law Enforcement Academy but realized from the start they needed an outdoor range of their own. They sought a place large enough to accommodate not only classes, but also various types of shooting activities and training. Identifying just the right parcel of land was a bit of a challenge, Strickland said. They had to go into Gadsden County to find it, 100 acres located on the north side of Interstate 10 in a commercial district adjacent to the Ochlockonee River. The new range's name is Talon Range, LLC.
"The beauty of the location is the nearest house is two miles away. There's no noise issue. The only neighbor is a commerce park. We've been shooting here for two months (as of November) and no complaints so far," he said.
Built in phases, the range will consist of several 15- and 20-yard private shooting lanes with berms on three sides; 50- and 30-yard bays designed for competitive shooting events, a 200-yard rifle range, a "Hogan's Alley" tactical training area, sporting clays range with 18 stations at final build-out, trap range, 3-D archery and standard archery. Range facilities will also include a pro shop that will sell ammunition, holsters, eye and hearing protection and clothing. What they won't sell is guns; Strickland said he wants to partner with local gun shops, not compete with them.
Another range feature: RV parking. Not for the average vacationer, however. This parking area is for the competitive shooters and other clients the company hopes to attract. Competition shooting events are huge — the National Rifle Association sanctions more than 10,000 tournaments and sponsors 50 national championships every year.
"Special events ought to be a big draw. We're hoping we can bring a lot of people to Tallahassee. We want people from around the state and the tri-state region," he said.
Strickland said the range's location ought to be a hit with participants. Some shooting events are held in remote locations, he said, but Talon Range will be different. Restaurants, gas stations and hotels are literally just minutes away.
"We want to make this area a destination," he said.
The new facility ought to see lots of use thanks to a growing list of students, Strickland said.
"We're up to two or more classes a month (depending on instructor schedules). All our instructors are full-time (law enforcement officers) at TPD, LCSO or Fish and Wildlife," he said. "We look for passionate instructors; I want people who are passionate about sharing their information and knowledge."
Satisfied Customer
Cindy Lowell, 51, of Havana and a legal assistant for a Tallahassee law firm, can't wait for the new range to formally open. She received her concealed carry license last spring after taking a class offered at a local gun show. But, she said, she didn't feel like that class was sufficient for her and took Talon's Basic Handgun class that summer.
"I felt the mindset was missing from my (initial) training," she said. "This is a very serious and important choice I have made and feel as if I could use all the training I can get. Talon's course filled that gap perfectly, and I would highly recommend it to anyone who is even slightly interested in owning or carrying a gun."
For her, the matter hits very close to home. Their home was robbed in 2011, and it robbed her family of feeling secure in their neighborhood.
"Although we consider our little neighborhood safe, it gave a feeling of being unsafe and opened up the possibilities of how anything could happen and exactly how prepared we are," she said. "Talon's training offered much more than the laws they covered on the subject. There were legal scenarios, real-life shoot-don't shoot scenarios with AirSoft pistols, hands-on range training with 9 mm guns, holsters, ammo, and there was a wide variety of guns to try afterward to see what you might like or dislike. The collective years of experience of the instructors was evident and made the student feel very confident in the knowledge they passed on."
---
Carrying Concealed
Florida's concealed weapon law was implemented in October 1987 and is administered today by the Department of Agriculture and Consumer Services. Since that time, demand for concealed weapon licenses has grown slowly but steadily. But in recent years the demand has gone up dramatically. In 1988, the total number of valid licenses was 32,814. By 2012, that number had grown to 1 million, with much of that growth happening just over the past five years.
Source: Florida Department of Agriculture and Consumer Services, Division of Licensing, Statistical Reports.