Tally Top Pet Rules and Regulations
How your pet can grace the cover of Tallahassee Magazine!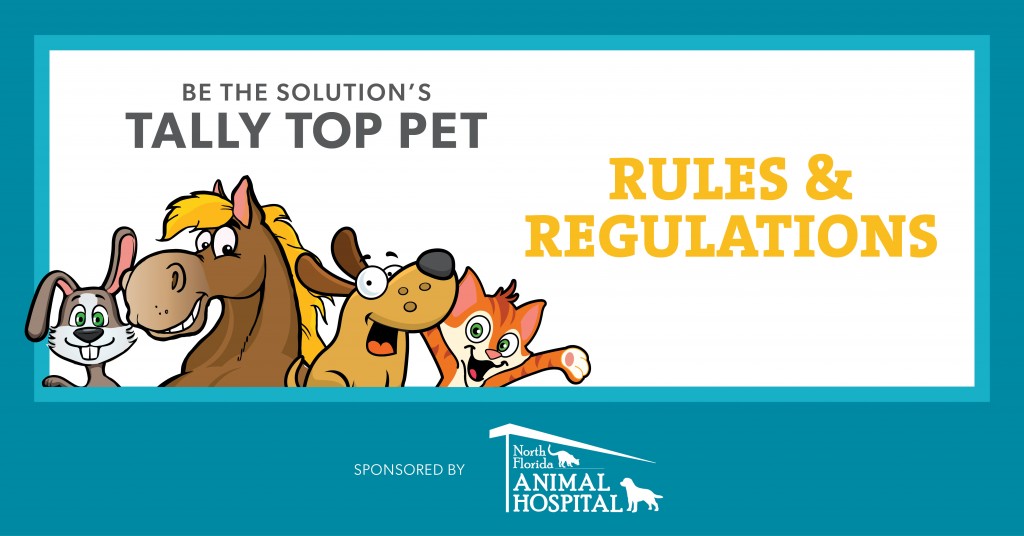 How often can an individual vote? 
Voting is limited to one person per email per day.
Is there a cost?
Yes. For the photo contest beginning September 1 and ending September 20, there is a $10 entry fee to enter your pet, plus $1 per additional vote. All of the money raised in this portion of the event is donated to support Be the Solution's mission to provide low-cost spray and neuter vouchers throughout the community.
What is the schedule?
The Voting Bracket Periods (from Top 16 to Top Pet) are the following:
September 1–20: Photo contest for the top 16 leaderboard
Voting from Top 16 to Elite 8: December 16–22, 2020
Voting from Elite 8 to Final Fur: January 1–7, 2021 which will decide the top 4
The Final Fur contestants will appear in the Tallahassee Magazine March/April issue 
Final Fur online voting: February 22–March 2, 2021 which will decide the final two contestants. 
Final two voting is March 3–10, 2021 and will decide the Tally Top Pet.
The winner will be featured on the cover of Tallahassee Magazine's May/June issue.
How can my pet win Tally Top Pet?
Like any election, it's important that you get out to vote! Encourage your friends and family to vote in the above listed rounds.
What will the Tally Top Pet win?
The cover of the Tallahassee Magazine May/June issue as well as select prizes provided by Be The Solution and North Florida Animal Hospital. 
Can my donations really make a difference? 
Every dollar donated during the Tally Top Pet Photo Contest is used to support Be The Solution in providing low-cost spay and neuter vouchers in our community. Be the Solution has spayed and neutered over 27,000 pets since it was established. More importantly, Animal Shelter intakes decreased dramatically over the past several years. In 2017, the shelter's pet intake number was 5,386 — a decrease of nearly 5,000 animals since 2009. Euthanasia rates have decreased as well and are about 40% of shelter intakes.