Tally Top Pet Rules and Regulations
How your pet can grace the cover of Tallahassee Magazine!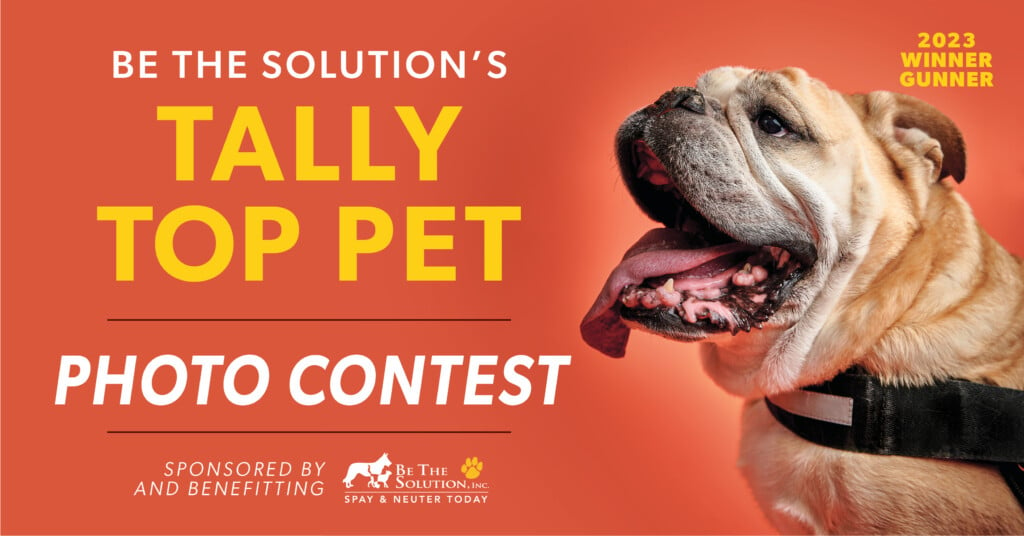 How often can an individual vote? 
Voting is limited to one person per email per round.
Is there a cost?
Yes. For the photo contest beginning November 1 and ending November 20, there is a $10 entry fee to enter your pet, plus $1 per additional vote. All of the money raised in this portion of the event is donated to support Be the Solution's mission to provide low-cost spray and neuter vouchers throughout the community.
What is the schedule?
The Voting Bracket Periods (from Top 16 to Top Pet) are the following:
November 1–20: Photo contest for the top 16 leaderboard
Voting from Top 16 to Elite 8: January 18–25, 2024
Voting from Elite 8 to Final Fur: February 1–8, 2024 which will decide the top 4
The Final Fur contestants will appear in the Tallahassee Magazine May/June issue 
Final Fur online voting: March 21–April 1, 2024 which will decide the final two contestants. 
Final two voting is April 2–April 12, 2024 and will decide the Tally Top Pet.
Each voting round runs from midnight EST on the morning of the first day until 5pm EST on the last day. For example, the round of 16 runs in its entirety from midnight EST on the morning of Wednesday, January 18, until 5pm EST on the evening of January 25.
The winner will be featured on the cover of Tallahassee Magazine's July/August issue.
Can staff participate in the contest?
To maintain the integrity of this initiative, staff of Tallahassee Magazine are not permitted to take part in the contest.
If my pet makes it to the top 16, what am I required to do in order to enter the bracket voting?
— Your pet will need to be available sometime mid October through early November for the photoshoot where we capture an adorable photo of your animal. The location of the photoshoot will be communicated in advance of the scheduled date.
It is critical that you are available to bring your pet to the photoshoot. Our photographer will only be capturing photos on that one day. It's not possible to move on in our bracket without the photo of your pet from our photographer.
— You will need to be available for a phone interview about your pet.
How can my pet win Tally Top Pet?
Like any election, it's important that you get out to vote! Encourage your friends and family to vote in the above listed rounds.
What will the Tally Top Pet win?
The cover of the Tallahassee Magazine July/August issue as well as select prizes provided by Be The Solution.
The prize winnings from Be The Solution include:
One week stay at Angel's Paradise Beach house on beautiful Saint George Island. Located at 1624 East Gulf Beach Drive. Angel's Paradise sits on the beach, has three bedrooms, 2 baths and sleeps up to eight. Managed by Fickling Vacation Rentals.
Dinner at a local restaurant

$50.00 Gift Certificate from The Naturally Healthy Pet located at: 1850 Thomasville Rd. Tallahassee Fl  (850)-576-7387

Local pet photographer sitting
A winner's billboard spotlight in July 2024
Can my donations really make a difference? 
Every dollar donated during the Tally Top Pet Photo Contest is used to support Be The Solution in providing low-cost spay and neuter vouchers in our community. Be the Solution has spayed and neutered over 27,000 pets since it was established. More importantly, Animal Shelter intakes decreased dramatically over the past several years. In 2017, the shelter's pet intake number was 5,386 — a decrease of nearly 5,000 animals since 2009. Euthanasia rates have decreased as well and are about 40% of shelter intakes.