Tally Cat Café is The Purrfect Business Venture
To a young couple, their business partner and pet lovers, cat café is great mews.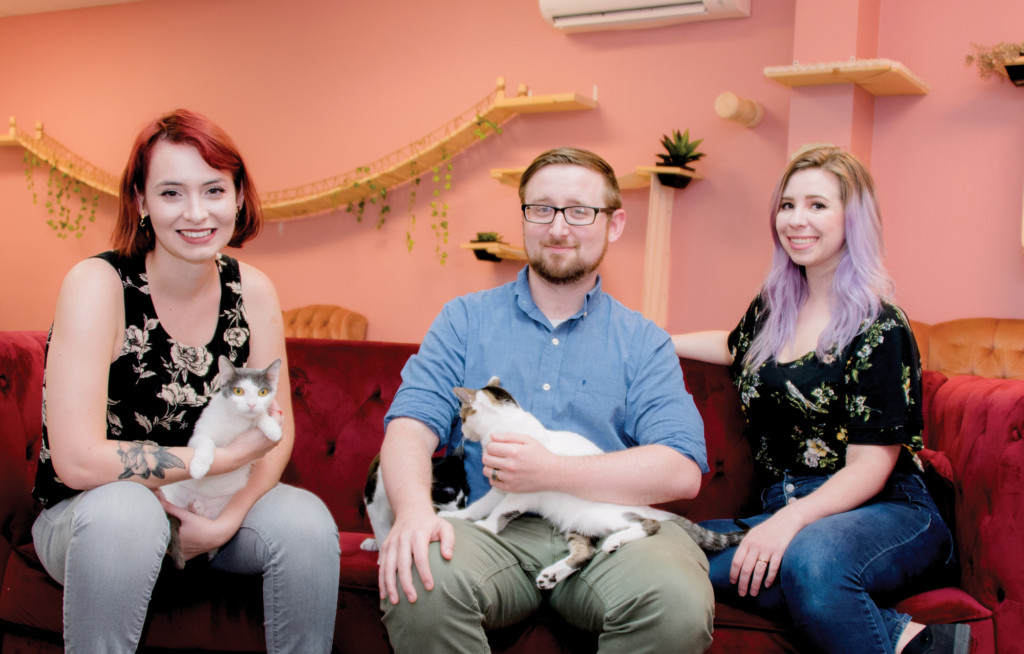 Tense? Overworked? Missing home? Or just plain bored?
Perhaps you're just in the mood to hold another warm body, to feel it respond and to connect with something adorably cute.
If so, Courtney and Josh Kendrick, Katie Logue and the 15 or so feline residents of the Tally Cat Café are eager to roll out the welcome mat for you — a few may even roll on the welcome mat. And some of the furrier boarders may look so precious with all that rolling that you just may want to take one home.
"We love that," Courtney Kendrick said. "We place four to five cats each week in new adoptive homes. Our kitties come from
the Leon County Humane Society, and we usually have about 15 in the café at any one time, but the turnover is amazing."
Speaking of turnovers, the café on Tallahassee's Northeast side has those, too. Entering the café, with its nearly dozen tables and sleek white chairs, you're invited by Courtney or Katie to sample some of the doughnuts, cupcakes, croissants, vegan cookies or other delights and to hydrate with some Lucky Goat coffee.
Then they will point you to the big glass windows that separate the coffee shop from where the action is — the posh room filled with tumbling, jumping, strolling or drowsing cats.
Inside the large adjacent space, there are wing-back armchairs, a loveseat and low tables for the humans. It smells sweet … like a home. Along mauve walls, you see shelves that with scrutiny turn out to be little slings in which kitties are resting, each connected to the other by "suspension-bridges" that must be fun to navigate if you're a cat.
On a recent day, seven or eight people were in the room, and like the cats, they were sitting in chairs, on tables or on the floor. It was quiet and peaceful, even as kittens tumbled from a little hammock that upends them and others leaped for feathery wands and strings held by the humans. In a corner, a girl and a dreamy calico cat seemed to have fallen in love.
Courtney Kendrick, 25, one of the three owners, smiled over the little natural kingdom. Filled with facts, organized and eagerly articulate, she thinks the partners in the Tally Cat Café just might have created their own "perfect jobs."
She worked as an administrative assistant at the Department of Corrections, underutilizing her Florida State University degree in psychology and sociology, and she wondered with her husband and her friend, Logue, what a dream job might look like.
Now, as a one-third owner of Tallahassee's second kitty coffee house, joining Fat Cat Café, she is all entrepreneur and all in.
Her husband, Josh, a bearded and bespectacled 29-year-old, looks like he could be a physics professor. His FSU degree was in physics, but he gave it up for his current job in the Florida Department of Education.
"Physics just wasn't what I thought it was going to be," he said with a laugh. But handling the books for the café and being "father" to the couple's three home-cats and their dog feels just right.
But there was much to do before the cat café became reality.
"Once we'd all sort of landed on a concept, we did our research," Courtney Kendrick said.
Visiting other cat cafes, the trio evaluated other similar businesses in Orlando, Atlanta and South Carolina. "We spent lots of time with Ben Pautsch from Lucky Goat Coffee, who advised us on locations, starting costs and where to purchase equipment," she said. The trio then did a business plan and secured a loan, she said.
Josh Kendrick admits the Tally Cat Café was a leap of faith, but having sent dozens of cats to permanent homes, the Kendricks said they've learned a lot and couldn't be happier.
The café charges $7 an hour per person to be in the cat room. Inside, Josh Kendrick said, a full-time volunteer acts as a sort of facilitator and resource person.
The café also offers Cat Trivia night on Tuesdays and Cat Bingo on Wednesdays. Plus, he said, there's Movie Nights with cat themes, as well as Cat Yoga every other Sunday.
"An hour of yoga and an hour with the kitties," he said.
The departure of Elsa, the café's 100th cat to be adopted, to her new home spawned a send-off party that sent donations to the Leon County Humane Society.
Back inside the cat room, five young women snuggled cats or tickled them with the tip of a feather. Others snapped selfies with their new friends.
It's too soon to think about franchises or multi-store expansions, the young business couple said.
For now, fostering and adopting out kitties and serving up yummies to people who leave renewed and refreshed is not only their dream job, but it may be the dream-hangout for other busy Tallahasseeans just looking for a purr.
Adopt a Cat
The Tally Cat Café fosters cats and has sent dozens of them to permanent homes. It also offers Cat Trivia Night on Tuesdays and Cat Bingo on Wednesdays.
Tally Cat Café 2218 N. Monroe St. tallycatcafe.com