Tallahassee's We Care Network Makes a Real Difference in the Lives of People Who Really Need it
They Care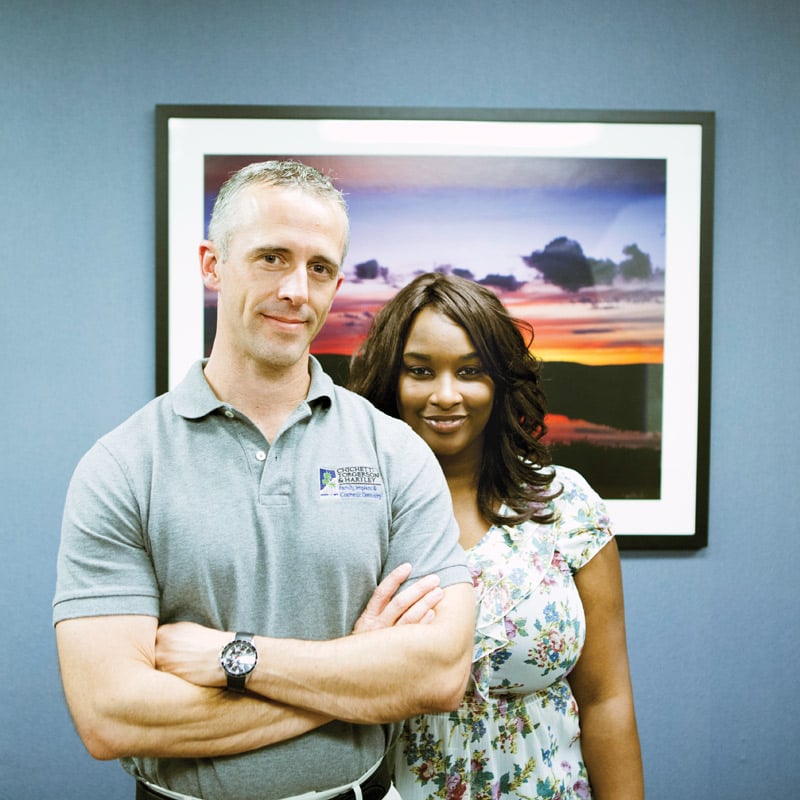 In a muted cobalt conference room, Barbara Wynn's eyes grew misty as she told the story of how she and Dr. Amit Jain, her oncologist, became acquainted.
"I was diagnosed with breast cancer, and I didn't have insurance," she said, her voice choking. "I was terrified. I didn't know where to go or what to do."
Wynn's situation isn't unusual. Luckily, though, her version has a happy ending. As a We Care Network patient, Wynn, 62, received all the care her diagnosis required — from initial exams, to surgery, to chemotherapy and ultimately radiation. And, amazingly, it cost her nothing. It was all pro bono. 
Because that's the We Care way. 
The Who
"Somehow, someone told me that I should try We Care," recalled Wynn. "And I did, and there was Dr. Jain. I really don't know what I would have done without him. I was so scared. And then there he was."
Somewhere in her comments, Wynn stopped trying to hide her emotions. She isn't alone, though — many of the network's patients echo her heartfelt sentiments. 
"If We Care didn't exist, I don't know what I would have done," admitted a tearful Uriah Mckenzie, 60. "It (was) really bad (in) the months leading up to last December, when my prostate numbers were three or four times higher than what normal should be." 
Like Wynn, Mckenzie's test results were a marker for cancer, prompting his primary care physician to refer him to a specialist — in his case, the Southeastern Urological Center. But without insurance or the funds to cover his visit, Mckenzie was at a loss.
After being brought together by the We Care Network, Dr. Amit Jain walked Barbara Wynn through her breast cancer diagnosis and care in late 2013. Wynn is now in remission.
As the sole provider for his family, his concern for the welfare of his wife and two college-aged daughters made him nearly inconsolable.
That's where We Care came in. They exist to help the Wynns and Mckenzies of the world. Or, at least those residing in and around the capital city. 
Others have similar stories.
Ketsia Jean-Pierre, 27, a student veteran at FAMU wrapping up a degree in business, was studying for final exams when she began experiencing a severe pain in her jaw. Soon, the entire left side of her face started to swell. 
She knew the culprit — she had been plagued by dental pain since childhood. This time, though, the ache crept towards a 10 on the pain scale. 
"I actually got involved, because I didn't have insurance," said Jean-Pierre, as she held the side of her face, recalling her discomfort. "I had two toothaches that were throbbing, and I didn't have a lot of options. I went on the hunt asking 'OK, is there something I can do? Is there a dentist who is willing to see me or give me time? Please?' "
It didn't take long before she found her answer in the We Care Network.
The How
Founded by local physicians in 1992, Capital Medical Society's We Care Network focuses on people throughout the region who find themselves plagued by an illness they can't afford to treat. 
The system operates through a successful combination of compassion, enthusiasm and manpower, by tapping into an elite group of volunteers — more than 300 medical doctors and 40 dentists — to bring care to folks who are struggling in Leon, Gadsden, Jefferson and Wakulla counties. Because patients must be referred by their primary care physician, local doctors can act as gatekeepers — offering the service to those they determine truly need it.
Thus far, their tactics have worked remarkably well. Since We Care's inception, $55 million in medical and dental care has been donated, with more than $5 million in 2013 alone. Everything from doctor's visits to hospitalizations and tools of the trade (i.e. sutures, bandages and inoculations) are all free. Tallahassee Memorial Hospital and Capital Regional Medical Center are intimately involved in the process, too, volunteering their facilities both before and after for patients who require surgery or intensive care.
"In order for a patient to be eligible," explained Rose Marie, We Care's program coordinator, "there cannot be any other program that would pay for their care. They can't have insurance and they have to be within 150 percent of the federal poverty level." In layman's terms, that's annual earnings of $17,505 for an individual or $35,775 for a family of four. 
One of the most unique things about the We Care Network, though, is the relationships the physicians have formed with each other. Through their latticework of connections, getting patients the care they need is often as simple as a phone call to a friend or colleague. 
Dr. Michael Hartley volunteers some of his days at the "The Molar Express" — a dental clinic located near Railroad Square — where he's able to offer patients like Ketsia Jean-Pierre immediate relief from their unrelenting pain.
"We knew that this was an early-stage cancer," shared Jain, on Wynn's breast cancer diagnosis, "so we knew that it was a curable cancer. We wanted to get it removed as soon as possible.
"The next step was to get her set up for surgery. That's why I talked to Dr. (Shelby) Blank, who very gladly saw her within a week or two. She checked her out and said she would certainly do the surgery. That happened within a month of us finding the cancer." Wynn's timeframe for care was on par with the national standard. As a result, she is now in remission. 
The impressive effects of this well-versed organization are the labors of We Care's five full-time employees, who act as expert community coordinators. They've streamlined this charitable process and paper trail for the doctors involved, making medical treatment a quick, user-friendly process.
For the professionals involved, the convenience and efficiency We Care presents is invaluable.
"Over the years I think that … the efficiency of We Care and the amount of patients that get seen is just getting better and better," shared Dr. Michael Hartley, a dentist at Chichetti, Torgerson & Hartley. "Like you got seen right away," he gestured to Jean-Pierre. "We don't have that long wait or trouble getting people in any more. The logistics. It's just a well-run machine now."
Still, We Care insists it's the volunteer physicians and dentists that make the program a true success. 
"They are so giving," stated Shannon Boyle, We Care's marketing and communications coordinator, "and they want to do it. This is their program, and they pride themselves on it and helping people within the community, because this is their community."
And the Why
Everyone has his or her own motivations for initially pursuing a career in medicine. For the physicians and dentists involved with We Care, though, a philanthropic disposition is the only major requirement.  
"We got into this business to help people," explained Dr. Daniel Rackley, the urologist in charge of Mckenzie's case. "That's pretty much the bottom line. Any program like this that we can do to get people better access to care and prevent disease processes and treat the ones that need to be treated, I think it's a great privilege to be a part of."
Although Uriah McKenzie, a former educator and real estate investor, fell on hard times during the recession, he was able to obtain quality care from urologist Dr. Daniel Rackley through We Care. Tests came back cancer free — but the pair have vowed to stay vigilant.
On average, Rackley estimates that he and his partners at Southeastern Urological Center see approximately 20 We Care patients each month, rotating them intermittently into their schedules. For his part, he admits to only being vaguely aware when a patient comes in through the network. Because, in those instances, the course of treatment doesn't veer fundamentally from the typical trajectory.
For a specialist, seeing a We Care patient is the difference of a couple of signatures. In "doctor-time," that's a big deal. 
According to Blank, a general surgeon who has been affiliated with We Care for more than seven years, the capital city's medical community is no stranger to pro bono work. When she got the call from Jain asking her to help save Wynn's life from breast cancer in late 2013, she jumped at the opportunity — an act of kindness, she said, that isn't all that rare. 
"Once we know about a patient with cancer, they're going to get care," assured Blank. "But sometimes (the patient) doesn't know that that's available and they don't know that that's going to happen, so they never even cross our threshold.
"We Care gets them to us," she continued. "I think that one of the biggest things is just making that connection. They provide a great service."