Tallahassee's Top Trails to Hike, Bike, Paddle and Trot
From wild to mild, Tallahassee trails beckon.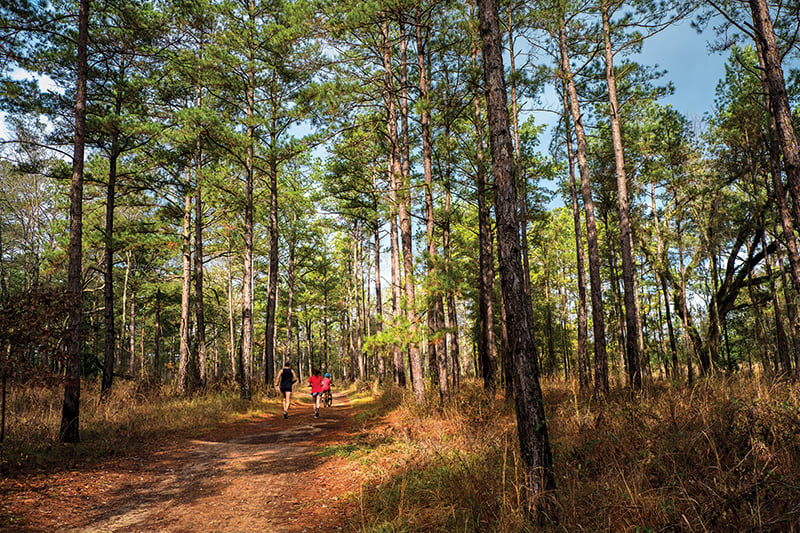 Tom Brown Park Tom Brown Park is a local outdoor-enthusiast favorite, because it has something for everyone. Scenic trails are interspersed and wind around the baseball diamonds, soccer fields, basketball courts, a BMX track and a remote-control car course. One minute you can be cheering on disc golf competitors; the next, you're immersed in the woods, walking oak-lined trails where sunlight barely filters through the canopy. Delightful surprises, such as babbling creeks, a railroad track or a graffiti-laden bridge, wait just around the bend. Trails through Tom Brown Park include Magnolia Mountain Bike Trail (3.1 miles), Cadillac Mountain Bike Trail (1.35 miles), Fern Trail (3 miles), Goose Pond Trail (paved) and nature trails throughout.
Address: 501 Easterwood Drive
Alfred B. Maclay Gardens State Park Hundreds of bright blooms scent the breeze wafting in from nearby lakeshores, which are visible through the trees that line Maclay Gardens State Park's many trails. For a fee of $6, you can explore the manicured, secret garden, with its brick walls covered in tendrils of ivy, catch an unforgettable view of the turquoise reflection pond, and hike along two nature trails that wind through the woods overlooking Lake Hall. For $2, you can enter the state park through the back entrance off Meridian Road and explore five miles of shared-use trails that pass by Lake Overstreet. With its gorgeous gardens, this state park is a crown jewel in Tallahassee's jewelry box.
Address: Main Entrance – 3540 Thomasville Road; Back Entrance – Across from Forestmeadows Parks & Athletic Center at 4750 N. Meridian Road
Elinor Klapp-Phipps Park One of the most expansive and untamed parks in Tallahassee, Klapp-Phipps Park delights the trail enthusiast with three stacked loops of trails that vary in length and difficulty. The easiest trails pass over mostly sandy ground, while the more arduous trails traverse hilly terrain. This park is idyllic and natural — a true glimpse of Old Florida, with iconic magnolias, sweeping loblolly pines, tranquil streams, open fields, swamp basins and views of Lake Jackson. Trails include the popular Redbug Mountain Bike Trail (4 miles), Oak Hammock Loop (2.5 miles), Swamp Forest Loop (1.8 miles), Coon Bottom Loop (1.5 miles), Creek Forest Trail (.8 mile) and shared trails for horseback riding.
Address: 4000 N. Meridian Road
Lafayette Heritage Trail Park and J.R. Alford Greenway Adjacent to Tom Brown Park, Lafayette Heritage Trail Park resembles a cypress-filled bayou, mirroring its Louisiana-inspired named. For areas that are slightly too swampy for sneakers or wheels, there are boardwalks and beautiful outlooks that provide views of bright green lily pads and serene waterways. A unique segment, seen by kayak or canoe, is the Lafayette Passage Paddling Trail (6 miles), which stretches from Piney Z Lake into Lower Lake Lafayette. For those who prefer taking in the sights from solid ground, the Cadillac Mountain Bike Trail (3.79 miles) is highly enjoyable. On the far side of Piney Z Lake is the J.R. Alford Greenway, which has 17 miles of hiking and biking trails. Be sure to check out the Greenway's elevated, covered bridge, which boasts a great view of Piney Z Lake!
Address: Lafayette Heritage Trail Park – 4900 Heritage Park Blvd.; J.R. Alford Greenway – 2500 S. Pedrick Road
Leon Sinks Geological Area Just south of Tallahassee, five miles of lush, forested trails lead to a geological sensation: sinkholes of all shapes and sizes. The topography of this area is known as "limestone karst," or limestone that has eroded in many places due to subterranean water drainage, resulting in caverns, tunnels and sinkholes. To view the "Sinks," follow one of the two trail loops: the Sinkhole trail (3.1 miles) or the Gum Swamp Trail (2.3 miles). Treasure-map your way along your chosen trail, checking off each sink you find. As its name indicates, Dry Sink contains no water. Other sinks, such as Hammock Sink, are filled with water that is aquamarine and crystal clear.
Address: State Road 13 (Part of the Apalachicola National Forest)
---
Venture On
Check out these faves and other trails at Trailahassee.com.
St. Marks Historic Railroad State Trail

Lake Jackson Mounds Archaeological State Park

Miccosukee Canopy Greenway

San Luis Mission Park

Lake Talquin State Park

A.J. Henry Park

Fred George Greenway and Park