Fashion Sense, Business Acumen
Owners of Hill Spooner & Elliott Inc. make their business thrive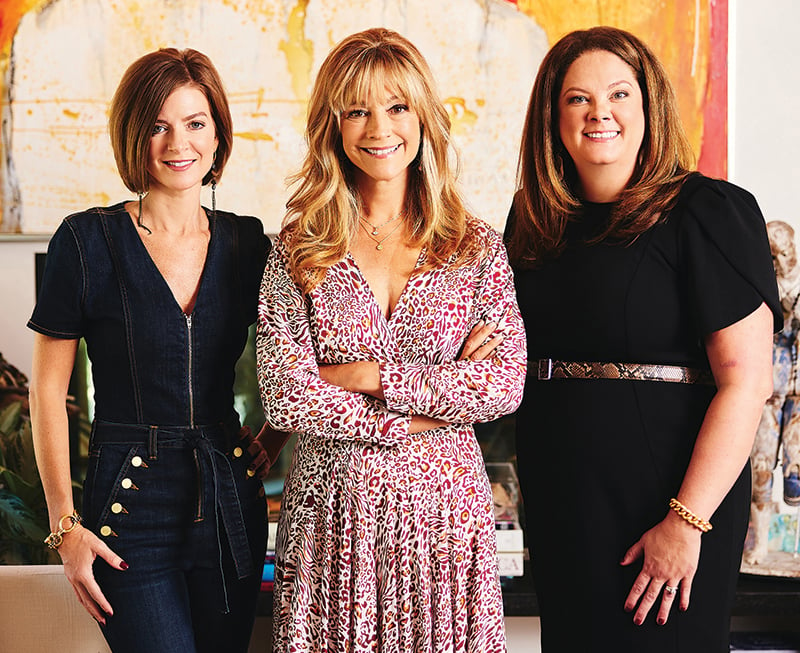 Put three smart, driven, bigger-than-life entrepreneurs in a room, and what do you get? In the case of Calynne Hill, Hettie Spooner and Lindsay Elliott — the eponymous principals of Tallahassee's Hill Spooner & Elliott real estate agency — what you get is something that feels a lot like love.
When they discuss the longevity of the firm, which started in 2005, the family-like relationship is evident. Laughing and talking over one another and weighing in with affectionate anecdotes, each of the partners seems to bring something from her own generation to the business table.
With long blonde hair and a quick wit, Hill still looks like the svelte model she once was. She recounts how Hill Spooner & Elliott began and what has kept it growing. The standout agency is currently comprised of 40 real estate agents selling more than 100 homes a year while working from an elegant, contemporary building on Timberlane Road.
Although Hill Spooner & Elliott is known for its luxury home niche, all three women agree that selling a $60,000 property is just as satisfying as a $600,000 one.
What excites this trio most is finding the right properties for their clients.
Thirty-four years ago, Hill, who had modeled in New York and Miami, was involved in the magazine industry and also owned a restaurant with her former spouse, Grant Peeples. At the urging of friend and Century 21 broker Brian Proctor, she decided to enter the house-selling field.
Applying charm, smarts and determination, Hill soon found herself selling so much she needed help.
"Selling homes is a 24/7 business," she said. That realization motivated Hill to form a "little team" within the brokerage company and asked one of its employees, 19-year-old Hettie Spooner, to join her.
At the time, Spooner was majoring in communications at Florida State University and working part time in administration at Century 21. The delicate-looking dynamo — who today admits to sleeping with her telephone beside her — was surprised to find that real estate was her calling. Within a year, she had earned her Realtor's license and with Hill, was tapping into their wide range of Tallahassee contacts to pair owners with the perfect properties.
Something of an organizational prodigy, Spooner saw that the business of real estate was being transformed by the internet. Over time, she figured there was little reason to pay franchise fees when a single-owner business could keep up with the big guys by using local and online advertising. That's when Spooner proposed to Hill that they form their own company.
Today the two founders still love working closely with clients. With their own CPA and bookkeeper on-site — and the addition of a new partner, Lindsey Elliott, in 2010 — they have found time to devote personal attention to home buyers as well as themselves.
Elliott, like Spooner, was 19 when she was plucked from a less visible position as a receptionist to join the Hill Spooner team. She later was asked to become a co-partner.
"Even to this day, we only have a handshake as to our business relationship," Spooner said. "It's built on trust."
Elliott, the mother of a 6-year-old and a 10-year-old, said the company's morals, ethics and loyalty are what bind her to her co-owners.
But as close as they are, all three women enjoy stealing a little time for themselves.
Elliott enjoys slipping off to Millennium Health Spa, having her hair done at Change of Pace, hopping on her Peloton or just hanging out with her kids.
If Spooner isn't at the gym, she's likely browsing at the popular boutique Narcissus, which she deems "almost too close" to her office. "I'll tell them where I'm going, and they'll have seven things laid out to choose from," she added. "Usually, I end up with all seven!"
Hill loves long walks and exotic getaways with her husband, Lou, a plastic surgeon. "Normandy and Greece were wonderful highlights this year," she said.
When Hill, Spooner and Elliott discuss what makes women good Realtors, they agree that women are "nest builders. We empathize with dreams and struggles. We don't sell cars or shoes. We're like social workers. We help families discover their perfect place to thrive."
---