Tallahassee's Clusters & Hops Restaurant Celebrates 15 Years
Gateway to Gourmet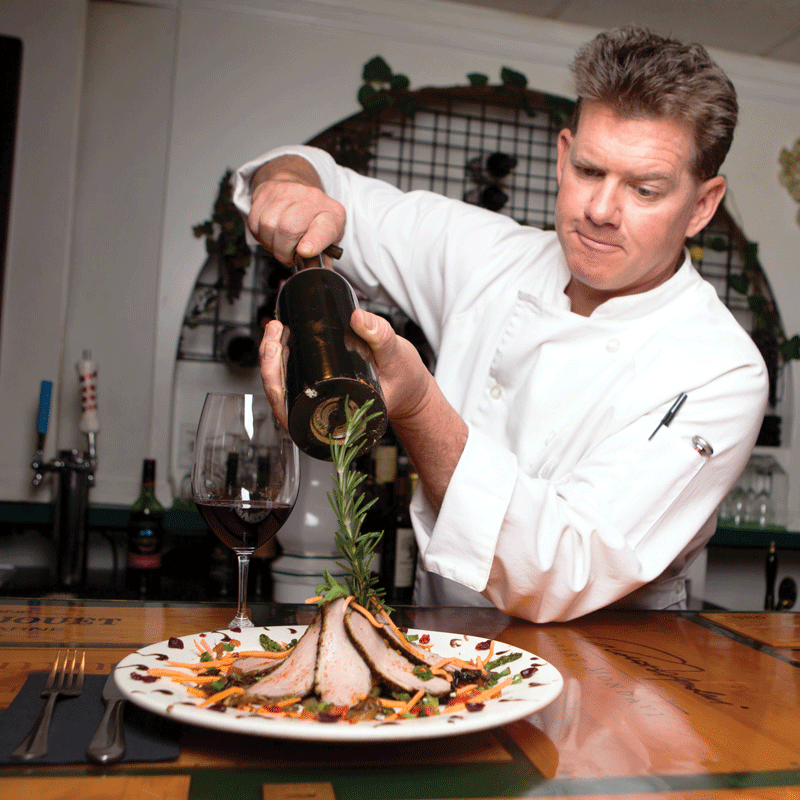 In a modest, vanilla plaza dominated by a mattress store on the corner of North Monroe and Brevard Street is a gem only locals with their finger on the pulse of Tallahassee's booming bon vivant society venture into.
From the outside, you might not be very impressed — but looks can be deceiving.
When it comes to cultured cuisine in a cozy atmosphere, Cluster & Hops is the pièce de résistance.
Remarkably, and despite being decidedly upscale and intimate, the restaurant's pleasant interior and personable staff manage to radiate a laid-back, approachable vibe that would put even the most novice foodie at ease. Feel free to leave your copy of Wine for Dummies at home — these folks will (politely) tell you everything you need to know. Food education is part of the package.
Though the service is a big plus, Clusters' unconventional layout is what truly sets it apart. Here, patrons are privy to an all-inclusive artisan grocery/wine shop and fine dining experience. Sure, space is a little tight — but the unmatched selection of more than 1,000 bottles of wine, 100 different cheeses and dozens of specialty beers and meats makes any lack of elbow room on the restaurant side well worth the sacrifice.
Or, at least that's the philosophy restaurateur, chef, self-proclaimed head dishwasher and Clusters & Hops founder Kent Steels has embraced for the last 15 years. And on Aug. 29, Tallahassee will have, too.
"It just kind of works," reassured Steels. "It's a great little living, and it's a way for me to release my creativity."
Steels' personal narrative is, for lack of a better word, exceptional.
After spending his formative years in Toronto, Steels' family relocated to the Sunshine State's capital city so his father could earn his master's degree at Florida State University. After sticking around for a few years himself, Steels also enrolled at FSU. It didn't take long for him to realize that finance — the undergraduate degree he was seeking — wasn't really his forte.
In a fateful decision, he took a chance and decided to spend a year abroad.
To support himself while biking through the wine countries of France and Italy, Steels took odd jobs at vineyards and restaurants and learned the ins and outs of an ancient industry.
His time in Burgundy was particularly educational.
"I don't think I have any regrets," said Steels. "I certainly didn't know what I was going to do. That's why you wander around a little bit. You wander around the world and see what floats to the top — you see what's good for you."
Once he returned stateside, he continued his culinary training under the leadership of Tallahassee's legendary master chef, the late Jack Shoop, who ran a number of establishments in Tallahassee and Destin, including the Governor's Club and the Golden Pheasant.
"I remember going in on my days off and just watching the cooks cook their food," reminisced Steels. "That's how you learn."
Today, Steels' own restaurant is applauded for serving up flavorful dishes with a penchant for European elegance. Ostrich, wild boar, duck, seared foie gras, ahi tuna and crème brûlée grace Clusters' compact menu. On any given night (nay, every night) Steels can be found in the kitchen, crafting entrees and artisan cheese boards.
Generally, the nine-table dining area, as well as the fairly expansive bar seating, is first come, first served with one major exception — Valentine's Day. Most nights, the line is out the door.
And yet somehow, it's still the best-kept secret in town.
"I hear it every day almost, 'I never knew you were here,'" laughed Steels.