Tallahassee's Bella Bella Create Twice the Experience
For the local restaurant, service and cohesion is key.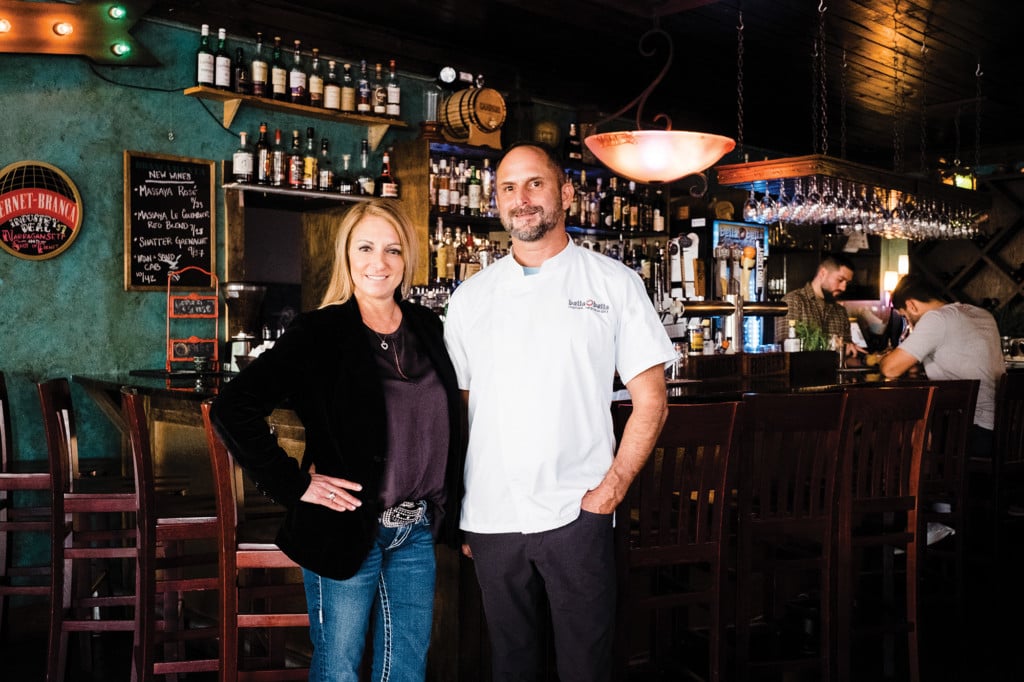 Amy Schwartz, head of catering, stands at the Front of House and ensures the quality of a massive, colorful salad for the morning's catering order.
"That's the Bella Bella salad," she said, pointing to a vibrant salad heavily sprinkled with seasonal fruit.
Marc Schwartz, her brother, emerges from the Back of House, camouflaged into the kitchen staff. You would assume Schwartz is simply another cook if weren't for his title as "Owner" embroidered into his white chef's coat.
Marc and Amy Schwartz operate the adored Tallahassee Italian restaurant, Bella Bella. The two blend in with their workers seamlessly.
During an interview with Tallahassee Magazine, Marc and Amy Schwartz described a chaotic thrill when working behind the scenes, especially when each gear of the restaurant machine runs quickly, smoothly and efficiently.
"It's kind of an addiction. When it's crazy busy and you are just freaking out … it's just like adrenaline. When everything is in full swing and just chaos, that's usually the best time … Customers are happy. Servers. Everyone's happy. Next thing you
know, your six-hour shift: boom! Flew by," Marc Schwartz punctuated with a snap.
"And you've seated 400 people," his sister added, highlighting Bella Bella's growth.
The restaurant seats 120 patrons. At its 2001 inception, it sat 12.
Bella Bella muscled through difficult economic times. It endured the effects of destructive hurricanes, the 2008-09 recession and the 2010 Deepwater Horizon oil spill that affected seafood distribution.
Bella Bella started as one of the oldest staples of Midtown and watched the city's nightlife build up around it.
Today the restaurant stands as a perennial honoree in Tallahassee Magazine's Best of Tallahassee awards among Italian restaurants.
Midtown "wasn't a destination when we started," Marc Schwartz said. "There was nothing here. It was nice to see the neighborhood grow."
The restaurant reflects the neighborhood's appreciation of Tallahassee art and craftsmanship. Paintings and other works from local artists provide a motley collection of differing styles, unified by vibrance.
High-energy color palettes juxtapose russet wood accents. The result is a unique harmony that encourages lively conversations and invites customers to sit down and stay a while.
"We want them to come in and feel waited on and have a good experience," Marc said.
"And feel comfortable, like sitting in their living room," Amy said.
Themes of art and comfort bleed into the dining experience. Chef Liz Heerema's menu offers classic Italian dishes, many with a Floridian seafood twist.
Energy and artistry seep into Bella Bella's cocktails. Bartenders create original drinks, which the restaurant celebrates as seasonal specials.
Nearing 20 years of operation, the Schwartz siblings travel and frequent food shows to gain insight on trends in other Florida cities.
Inspiration from cuisine and service, and the restaurant's commitment to artistry help Bella Bella maintain its long-standing position in a rapidly evolving Tallahassee.
Marc and Amy Schwartz credit the cohesion and communication between Front and Back of House to keep the gears in motion.
"It's a family," Amy Schwartz said. "We treat them as family. Everybody works together. It's a team."