Tallahassee's Barbecue Scene Embraces a Variety of Regional Specialties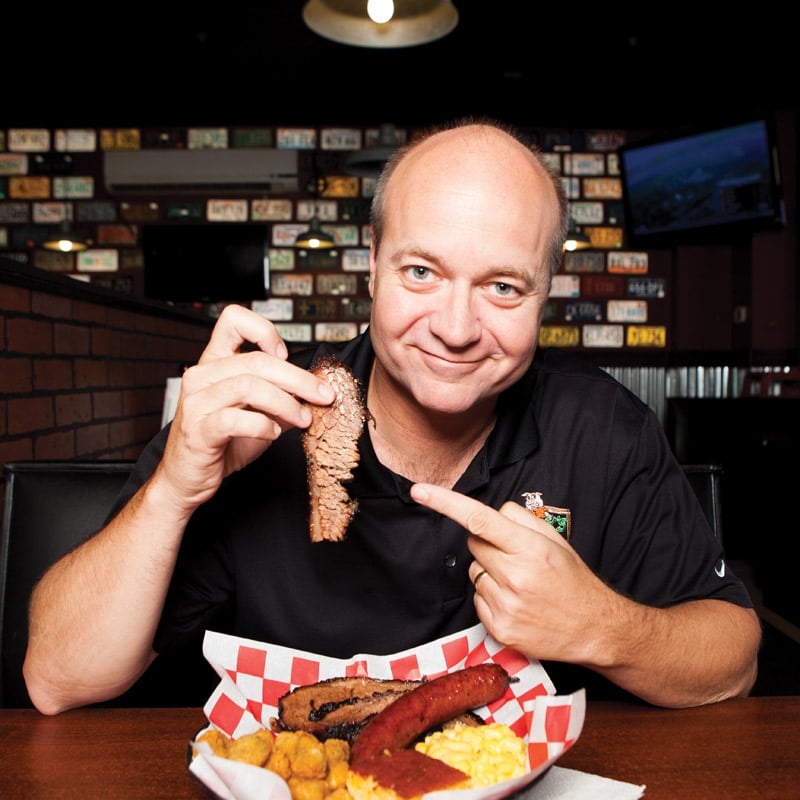 Barbecue, like religion, has many variations on a basic theme, and each has its true believers. Most Southerners profess allegiance to one smoke-infused denomination or another fairly early in life. With the kind of passionate loyalty reserved for college football teams and brothers caught up in a barroom brawl, barbecue enthusiasts rarely waver in their belief that their choice of cooking method and sauce is the "real" barbecue. All you have to do, they say, is follow them down the path to true gustatory enlightenment and contentment.
The differences are primarily based on geographic location. In eastern North Carolina, a whole hog cooked low and slow and a sauce of apple cider vinegar, black pepper and salt defines barbecue. In the western part of the state, the dominant style of barbecue is named for the town of Lexington and features primarily pork shoulders, also known as Boston Butts, and a vinegar-tomato sauce. 
South Carolina adds a mustard-based barbecue sauce that can range from mild to spicy. Head over to Georgia and the dominant sauce has a tomato base with lots of spices and vinegar to add kick. Alabama's legendary barbecue pit-master, Big Bob Gibson of Decatur, created a white barbecue sauce for chicken back in the early years of the 20th century that has proven to be a happy pairing with many other smoked meats. Memphis-style barbecue gives us a sweet glaze. 
Western Kentucky adds barbecued mutton to the menu, and Texas brings beef, particularly brisket and beef ribs, to a cooking style dominated by pork farther east. In Kansas City, Missouri, meat of all kinds tends to be covered with dry rubs and smoked, then finished with a sweet table sauce. 
So what's Tallahassee's barbecue identity? The consensus among barbecue purveyors and their customers alike is that there isn't one. Even barbecue blogger Johnny Fugitt, who is on a mission to discover the best barbecue in the country, noted when he came through town several months ago that Tallahassee "doesn't seem to have an extremely deep set of barbecue roots yet."
But that's not necessarily a bad thing. There's room for true believers of all stripes here in the capital city. Whether you favor a brick-and-mortar barbecue restaurant, a mobile barbecue caterer or food truck, or one of the guys who parks a cooker on the side of the road and sets up shop, there are lots of different styles of barbecue to try. And it's not heresy to favor one joint for its ribs and another for its brisket.
Barbecuing vs. Grilling
Before we go any farther, we need to get something straight. Some people, particularly outside the Deep South, refer to a backyard cookout of hot dogs and hamburgers, or even grilled steaks, as "a barbecue." Forgive them, for they know not what they say. 
Barbecue means the smoke-infused cooking of meat over an open flame, usually over an extended period of time at a low temperature — low and slow. There's a great deal of debate about the fuel used. Some prefer charcoal, others swear by hardwood, particularly hickory, oak, mesquite or cherry. Some cookers are fueled by propane gas with wood smoke added. Whatever the fuel, smoke is the key. A backyard brazier grill can't produce the depth of flavor found in true barbecue, whether it's cooked in a pit in the ground or a $10,000 custom-made cooker on wheels. People who call a cookout a barbecue just don't know any better. 
Most any weekend during football season, a soft haze of barbecue smoke hangs over Tallahassee like a fragrant fog. The closer you get to one of the college football stadiums, the richer the aroma. Perry Street, behind Florida A&M University's Bragg Stadium, is a boulevard of barbecue dreams on game day. On Thursday afternoon before a Saturday home game at either Bragg Stadium or Florida State University's Doak Campbell Stadium, you'll see cookers being set up on street corners along the primary routes to campus. Local restaurants of all types get a boost from home games, and barbecue joints — whether mobile or stationary — draw crowds on game day. Location can really make a difference.
A number of Tallahassee barbecue restaurants have come and gone over the past 15 years alone. Remember Banjo's? Shane's Rib Shack? Mr. T's? Wilson's Barbecue? Tiny's? Each of them had a devoted following, but for one reason or another, they all closed their doors. And somebody else came along and opened a new barbecue place somewhere else in town. Location, as in any retail operation, seems to be key. While it's rare to see a new barbecue restaurant open where one just closed, selecting a location that was home to a different cuisine can be strategic.
For example, after Carlos' Cuban Café closed at the corner of East Tennessee and Gadsden streets in 2009, the place sat empty until Up in Smoke Barbecue opened in 2011. After a bit of initial bureaucratic wrangling over the "smoke" mist shooting out of its street-side sign, the restaurant has continued to grow. This summer, a deck was added to accommodate outdoor diners and, presumably, smokers of another sort. With homemade rubs and sauces and a menu that includes beef, pork and chicken, Up in Smoke and the sampling of other barbecue cookers we talked to reflect the eclectic mix of regional styles that is Tallahassee barbecue. 
Keeping it Mobile
Chuck Stubbs and his business partner, Martin Schaefer, are information technology specialists at FSU by day and Blue Water Cooking Company by night and on weekends. They freely admit that they started the business in 2008 to pay for their expensive hobby of entering cooking contests. They've been cooking together 15 years, starting with St. George Island's annual chili cookoff. Ask them how they met, and they'll look at you with straight faces and say, "in Lamaze class," before laughing and adding they were coaching their wives and their sons are two weeks apart in age. 
They primarily enter contests sanctioned by the Florida Bar-B-Que Association, a Southeastern regional group with teams and contests mainly in Florida, Alabama and Georgia. It's one of the big three competition sanctioning bodies, with Memphis in May's Memphis Barbecue Network and the Kansas City Barbeque Society being the other two.
With their mobile kitchen, Stubbs and Schaefer cater mostly barbecue for a variety of events, including tailgates, wedding rehearsals and receptions, and company picnics. Their style, like most Tallahassee barbecue cooks, is a blend of Kansas City and Memphis, using dry rubs followed by a sweet glaze at the end. "We use mostly oak for the smoke," Stubbs said. "Hickory is too strong."
Football tailgating is big business, and they have built up a clientele who book them for specific games several months in advance. For large groups, they usually serve pulled pork. "Ribs are labor intensive and difficult to do for a large crowd," Schaefer said. "They take a lot of space and need a lot of attention, and we'd rather not do ribs if we can't do them right."
Other tailgate specialties include Wagu beef tri-tip or brisket and non-barbecue favorites such as paella and a low country boil. For several years they filled pre-orders and sold barbecue — vended, as they describe it — from a parking lot near the stadium where Urban Outfitters now stands. 
The best part, Schaefer said, is seeing people enjoy their food. "We have a good time."
Putting Down Roots 
Brian Rowe, founder and general manager of Piggy's BBQ on Capital Circle Northeast, is one barbecue restaurateur who doesn't compete on the circuit. Rowe said spending weekends traveling to competitions takes up time better spent with his four children. "I'd rather have somebody be a repeat customer," he said. "That's my trophy."
He isn't lacking in accolades, though. His barbecue has earned high praise from the Tallahassee Food Bloggers Association, and customers ranked it best in town in tallahassee.com's competition. Piggy's has also earned high marks in Tallahassee Magazine's Best of competition. His brisket draws compliments from several of his competitors.
Rowe has catered in Tallahassee on and off since 1985, when he was an FSU student. On Aug. 31, 2009, he converted Piggy's mobile business to a brick-and-mortar restaurant, using it as a base to continue his catering operation as well. As is the Tallahassee way, Piggy's style of barbecue is a blend of regional approaches.
"The mere fact we sell brisket shows we're Texas-style, but ribs in Texas are beef and our ribs are pork. Like the ribs, our sauces are Carolina- and Memphis-style," he said. "But the brisket has been the most popular item on our menu since Day One."
Another regional difference is the choice of wood for smoking. Texas-style barbecue uses a lot of mesquite, while many Southerners use hickory or oak. Rowe uses only pecan wood, which he describes as softer than the others. "It gives you enough of a smoke taste, but it's not overpowering," he said. "Purists may like a lot of smoke, but restaurants have to appeal to a lot of different tastes."
His favorite sauce, of the many available at the restaurant, is what he calls "Red." It's a bourbon-based sweet red sauce that's used in preparing nachos and pulled chicken. Red is not one of the sauces available on the table — "but if you ask for it, we'll give it to you." It's also available for sale.
Classical Training, with a Twist 
Chris Dickens, who opened Sweet Rack Rib Shack on West Tennessee Street in August 2012 with his wife, Amanda, trained as a chef at the Culinary Institute of America in Hyde Park, New York. He recalls being among the students who were loaded onto buses and driven to Manhattan to work on The Food Network when it first launched in the 1990s. 
"I think The Food Network has done a lot to raise people's knowledge and expectations about barbecue," said Dickens, a native of Troy, Alabama, who grew up spending his summers in Quincy and Havana. "People come in and they've seen these big barbecue competitions and know the names of the big-time cooks. They know about barbecue."
After leaving the CIA, Dickens gained additional training in Europe and worked all around the United States until he "got tired of the white-tablecloth thing." His first foray into barbecue was far from successful, though; his team came in dead last in all but one category at a competition in Mobile, Alabama. He used that humbling experience as motivation.
Sweet Rack has amassed a loyal following in the two years it has been open, despite its provocative name and the attire of its female servers creating a barbecue-flavored twist on Hooters. Fugitt, the food blogger who visited a few months back, hit a couple of Tallahassee eateries and Sweet Rack made a strong impression on him. In his BarbecueRankings.com blog, he wrote, "There is certainly more to Sweet Rack than the double entendre that meets the eye. I enjoyed my visit and recommend you give them a shot."
Contacted for this article, Fugitt praised Sweet Rack for its side dishes and desserts as well as its meats. He wouldn't reveal whether Sweet Rack made the cut for his upcoming book, "The 100 Best Barbecue Restaurants in America," but he did say this: "Having visited over 200 restaurants so far from 30 states, I think I've had enough good barbecue to know that Sweet Rack is putting out some awfully good barbecue." 
Dickens said the restaurant uses only locally grown cherry wood for smoking, and it tries to get all its products from local or regional suppliers. "We're going to try to go hormone-free and antibiotic free with our meats, and I emphasize try, but that's the trend in what the customers want, and you have to be smart and stay ahead of it."
He offers variations on standard barbecue sauces, with his spicy mustard sauce having a honey undertone and his white barbecue sauce, a nod to his Alabama roots, kicked up a bit with horseradish. One of his more unusual menu items is deep-fried pulled pork. "We don't reheat anything, we repurpose it. The pulled pork becomes filling for quesadillas or nachos, or gets battered and fried."
Sweet Rack is open for breakfast, lunch and dinner, closing at 9 weekdays and 10 p.m. on weekends. "I don't do the late-night crowd, for a couple of reasons," Dickens said. "The students are used to fast food, and there are half a dozen fast-food joints around us. And I don't want to put up with the drunks, or for my servers to have to."
He also doesn't want to have to explain, again, why he doesn't offer all-you-can-eat for $12.99. "There are fast-food barbecue options out there, and there's a place for them. But that's not what we do, and we can't sell what we do at fast-food prices."
Still Smokin' After All These Years
Hal Smith's entry into the world of barbecue restaurants is a bit of a winding tale. As he explains it, the steel company he worked for in Nebraska held the world patent on center-pivot irrigation systems, and when the company went public he found himself in a position to retire early. His brother in Gainesville was Sonny Tillman's banker, and Tillman was just getting ready to franchise his barbecue restaurant. So the banker introduced his brother to the barbecue man.
"Sonny asked if I'd like to own a barbecue restaurant and I said, 'Probably not, but what's the story?' " Smith said. Tillman tried to persuade him to take the Orlando market, but Smith told him he preferred a college town, which Orlando wasn't. Tillman, a staunch Florida Gator, mentioned Tallahassee but he added, "It's not much of a college." Smith, however, had no such bias and he opened Tallahassee's first Sonny's Real Pit Bar-B-Q restaurant on Apalachee Parkway 38 years ago. He eventually added two more Tallahassee locations and at one point owned all the Sonny's franchises between Tallahassee and Mobile. His son now owns the franchises to the west, but Smith retains the three Tallahassee locations: North Monroe Street, Timberlane Road and Dick Wilson Boulevard near Sam's Club, where the original store relocated several years ago.
When Smith opened that first Sonny's, the only other barbecue joint in town was Jim & Milt's on West Pensacola Street. Over the years, he has seen a lot of barbecue restaurants come and go, but through it all, Sonny's and Jim & Milt's have remained. "They do a thriving breakfast business," Smith said of his longtime competitor. "They're close to campus, and they get a lot of FSU students and contractors."
Under the terms of the franchising agreement, Smith cannot join the breakfast trend, something he wishes were different. The bulk of sales, 55 or 56 percent, come at lunch, he said, and the rest at dinnertime. "We learned early on that fraternities and sororities don't cook on the weekends, and that's when we started our all-you-can-eat specials," Smith recalled with a chuckle. "Thirty years ago, all-you-can-eat chicken was $3.99." But as much as students like barbecue, he finds that older people seem to like it even more. He offers discounts for senior citizens 65 and older.
The barbecue business has changed a lot since Smith got into it, particularly in the past 10 years or so. And while Sonny's still smokes over oak wood, the menu has expanded to keep up with the times, adding brisket a few years ago to the traditional pork and chicken offerings. Like the newer competitors, Sonny's blends regional barbecue styles. 
Two years ago, Smith rehired former employee John Hokenson, who opened five franchises in Southwest Florida after leaving Tallahassee, as a business partner. During football season, the local restaurants do a thriving catering and takeout business for tailgates. While some competitors and customers characterize Sonny's as "fast-food barbecue," Smith stands behind Sonny Tillman's tried-and-true formula. "We hold our own," he said.
What bothers him is to hear that someone ate at a Sonny's somewhere else that wasn't up to company standards. "For us, it's all about consistency," Smith said. "I don't want the ups and downs. I tell my employees, it doesn't have to be the best, but it has to be consistently good."